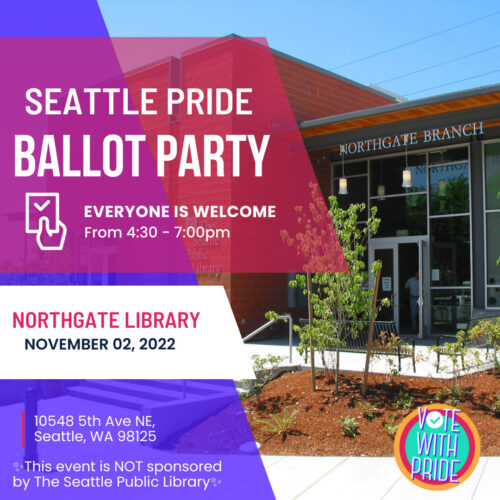 Being able to vote from home and mail in your ballot is truly a great thing but some people miss the feeling of voting being a COMMUNITY event where you show up to an actual location in your neighborhood to vote in person. It helps build a sense of community and makes voting more of a civic event to be shared and respected.
Seattle Pride understands that and is producing a couple of events in the next few weeks to enable us to make voting a communal event again. They are staging two VOTE WITH PRIDE ballot parties…the first one happening on Wednesday, October 26th from 4:30pm to 7pm at the Capitol Hill Branch of the Seattle Library at 425 Harvard Ave East. The second one is scheduled for Wednesday, November 2nd, also from 4:30pm to 7pm, but happening up north at the Northgate branch of the Seattle Library, 10548 5th Ave NE.
(Do note that these events are NOT sponsored by the Seattle Public Library. Community rooms at libraries can be rented for community events.)
Also: make sure you're registered to vote! Go here: https://www.sos.wa.gov/elections/register.aspx
More info from the p.r.
Description: Seattle Pride is hosting a Vote with Pride Ballot Party at the Seattle Public Library to provide a space for LGBTQIA+ community members to get together and vote in the November 8th general election. The free event will provide opportunities to discuss issues and candidates on the ballot, write letters and postcards to local, state, and national elected officials about issues impacting the LGBTQIA+ community, create art together, and fill out ballots in community. 
Free food and drink will be provided. All attendees will be entered into a random Grand Prize drawing to win tickets to see Jonathan Van Ness on Friday, December 9th at his Seattle showing of Imaginary Living Room Olympian tour, and a pair of round-trip Alaska Airlines tickets. 
Note: This event is not sponsored by the Seattle Public Library.
Cost: Free
What: Vote with Pride Ballot Party
When & Where: Wednesday, October 26, 4:30 PM – 7:00 PM
Capitol Hill Library, 425 Harvard Ave E., Seattle, WA 98102
When & Where: Wednesday, November 2, 4:30 PM – 7:00 PM
Northgate Library, 10548 5th Ave NE, Seattle, WA 98125
Learn More: https://www.seattlepride.org/vote-with-pride
(Visited 6 times, 1 visits today)