Seattle Pride aka Seattle Out & Proud, the proud producers of our annual LGBTQ+ Pride Parade and other events is bringing back their popular Vote with Pride program to help you navigate the waters of the 2022 election!
This year's program comes complete with a voting guide and cool events to help you vote for the candidates to help us achieve LGBTQ+ equality.
More via press release: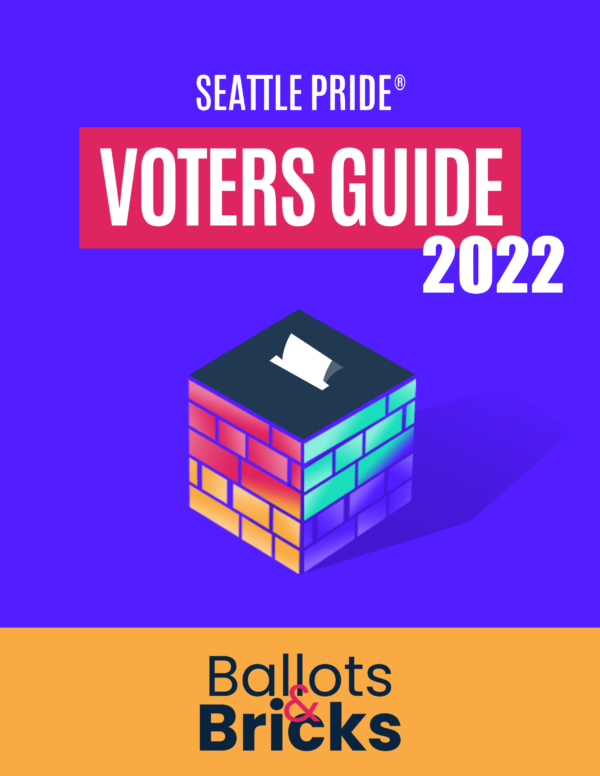 SEATTLE – Oct. 19, 2022 – Seattle Pride's©Vote with Pride campaign is back for its third year in an effort to grow LGBTQIA+ voter participation in the upcoming general election with a voter's guide, community ballot parties, and online quizzes. This year's campaign has put a much-needed spotlight on the important role of the queer community's voice – in advocacy and at the ballot box – with the theme Ballots & Bricks: Voting for our Future, Honoring our History.

To help provide education opportunities for the community, the campaign has released its second annual Seattle Pride Voter's Guide which ranks nearly 50 King County candidates on their demonstrable commitments to the LGBTQIA+ community and specific actionable steps they will make in service of the community after being elected. The guide addresses where candidates stand on issues that impact the LGBTQIA+ community and how they plan to address them, including the candidates' direct responses to a questionnaire that was shared with them by Seattle Pride. Each candidate is ranked on a scale of zero to four, with four being the highest possible score. The Seattle Pride Voter's Guide is available at SeattlePride.org.  
In addition to educating the community about candidates, Seattle Pride is also signing on in support of initiatives that will benefit the LGBTQIA+ community including King County Charter Amendment 1 and the Seattle Solidarity Budget. These issues among others will be shared via Seattle Pride advocacy alerts along with actionable steps for the community to take.     

According to the Human Rights Campaign, the LGBTQIA+ community votes at a higher rate than the general public, which Seattle Pride hopes to encourage with community participation opportunities. Voters are invited to attend a Vote with Pride Ballot Party where LGBTQIA+ community members can get together and vote in the November 8th general election. The free event will provide opportunities to discuss issues and candidates on the ballot, write letters and postcards to local, state, and national elected officials about issues impacting the LGBTQIA+ community, create art together, and fill out ballots in community. Events are scheduled to take place at the Capitol Hill Library on October 26 from 4:30 PM to 7:00 p.m.; the Burien Library on October 30 from 11:30 AM to 1:00 p.m.; and the Northgate Library on November 2 from 4:30 p.m. to 7:00 p.m.
"Our basic human rights must be protected, now more than ever, which is why it's critical that our community comes together to advocate for ourselves and vote together in force," added Marx. "We hope that the Seattle Pride Voter's Guide, Advocacy Alerts, and Ballot Parties will encourage our community to get out and vote."

Throughout the Vote with Pride campaign, the public is invited to participate in weekly quizzes about voter education and get out the vote online at SeattlePride.org for a chance to win a variety of prizes including a grand prize pair of round-trip Alaska Airlines tickets. To enter, people simply complete the weekly quiz online. Each question will be worth points – the more points a participant accumulates during the week, the more times they are entered into the week's prize drawing to be announced at the end of the campaign.
About Seattle Pride
Seattle Pride is the 501(c)(4) not-for-profit organization which produces the Seattle Pride Parade, Seattle Pride in the Park and other pride-related events and promotions, as well as provides grants and sponsorship support to community-based LGBTQIA+ serving organizations statewide, and year-round advocacy in support of diversity, inclusivity, and equal human rights for all.
About Seattle Out & Proud Foundation
Seattle Pride's Seattle Out & Proud Foundation is a 501(c)(3) non-profit foundation which exists to educate the public about the LGBTQIA+ community and the rights of its members; to eliminate discrimination against; and to further the civil rights of members of the LGBTQIA+ community by promoting the arts and supporting leadership development.
To learn more about Seattle Pride and Pride-related events, grants and advocacy, visit www.SeattlePride.org; subscribe to our e-newsletters and advocacy alerts; and follow us on Facebook, Instagram, TikTok, and LinkedIn @SeattlePride, and on Pinterest and Twitter @OurSeattlePride.
(Visited 3 times, 1 visits today)