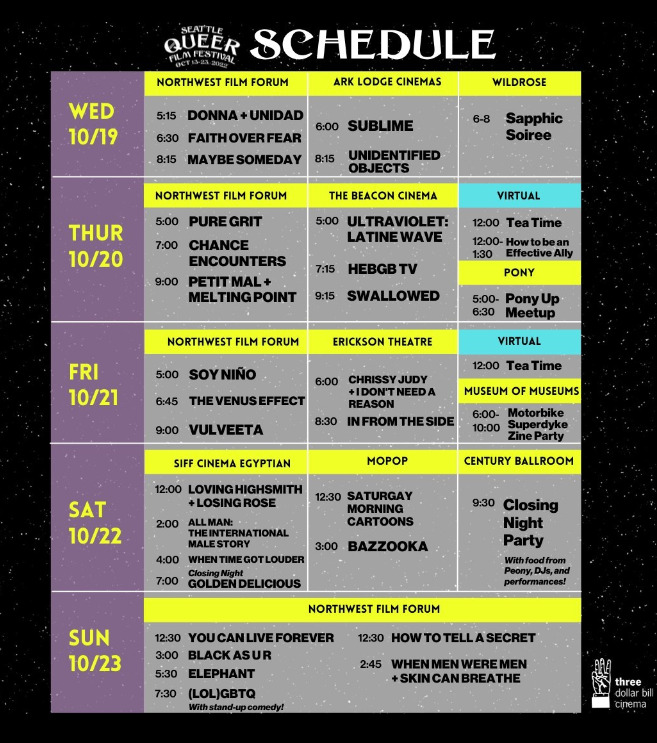 There are all sorts of good films, programs and events left to check out for the last half of the 2022 Seattle Queer Film Festival! Including the big gala on Saturday, October 22nd of GOLDEN DELICIOUS.
Some of the treats left to see/do include:
Thursday, October 20th
5PM @ NW Film Forum
*ONLY $5!*
Chronicling three years in the life of a young Native American bareback horse racer, her dogged determination, and the relationships that sustain her.
Get a $5 ticket | Watch the trailer
5-6:30 | PONY
Gays: meet up at PONY before CHANCE ENCOUNTERS. There will be drinks, dancing, and of course film talk. Be there for a potential chance encounter!
7 PM @ NW Film Forum
One-night stands, love (and lust) at first sight, or a moment when you realize you've finally met the one—these shorts are what happens when you have a chance encounter.
9 PM @ NW Film Forum
Martina, Laia, and Anto are part of a passionate, fun-loving throuple. When Laia must leave for a long-term project, their relationship faces a test, as Martina and Anto deal with shifting dynamics and the reconceptualization of the two's relationship with each other.
Get a ticket | Watch the trailer
Friday, October 21st
5:00pm @ NW Film Forum
"Do you ever forget that you're trans?" SOY NIÑO director Lorena Zilleruelo asks of her cousin, a young boy named Bastian. She visits him every year from the ages of 12 to 18, and documents his life navigating adolescence. Throughout the documentary we bear witness to the social and economic obstacles in Bastian's physical transition process. With each visit she observes how he relates to his family, school life, romantic interests, and the experience of being trans in Chile. SOY NIÑO shows what any child can achieve with unconditional love. As Bastian himself says, "sometimes I feel as if I'm just like anyone else."
6:00pm @ the Erickson
Fire Island. Provincetown. Gay Frivolity. A successful NYC drag queen double-act! What could possibly go wrong? Absolutely everything. CHRISSY JUDY tells the story of two best friends and creative partners whose friendship is put to the test when one suddenly decides to leave their successful drag duo for a quieter, simpler life outside the city. This black and white dramedy explores the challenges of being a working artist, navigating single life at 30, and the importance of close friendship as one man's life quickly unravels. This film provides a realistic depiction of contemporary gay life and the value of shared lived experiences among queer millenials. After all, who are we without our best Judy's?
6:45pm @ NW Film Forum
In an idyllic and serene rural community in Denmark, Liv works on the family farm, gardening and making wine. Her carefree life is matched by her spirit, but when chaotic and unique Andrea moves into her uncle's apple orchard seeking refuge from her stressful city life, Liv finds herself undergoing a crisis of identity. As the two strike up a romantic relationship, Liv comes to learn that there is much more to life than she ever realized, inside and out of her tight-knit community. THE VENUS EFFECT is a romantic comedy that underscores the importance of love, lust, and connection.
8:30pm @ Erickson
This British rugby drama is a rumble and tumble of masculinity that follows a group of friends who play at the local gay club. The club is all about hierarchy and who's going to carry the team to the win. In a one-night encounter, B-squad player Mark meets star A-squad player Warren and sparks fly. Neither man has plans to leave his current relationship, but passion takes over and they can't keep away from each other. Their little tryst sends the already cash-strapped and barely-hanging-in-there club into chaos as the team deals with jealousy, betrayal, secret encounters, and all the gay rugby drama you could ever want!
9:00pm @ NW Film Forum
Twenty plus years ago the riot grrrl band Vulveeta was on the brink of becoming the next big thing, until lead singer Grrrilda Beausoleil suddenly decided to call it quits. Now, on the eve of her 50th birthday, Grrrilda wants to get the band back together. Grrrilda invites a documentary crew to come along for the ride in an attempt to capture every success, failure, and mood swing. With decades-old drama and their reluctance to use social media, there is only one question: can they pull it together enough to play their big reunion show?
Saturday, October 22
12:00pm @ Egyptian
"Writing, of course, is a substitute for the life I cannot live, am unable to live." – Patricia Highsmith Venture into the brooding, private world of author Patricia Highsmith ("Strangers on a Train", "The Price of Salt/Carol", and "The Talented Mr. Ripley" series) with filmmaker Eva Vitija as she explores how Highsmith's art and life were intimately connected. LOVING HIGHSMITH interweaves excerpts from the author's private diaries, novels, and films along with first person interviews of family and ex-lovers (including author Marijane Meaker/"Ann Aldrich") to piece together a portrait of a woman driven by creativity,who ultimately lived a tumultuous, conflicted life.
12:30pm @ MoPop
This cartoon blocK begins and ends with sweet, gentle stories of discovering identities, takes on absurd constructions of gender, finds acceptance in unexpected places, and mixes in sneaky bursts of emotion alongside lightness, humor, sugar, and sunshine. Roll out of bed, rock your loudest PJs if you feel like it, and join us for a collective sense of nostalgia through a bright rainbow lens.
2:00pm @ Egyptian
There are two types of people in this world: those who have never heard of International Male and those who have waited for its arrival in their mailboxes with bated, perhaps closeted, breath. International Male made hunks the centerpieces in outlandish fashion and scandalous thongs. ALL MAN: THE INTERNATIONAL MALE STORY tells the seminal catalog's entire story. Written by Emmy- and Peabody Award-winning filmmaker Peter Jones, ALL MAN is a character-driven portrait of a group of outsiders who pushed the confines of masculinity towards a carefree, cosmopolitan, and queer expression. Come explore three decades of International Male from its peak moments of being circulated to over three million readers, to whatever the International Male happened to it!
3:00pm @ MoPop
The year is 2022, and the residents of Seattle are at war with a corrupt government. Despite its reputation as the "most progressive city in the world," people are disappearing left and right and it seems that the city is caught in the middle of a fucked up conspiracy. BAZZOOKA follows Gab (Eva Walker), an afropunk singer who returns to Seattle following the mysterious death of her ex. As she learns more about an alliance between the corrupt mayor (Andrea Hays) and a nefarious tech company, she teams up with a new punk band of Black anarchists to take back their city. BAZZOOKA also stars LÜCHI, Kylie Mooncakes, Cozell Wilson, and Noah Sanemitsu.
4:00pm @ Egyptian
When Abbie meets the older, more experienced Karly at a college party, she is instantly smitten. Her world is completely changed and her family feels very far away, until a crisis happens that calls her back to help her brother. Connie Cocchia's searing drama paints a compelling portrait of a family in flux; a young woman discovering herself for the first time on her own, and the familial bonds that somehow always bring us back home. Starring Willow Shields (The Hunger Games), Lochlyn Munro (Riverdale), and Elizabeth Mitchell (Lost), WHEN TIME GOT LOUDER is an emotionally complex picture of finding oneself and still being loyal to your family.
7:00pm @ Egyptian
A heart-warming film about food, romance, family, and basketball. HYBRID PASSES AND IN PERSON TICKETS INCLUDE AFTER PARTY (with performers and djs)
Sat Oct 22nd 7:00pm – 9:00pm @ Museum of Museums
Zine workshops – drop in and see art show and video Motorbyke / Superdyke and make a zine page!
9:30pm – 12:30am @ Century Ballroom
HYBRID PASSES AND IN PERSON TICKETS INCLUDE AFTER PARTY (with performers and djs)| CENTURY BALLROOM, WEST HALL (915 E Pine St)| 9:30 PM
(Visited 11 times, 1 visits today)