April 12, 2023

•
by
Michael Strangeways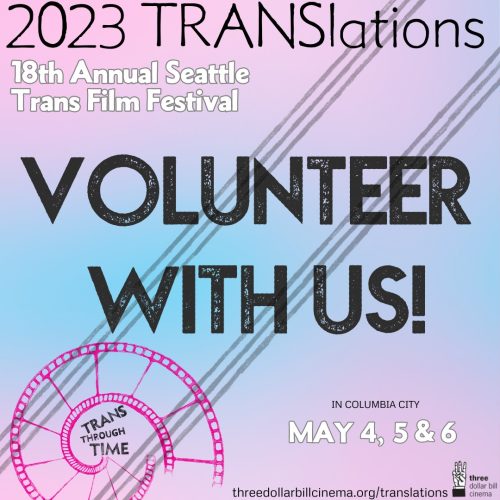 Looking for something to do to get you out of your rut? Interested in giving back to the community? Would like to meet and interact with new people?
Volunteering for non-profits is a great way to accomplish ALL of those things! And, one of the funner ones to volunteer, is to sign up to volunteer at area film festivals like the upcoming Translations Film Festival happening May 4th through 6th. It's the amazing movie festival produced by Three Dollar Bill Cinema that focuses on films by and for the Transgender community and allies.
More info and a link to sign up:
Do you want to join our festival team?

If you want to volunteer for #TRANSlations#2023STFF Seattle Trans Film Festival, May 4-7, 2023! Please fill out the Volunteer Interest Form on our website https://threedollarbillcinema.org/translations so we know a bit more about you and what you would like to do at the festival.

As a thank you for each shift completed you will receive a volunteer voucher which can be exchanged for a film ticket at this year's festival at the box office.
(Visited 58 times, 1 visits today)
As the Editorial Director/Co-Owner, Michael Strangeways writes, edits and does about a million other jobs for Seattle Gay Scene, Puget Sound's most visited LGBTQ news, arts and entertainment website now celebrating its 14th year as a media outlet. A semi-proud Midwesterner by birth, he's lived in Seattle since 2000. He's also a film producer who would like you to check out the Jinkx Monsoon documentary, "Drag Becomes Him" now available on Amazon.com. In his spare time, he gets slightly obsessive about his love for old movies, challenging theater, "otters", vodka, chocolate, "I,Claudius", Lizzie Borden, real books made out of paper, disaster films, show tunes, Weimar era Germany, flea markets, pop surrealistic art, the sex lives of Hollywood actors both living and dead, kitties, chicken fried steak, haute couture and David Bowie. But, not necessarily in that order.
Related Posts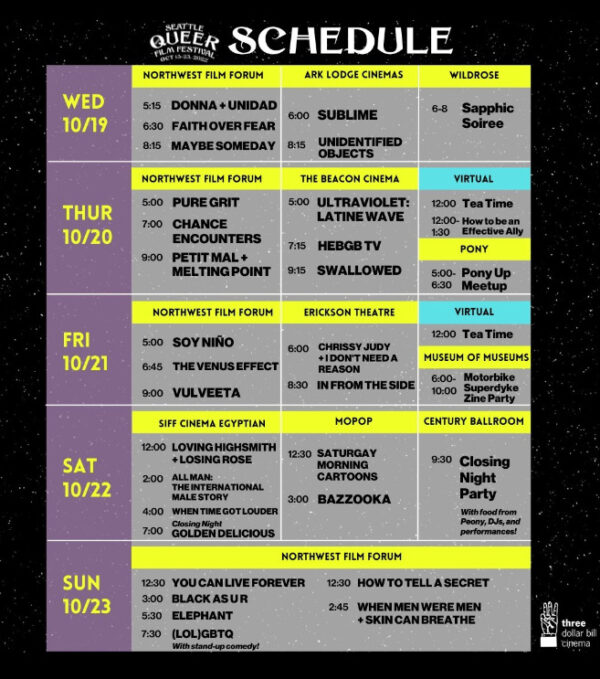 *Resist. Protest. Obstruct. Inform. • *Seattle Cinemaland • Arts • Arts & Entertainment • Arts News • Capitol Hill News • Community • Community Events • DJ Dance Party • Film • Film Events • Film Festivals • Geek • MoPOP • News • Nightlife • Pop Culture • Queer Film • Queer News • Seattle Lesbian Gay Film Festival • Seattle Lesbian Scene • Seattle News • Seattle Queer Film • Seattle Transgender Scene • Stuff to Do • Three Dollar Bill Cinema • Trans* Arts & Entertainment • Trans* Events • We Love The Nightlife • Weekend Calendar • Women's Arts • Women's Events
There are all sorts of good films, programs and events
...