It's back for a 2nd year….Crystal Mountain Ski Resort is teaming up with Seattle Pride and QPOC Hikers for a three day winter sports weekend of Fun Under the Alpine Sun for LGBTQ+ snow lovers and allies on the snowy slopes out in Enumclaw. It's happening the weekend of March 17th through the 19th and it's not too late to snag tickets.
https://www.eventbrite.com/e/mtn-pride-pride-in-the-pow-tickets-487072526037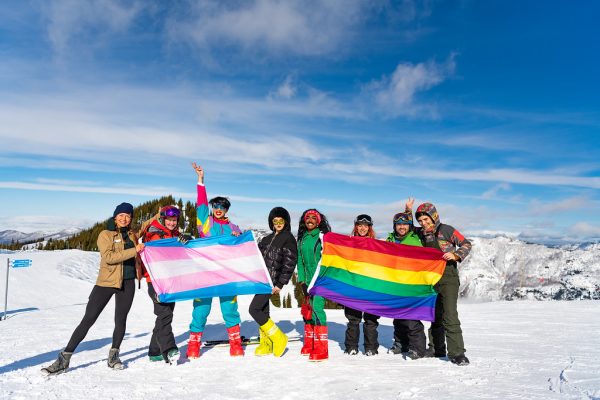 (Note: I don't like snow…or, rather, I LIKE snow, but from a great distance…like, on my laptop screen or TV. Or, maybe and very briefly, outside my window on Christmas Eve/Morning and lasting about 5 hours before melting. So, all the terminology associated with winter sports is alien to me…like, what the hell does "Pride in the Pow" mean? What is "Pow"? Powder? Prisoners of War? Pussies or Weiners? Do we have to choose? It's all so confusing…anyway, more info on this fun event for those of you who enjoy getting pridey in the snow and the potential for getting frostbite while wearing ugly outdoor ski gear. In Enumclaw, where they love horses just a wee bit more than one should…but, I digress.)
More info from a press release! And, photos of people having fun in the snow!!!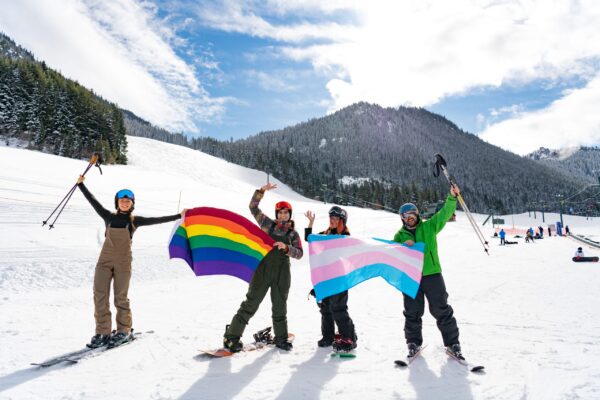 Crystal Mountain, WA– Crystal Mountain is bringing Pride in the Pow back to the mountain this spring! For the second year in a row, the resort is excited to announce the return of the Pride in the Pow event celebrating the LGBTQIA+ communityfrom March 17th -March 19th. "MTN Pride: Pride in the Pow" is a three-day event that offers fun for everyone. Partnering with Seattle Pride and QPOC Hikers, Crystal is stoked to invite everyone back to celebrate Pride at Washington's largest ski resort.
The weekend of festivities will kick off on Friday with a snowshoe tour & dinner led by QPOC Hikers, an organization that connects queer people of color with hiking and the outdoors. Crystal Mountain is thrilled to continue this partnership with QPOC Hikers and to have their support in bringing the MTN Pride celebration to life. The rest of the weekend, Seattle Pride will help us pack the mountain with LGBTQIA+-friendly beginner ski and snowboard lessons, drag performances, lip sync contests, and an après-ski party with raffles on Saturday and Sunday.
Seattle local performers, Rowan Ruthless, Miss Monday Mourning, Hoochie Papa, and more, will make a reappearance to judge the lip sync and catwalk contests and perform in the drag show at the mountain. For seasoned skiers and riders ready to go directly to the slopes, there are discounted lift tickets to access the full mountain.
"So many LGBTQIA+ folks don't feel safe being 'out' in the outdoors – something we believe everyone should be able to enjoy as their authentic selves," said Noah Wagoner, Executive Director of Seattle Pride. "Pride in the Pow is an event that creates a fun and welcoming space for the LGBTQIA+ community to come out and enjoy the beauty and adventure of the outdoors together."
For those that are new to the world of snow sports, this three-day event is a great opportunity to join the festivities in a supportive, inclusive, and fun-loving environment. Crystal Mountain is home to Washington State's only gondola, making it easy for folks that want to celebrate Pride at the mountain but don't want to ski. The gondola takes you up 2,400 vertical feet directly to the summit where you can enjoy expansive views of Mt. Rainier, before wrapping up the day at the lodge for the après party.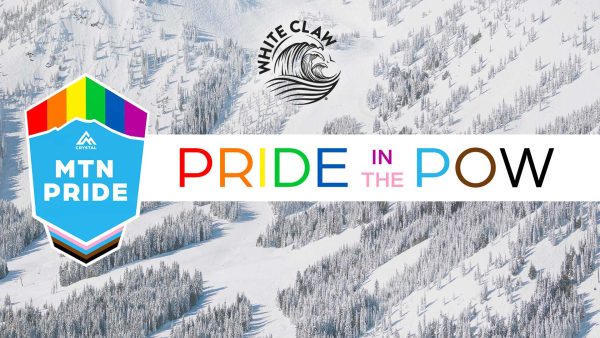 Crystal Mountain, Seattle Pride, and QPOC Hikers are excited to continue partnering in this vibrant event to foster an inclusive and supportive environment that welcomes all communities to the mountain. Learn more about Pride in the Pow and buy tickets at CrystalMountainResort.com.
Schedule
Friday, March 17
Saturday, March 18
8:30am – Morning Mix & Mingle, Location: Rafters
9:30am – Meet & Ski Ride Groups
10am – Beginner Group Lessons
1pm – Mid-Day Après Party starts, Location: Summit Snow Beach
2:30pm – Pride Run, Location: Top of the Gondola/Summit Snow Beach
3pm – Après Party with Drag Performances, Lip Sync Contest & Chance Drawing, Location: Rafters
5pm – End of Après Party
Sunday, March 19
9:30am – Meet & Ski Ride Groups
10am – Beginner Group Lessons
1pm – Pride Run, Location: Top of the Gondola/Summit Snow Beach
2pm – Après Party with Drag Performances, Catwalk Contest & Chance Drawing, Location: Rafters
4pm – End of Après Party
Crystal Mountain is the premier ski destination in the Pacific Northwest, with world-class terrain winter or summer. High in the alpine of the scenic Cascade Range in Washington and neighboring iconic Mount Rainier, Crystal is more than a location. It is a place where something powerful exists that captures the heart and feeds the soul. Here the mountain towers in a paradise valley at the end of the road, providing an expanse of endless adventure. For more information, please visit www.CrystalMountainResort.com.
Seattle Pride is the (501(c)4) not-for-profit organization that produces the Seattle Pride Parade, Seattle Pride in the Park, and other pride-related events and promotions, as well as providing grants and sponsorship support to community-based LGBTQIA+ serving organizations statewide, and year-round advocacy to drive lasting change of diversity, inclusivity, and equal human rights for all.
QPOC Hikers is based in the Pacific Northwest and exists to connect queer people of color with hiking and the outdoors by creating space to share stories and experiences, increasing visibility, representation, and awareness, and organizing opportunities for learning and growth.
(Visited 50 times, 1 visits today)