Not surprisingly, Seattle Rep's just opened new production of BETWEEN TWO KNEES is the first Native American comedy/dramedy play I've ever seen. Probably because there isn't exactly a huge number of options when it comes to Native American theater…which is a terrible thing but one that seems to be slowly improving with more Native American creators getting opportunities to tell their stories.
At the forefront of this artistic revolution are the members of the sketch comedy troupe, the 1491s, an intertribal Indigenous collective including Dallas Goldtooth, Sterlin Harjo, Migizi Pensoneau, Ryan RedCorn, and Bobby Wilson who in addition to writing/creating Between Two Knees, have also been the talents behind the hit comedy series Reservation Dogs, seen on FX in addition to other projects on television/the Internet.
Between Two Knees was created as a commission from the Oregon Shakespeare Festival in 2018 for the 1491s to write a play for their American Revolutionist series of new plays dealing with less explored aspects of American history. The 1491 team came up with a piece that linked comedy sketches that centered on a Native American family and their history from the Wounded Knee Massacre of 1890 to the the Wounded Knee Occupation that happened in 1973, thus the title of this piece ("between two Knees"…get it?)
After the 2018 production in Ashland, Between Two Knees went on a Covid break before getting a production at Yale University last year and now debuting at Seattle Rep with many cast members from previous productions. And, the cast is a main highlight of this production…it's a talented ensemble of actors with a wide range of experiences which is an asset in a show with a sketch format. There are different styles of comedy required here plus musical numbers, complicated choreography, and while the show has a lot of humor in it, there's also dramatic moments as well. Between the Knees requires a cast with the ability to do all these things, and this cast delivers.
It's also a well put together show. No, not every comedy bit works (and, comedy is highly subjective anyway) but the show moves at such a fast pace that if one joke doesn't seem that funny to you, there's another bit coming up right after it, and since it's likely it could be a sequence featuring Kung Fu fighting nuns, there's a good chance it'll be something you'll enjoy.
The script is good and the show is undoubtedly a success due to its strong staging by Eric Ting. For all its chaotic elements, this is a very smooth production with carefully choreographed segues between individual sketches. Between Two Knees, for being a "sketch comedy" piece doesn't feel very "sketchy"…it really works as a play and feels unified and whole. The direction and the script manage to get the job done when it comes to the complicated task of revealing a lot of history in a short period of time. ACT Theatre's recent production of "History of Theatre" tried to cover similar ground with their play centered on the history of Black American theater but it had problems with conveying that information in a way that was interesting and compelling. The "Between Two Knees" team has overcome that issue with their clever script and staging.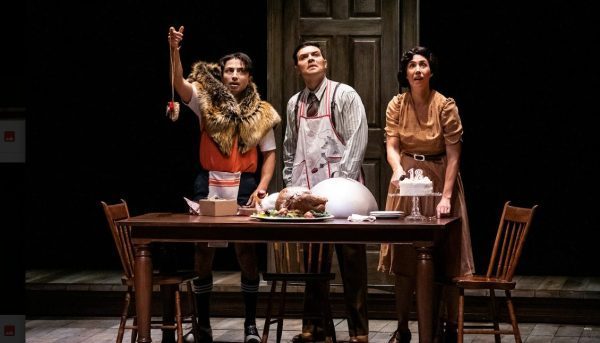 It's also a handsome looking show with a terrific scenic design by Regina García and great looking costumes from a variety of eras by Lux Haac. Younghawk Bautista's wig and make-up designs were also exceptional. Elizabeth Harper's lighting design, Jake Rodriguez's sound design and Shawn Duan's very imaginative and compelling projection design were also great assets to the success of this piece.
While I didn't roll on the floor laugh at every joke and bit, Between Two Knees is a funny, provocative show that examines a lot of history and issues seldom covered in most classrooms. And, while some people might be offended by some of the material (white people with thin skins might have a hard time here…) that is part of the point of the show; to be informative, creative and smart. It's very much worth checking out and I very much look forward to seeing further work from this creative team.
---
Review: Between Two Knees by The 1491s. A co-production of Seattle Rep, McCarter Theatre Center, The Oregon Shakespeare Festival and Yale Repertory Theatre. Directed by Eric Ting. Choreographed by Ty Defoe. Original Choreography by Shaun Taylor-Corbett. Scenic Design by Regina Garcia. Costume Design by Lux Haac. Lighting Design by Elizabeth Harper. Sound Design by Jake Rodriguez. Projection Design by Shawn Duan. Wig and Hair Design by Younghawk Bautista. With Jennifer Bobiwash, Rachel Crowl, Derek Garza, Justin "Jud" Gauthier, Shyla Lefner, Wotko Long, James Ryen, Shaun Taylor-Corbett, Irma-Estel Laguerre, Nikcoma Lee Mahkewa, John Scott-Richardson, Kholan Studi, Maribel Torres Barragan. Onstage at Seattle Rep from March 3 to March 26, 2023. Tickets at: https://www.seattlerep.org/
(Visited 174 times, 1 visits today)