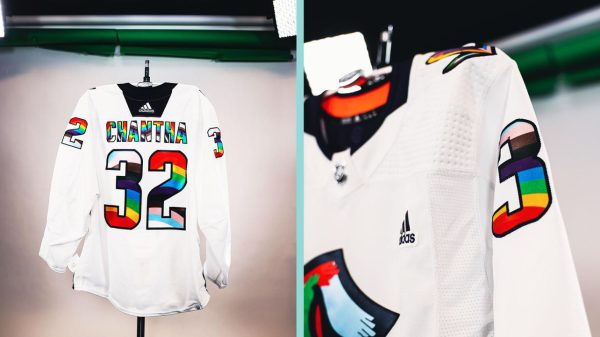 Seattle's beloved new professional hockey team, the Kraken, have been warmly embraced by crazed hockey fans of all genders/sexualities. People seem to really love hockey! It's an exciting sport with lots of action and sometimes, violence! Or, maybe it's the cute jerseys they wear?
Regardless, they are loved and the Kraken will be returning the love this Monday, March 13th with their 2nd Kraken Pride Night at Lemon Pledge Arena. The team will be wearing specially designed Pride warm up jerseys created by local designer Simson Chantha
The Kraken webpage has the story behind Simson's design:
For the "S" and overall feel of the jersey design, Chantha conjured a theme "holding on to each other" in pursuit of together. The "S" features eight hands in flow and he uses progressive pride flag colors for lettering and numbering to create a full rainbow across the backs of the jerseys.

The progressive pride colors borrow from the traditional pride flag palette along with colors that represent people of color and people who identify as transgender, gender nonconforming, and/or undefined. In the anchor logo, Simson presents the hands coming together to form a simple heart, a universal expression of love.

"We're all intertwined, whether we're LGBTQ+ or from a different community, different sets of beliefs. I was thinking about a good symbol in which we can hold each other and support one another. Hands are a symbol of giving, taking, helping or even if you put the hand into a fist, it's symbolic of protesting or uprising. The hands represent our commonality and I think invite allies to feel part of the [Kraken Pride Night] too.
Kraken players will wear the Pride jerseys during warm-up. Players will autograph the jerseys which will be auctioned off to raise money for the Greater Seattle Business Association's scholarship programs.
Other Pridey things happening on Pride Night: members of Seattle Men's Chorus will perform the National Anthem, "honoring Pride Foundation during the first-period 32 Unity Fund presentation and watching a first-intermission shooting involving youth representing Seattle Pride Hockey Association among other pride-centric moments."
You can snatch tickets here: https://www.ticketmaster.com/event/0F005CC6D0BA4258
(Visited 121 times, 1 visits today)