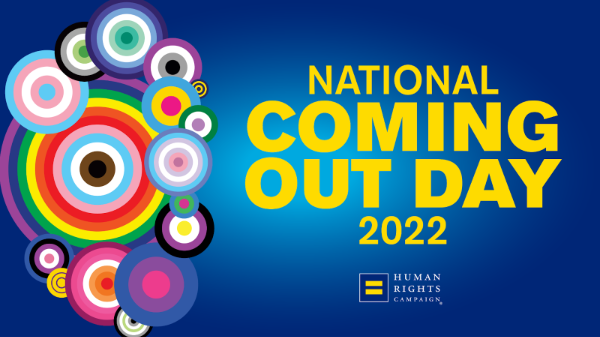 Yes, Virginia…it does still matter! Coming Out as LGBTQ is very important for many reasons. It helps celebrate our identities and to let the world know that we're here and we're important and we have a voice. LGBTQ+ people deserve equal rights under the law…not SPECIAL rights but the same rights non-LGBTQ+ people have (and frequently take for granted….)
It's also important to come out because the more out LGBTQ+ people there are in the world, the more likely it is, non-gay people will know one of us and people who actually know, like/love, care about a gay person, the more likely they're going to support us.
Coming out stories are also important for kids and people who can be in positions where it's not safe for them to come out. Other people's coming out stories give hope to those who can't or aren't ready.
Coming Out inspires a sense of community. And, belonging.
So, today is the 34th annual National Coming Out Day and we encourage and welcome anyone who is ready to come out. If you personally know of someone who you think might be ready, there's nothing like subtle words of encouragement…a simple, "I always will support anyone I know coming out as LGBTQ!" is something those not out, need to hear to feel safe.
The Human Rights Campaign has a collection of  coming-out resources. From their press release:
"They include coming out and living authentically as lesbian, gay and bisexual and as transgender or non-binary, understanding the asexual and intersex communities, and being an LGBTQ+ ally.Indeed, family is the theme of National Coming Out Day for us this year. We celebrate all of our LGBTQ+ friends, parents, grandparents, siblings and chosen families, today and every day!"
So, welcome to everyone ready to take that first step!
(Visited 1 times, 1 visits today)