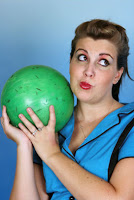 I keed, I keed….it's not really called that. Though it is a fundraiser. Thus, you really are bowling for dollars so HRC can continue to do the things they do.
It's returning on Saturday, May 5th at West Seattle Bowl which is, sadly, one of the few remaining bowling alleys in town. They all got torn down so we could have more tanning salons, OrangeTheory thingies and Asian fusion noodle shops. And, $2000 a month studio apartments.
Important things like that!
Here's the deets!
The HRC Seattle annual bowling event is back, and we're excited to be returning to West Seattle Bowl! This fundraiser couldn't take place at a more urgent time. With relentless attacks in State Legislatures across the country on LGBTQ+ youth and their families, we have "No Time to Spare" in the fight for equality. Our 4:00 – 6:00 p.m. session is a great option for families and kids. Our 7:00 – 9:00 p.m. session will feature some special entertainment and will be followed by an after party on-site at the Three9 Lounge Tiki Bar.
Tickets are $40 per person ($20 for 18 & under) or $300 for a lane of 8. Included in your ticket price are 2 hours of bowling, shoe rental, appetizers and an annual HRC membership or membership renewal!
Additionally, a portion of each ticket sale will be donated to our local community partner organization, UTOPIA Washington.
SIGN UP TO BE A LANE CAPTAIN!
For even more fun, register as a lane captain and invite friends to select your lane when they purchase their own tickets. You'll be prompted to join as a lane captain on the next page. We will add your name to the drop down list of lane captains within 72 hours of registering.
Go here: https://act.hrc.org/page/122900/event/1
(Visited 33 times, 1 visits today)