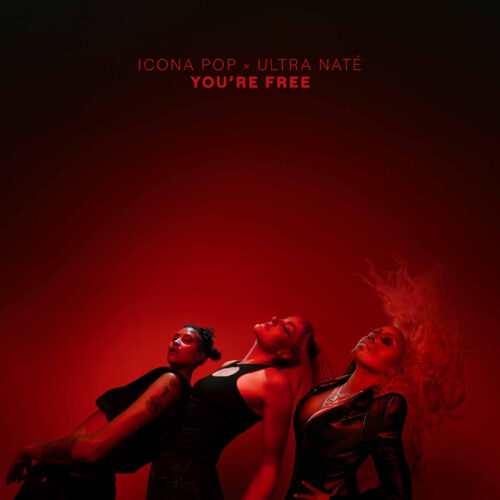 We love a good collab especially in music, so we're thrilled to see pop duo Icona Pop team up with legendary singer/songwriter Ultra Naté for new track 'You're Free' which pays tribute to Ultra Naté's 1997 Billboard's Dance Club Songs Chart #1 hit 'Free.'
AND, just in time for Pride Week!
Icona Pop reveals how this collab came to be:
Ultra Naté had this to say:
More info:
'You're Free' follows hot on the heels of the recent 10-year anniversary of the duo's hit single, 'I Love It' (feat. Charli XCX) which celebrated the milestone on June 14. To commemorate the release of the track, Icona Pop recently re-imagined the track, alongside producers Osrin and Ellis.
Listen to 'I Love It (I Don't Care 2022 Re-Edit)' Feat. Charli XCX HERE.
Icona Pop continue to slay since the release of their 2013 full-length debut, This Is… Icona Pop, which garnered critical acclaim from the likes of Pitchfork and Rolling Stone as the duo performed on The Tonight Show Starring Jimmy Fallon, The Today Show, Good Morning America, and America's Got Talent in addition to featuring on the iconic HBO series Girls and a popular Saturday Night Live sketch. They canvased the globe on sold out tours with Miley Cyrus, Katy Perry, and One Direction and joined Tiësto for the banger 'Let's Go' in 2014. Along the way, the duo has performed alongside everyone from Avicii to The Chainsmokers as well as gracing the stages of Ultra, Tomorrowland, Mark Ronson's Club Heartbreak, and more. Since then, they have consistently filled the gap in music when it comes to upbeat, carefree, quality dance-pop.
Stay tuned for more exciting announcements from Icona Pop coming very soon.'You're Free' with Icona Pop and Ultra Naté is available everywhere now.
About Ultra Naté
American singer/songwriter/DJ/producer and music legend Ultra Naté has long been adored by electronic, dance and pop fans since the early 90's. Ultra is celebrating her over 30th year in the game having debuted on the scene in 1989 with the deep house classic "It's Over Now" and her revered 1990 debut, 'Blue Notes In the Basement' which also spawned the hits "Rejoicing," "Deeper Love," "Scandal" and "Is It Love?." Ultra Naté's career is one steeped in timeless classics and impressive accolades of which also include an IMDA for 'Best Dance Solo Artist'. She is honored to be considered an icon of the Dance and LGBTQI communities worldwide. Ultra Naté was named one of Billboard Magazine's 'Greatest of All Time' *Top Dance Artists (#12) along with having three entries in the music industry bible's respective 'Greatest Of All Time' *Top 10 Dance Club Songs. In the Summer of 2020, Ultra Naté was the only top charting female when her perennial classic "Free" made the coveted Top 10 'Best Ibiza Anthems of All Time' list from Tomorrowland's influential One World Radio. During 2019's unprecedented global World Pride celebrations, Ultra Naté's 'Free' was universally named one of the Top Pride anthems of all time. 2022 finds Ultra Naté joyously celebrating the platinum selling "Free's" 25th year anniversary all year long.
Tags: "You're Free" (song), Icona Pop, Ultra Naté