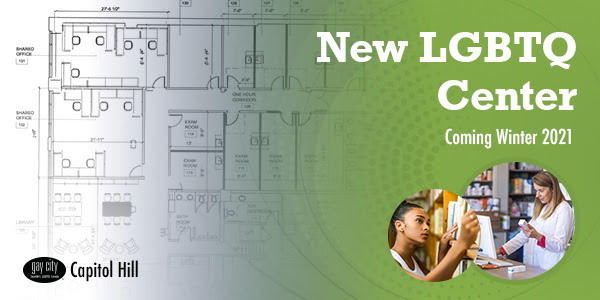 The Gentrification Gods descended upon Seattle's LGBTQ center last year when Gay City discovered that they would be losing their home at 517 East Pike Street (corner of Pike and Belmont) in the near future. Just this week we learned that the building's owners are redeveloping the property as a 9 story mixed use building with 92 living units and 7,500 feet of commercial space.
Gay City obviously needed a new home and they've been searching for just the right digs in the months since they first learned of their need to relocate which hasn't been the easiest of tasks. The non-profit needs to be close to the communities it serves but commercial rents on Capitol Hill, the traditional home of the city's LGBTQ community are high and difficult to obtain.
Happily, Gay City found a spot, and not far from their current digs. In the months ahead, they'll be moving to their new home at Pine Street and Bellevue at 400 East Pine Street, which is the same building that houses the GSBA, the Greater Seattle Business Association on the upper floors.
Via their 411 press release:
Back in 2009, the organization that was the Seattle LGBT Center closed its doors and asked Gay City to carry their work forward, shifting their resource and referral program and their LGBT library to Gay City. Building on this legacy, Gay City opened our first LGBTQ center in our current location in 2012, offering access to health services, resources, arts programing and community connection for LGBTQ folks in the region, all under one roof. For nearly a decade, we have hosted community groups and conversations, launched other non-profit organizations, and expanded our reach and services.

Right before COVID hit, Gay City found out that our building had been sold to a developer and that we would be displaced. We began organizing quickly, and asked you what you wanted from an LGBTQ Center. Your answers were clear: a safe, accessible space on Capitol Hill that provides responsive services and resources for queer and trans people in the region, centering BIPOC and youth voices. This winter, we are eager to invite you into our new Seattle LGBTQ+ Center at Pine and Bellevue streets. It will feature expanded services, a dedicated youth space, a larger affirming space for community, and greater access to resources. We will also have a dedicated pharmacy on-site with expanded health service access.
Here are the plans for the location which will include space to continue Gay City's health programs that include HIV and STI testing as well as referrals and information on PrEP. It looks like there will be space for the LGBTQ library and a small meeting room that can be rented by the community but sadly there will not be a dedicated large arts space similar to the one Gay City currently has at the Pike & Belmont location.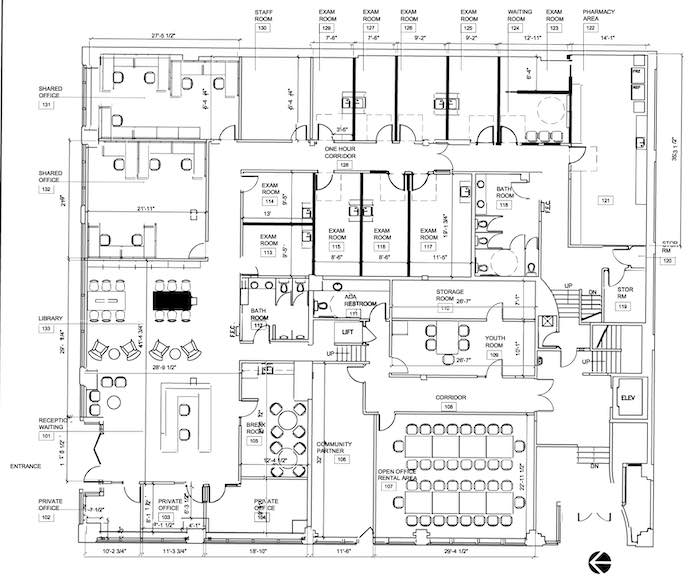 Some of the features include:
Room 100 – Youth Space (middle)
Room 106 – Community Organization Partner TBA (middle bottom)
Room 107 – Large Meeting Space/Rental Area (middle bottom)
Room 121 & 122 – Pharmacy (upper right)
Room 133 – Library with new furniture (lower left)
More information will be released when it gets closer for the new space to open sometime this winter.
Several other community groups have leased office space from Gay City at the old location including Three Dollar Bill Cinema. It looks like at least one other non-profit will be sharing some space at the new location but no word on who that partner will be or the fate of any other community renters from the old Gay City space. It seems likely that some community groups will eventually move to the soon to be constructed Pride Place building on Broadway which will house a gay senior center but will also have space for other non-profits.
More as it develops.
(Visited 8 times, 1 visits today)