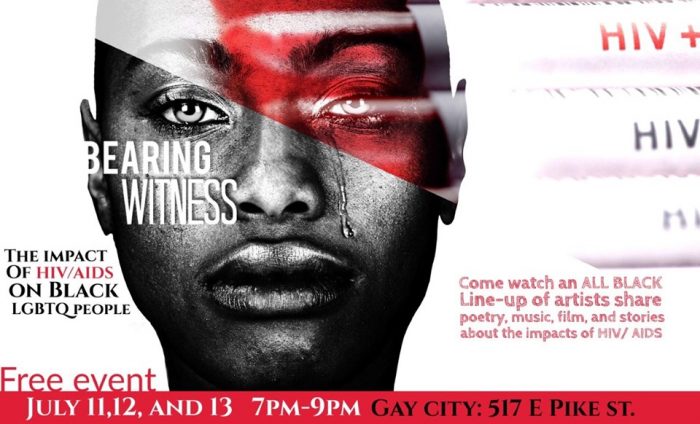 Bearing Witness: The Impact of HIV/AIDS on Black LGBTQ People is a must see event happening at Gay City: Seattle LGBTQ Center, 517 East Pike Street starting tonight, Thursday, July 11 at 7pm and running through Saturday at the same time. Developed by Seattle activist/artist/writer Chad Goller-Sojourner, the evening will include stories, spoken word pieces and music that explores the impact of HIV and AIDS on the LGBTQ African-American community.
From the invite:
Despite bearing the statistical brunt of this country's HIV/AIDS epidemic, Black LGBTQ people and our stories have yet to secure our rightful seat at the collective HIV/AIDS narrative table. We are left with only two options – wait for an invitation that is never coming or answer the call of our ancestor Marlon Riggs, who said, "When nobody speaks your name or even knows it, you, knowing it, must be the first to speak it."
The event is free but you should RSVP over HERE. 
Sponsored by Ingersoll Gender Center, 4Culture, Office of Arts & Culture Seattle, and Gay City: Seattle's LGBTQ Center Arts.
(Visited 1 times, 1 visits today)