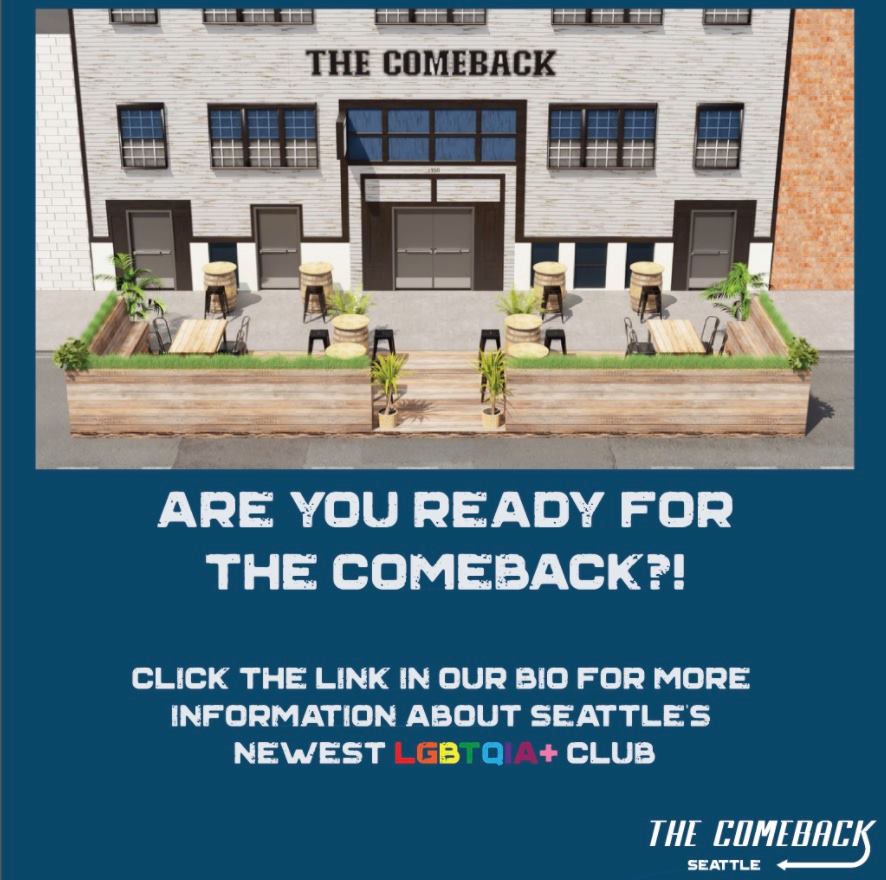 So, we broke the news a month back about the return of RPlace the popular LGBTQ nightclub on the corner of Pine and Boylston on Capitol Hill that lost their lease last year. It's not going to be named RPlace but former RPlace general manager Floyd Lovelady is leading the charge to recreate that RPlace magic at a new venue he's calling THE COMEBACK with his business partner John Fish.
SGS snooped around and found out the property they were hoping to snag as their new home was located in the gritty industrial/commercial neighborhood of SoDo, the home of Seattle's major sports stadiums, Starbucks Headquarters and lots of grim looking warehouses and industrial buildings along the water front. Specifically, they settled on a building that formerly housed the Eden Seattle, a straight nightclub at 1950 1st Avenue South on a block that already houses a Krispy Kreme bakery and Green Fire Cannabis. It's just down the street from other LGBTQ friendly night life venues like Monkey Loft and the recently opened Supernova disco.
The Comeback's social media pages have been leaking bits of information in the last week including a photo of a lease on the 24th and today they posted a design of what the front of the new club could look like with outdoor seating. And, Lovelady has also released information via his own personal social media about staffing the new club including rehiring several former RPlace employees and making it clear that the popular Friday/Saturday drag show LASHES headlined by Ladie Chablis would return.
But, the big info drop was via their Instagram that had a link to an IndieGoGo page for their crowd funding project to raise $100,000 to help make The Comeback a reality. The owners are looking for some extra funding to improve sound systems/lighting and overall appearance of the new venue.
Via that page:
It is time for The Comeback!  Hi, It is Floyd & John here.  Floyd has spent the last 20 years managing and growing RPlace Seattle, while being the face of the business for guests, performers, vendors and staff. John spent most of his 20's sitting on a bar stool or thinking he can dance at RPlace. Both of us could not bear to see RPlace close and not come back to the community in some way.  Working with the prior owners of RPlace we were able to come to terms on a purchase of the business, and we then started a hard look for a new space that could provide that amazing nightlife vibe again.  We have found and secured that space down in the SODO area that is going to be great for Drag Shows, dancing the night away, and some cheering for your favorite Seattle Sports team to win!  

A part of making this new LGBTQIA bar come to fruition is you!  We are doing this crowdfunding to help cover the renovation costs of the new building, and create this new amazing space.  But don't worry, donations to this campaign will come with perks to come see us and the shows.  
What We Need & What You Get

This crowdfunding is set to raise $100,000 for us and that is going to go directly into our remodel budget but specifically upgrading the sound & lighting. This is going to knock your socks off and make your visits here extra fun every time. 

You can purchase an Opening Weekend Ticket to come to the Lashes Show that will have a RuPauls Drag Race queen (or two).  And some of the best ones are the 6 month and 1 year passes that will give you exclusive rights to things like skip any line and no cover!   

If we do not make our entire goal we will still use the money to get The Comeback open, and all dollars will go to make sure this happens.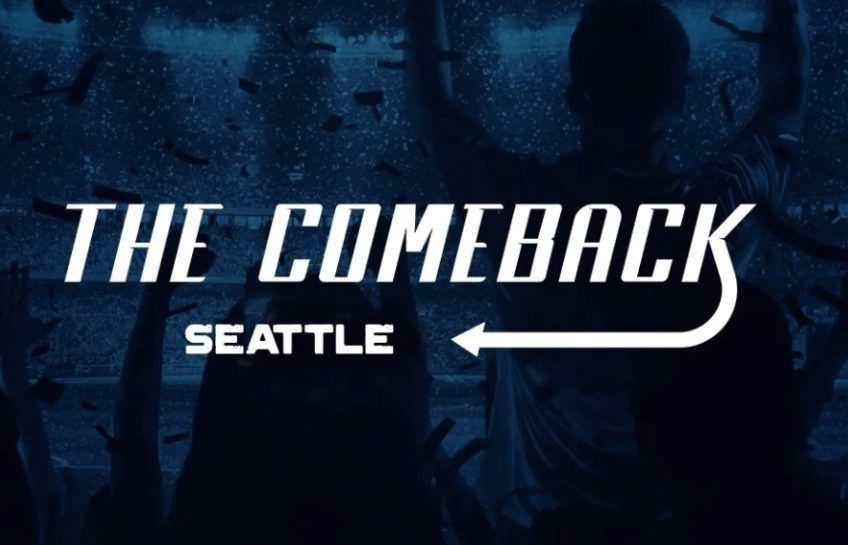 There's also a FAQ section on that funding page that answers questions about the new club including their hope to open for "the holidays" (which seems like wishful thinking because permitting takes forever in this town) and their plans to host big entertainment events on the 40 foot stage. Via their FAQ:
When do you expect to open?

It will depend on Construction, and permits from the City of Seattle which can take up to 90 days just for that. We are hopeful for the holidays.
What is The Comeback? Is it a bar? Restaurant?

The Comeback is going to evolve as we grow. We are starting off as a nightclub and bar. However, the full kitchen in the space will get a renovation and then we will also be able to serve food.
Will there be space for shows?

The Comeback is MADE for shows. There is a huge 40 foot stage that we will be using for drag shows, and many other cool entertainment events. Stay tuned!
It's near the stadium, is it a sports bar?

Doesn't a LGBTQIA Sports Bar sound cool? There will be a sports theme to the bar and we will have a lot of tv's to be able to pregame before the stadiums, or watch the game from the bar with friends.
Why SODO?

Basically, It comes down to the changes and gentrification that has been all around us in Seattle for years. The SODO allows us to be able to get a great space and have less restrictions around noise and use. Also since SODO is built around people coming in and out for the stadiums, there is great access to get there by car, light rail, and bus.
Why are you crowdfunding?

We are not doing just your standard crowdfunding, as it is a rewards based. We wanted to make sure that people who help us get The Comeback open have the first shot to come enjoy it with us. The money is being used to make upgrades in sound and lighting, along with being able to work at a quicker pace to get open.
Crowdfunding for a "for profit" business venture can be tricky. It will be interesting to see how they do with this plan.
Obviously this is an ongoing story…much more to come.
(Visited 20 times, 1 visits today)