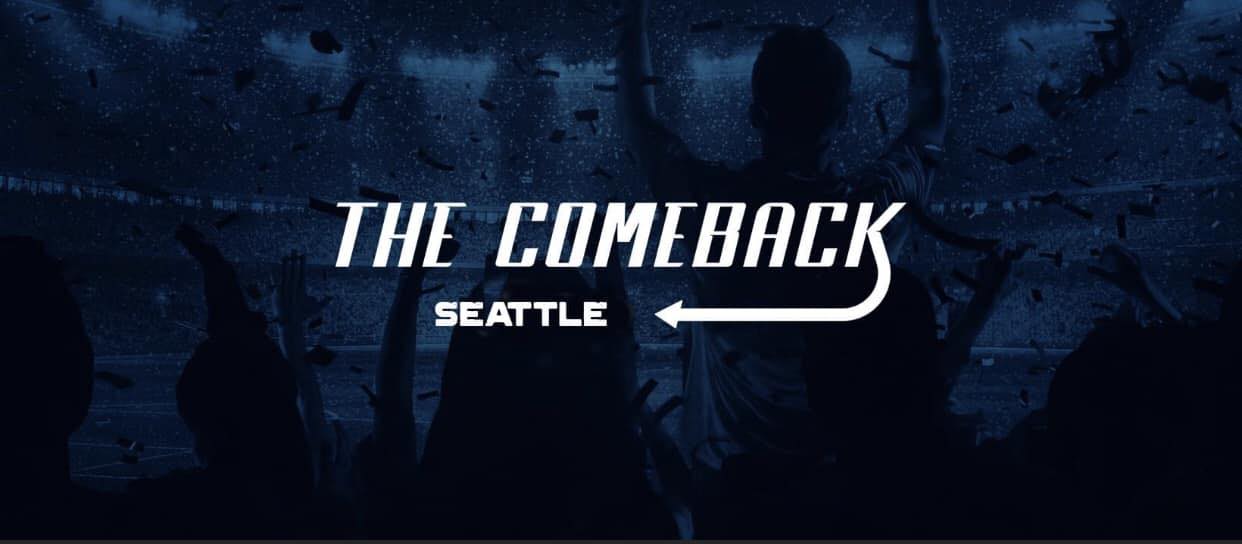 There have been numerous rumors flitting about the Scene for awhile now about the newish LGBTQ+ bar, The Comeback located on First Avenue in Seattle's SoDo district. The Comeback was started by Floyd Lovelady (with partners) who was the longtime manager at beloved Capitol Hill gay bar R Place which closed during the Covid shutdown after the owners of the building chose not to renew their lease. Lovelady wanted to recreate the R Place experience and found a new location at 1950 1st Avenue South just a few blocks south of Seattle's professional sports stadiums. After a remodel of the space which had formerly housed a straight club called Eden, The Comeback officially opened in January of 2022.
While fans of R Place and their staff, many of whom moved to The Comeback, were excited about their favorite gay bar resurrecting, others speculated if the new bar could make it. Afterall, R Place was a neighborhood gay bar that had been located in a densely populated part of Seatte that was home to many LGBTQ+ people. SoDo is a commercial/industrial neighborhood home to…a handful of informally housed people living rough/in camper vans. It's not quite the same demographic. While there are other nightlife venues in that district, including the gay friendly/welcoming night clubs The Monkey Loft and Supernova, both of those businesses are destination venues mostly open on the weekends and are more specifically branded as night clubs rather than as neighborhood bars.
Late in 2022, the rumors began appearing that The Comeback might be struggling. But, such rumors are common for newly opened businesses that cater to the public. It's hard to establish a new business. But, something else started happening as well when C. Scott Smith, the former partner of the Capitol Hill night club "Q" began "vague posting" on social media about a Seattle bar he was trying to partner with and the problems he (and his business partners) had encountered while dealing with the current owners of the bar (which he didn't name) and began labeling those partners as "The Three Stooges" for their allegedly inept business practices.
Those posts continued for awhile with The Comeback doing some responding of their own with more vague posts on social media. The rumors continued to grow when Floyd Lovelady, the majority co-owner of The Comeback, posted on a San Diego based Facebook page that he was relocating back to his hometown of San Diego and seeking out accomodation/roommate situations in that city. After seeing these posts, I reached out to Lovelady for a comment about him leaving the business and the status of The Comeback and he replied to me with this message:
The Comeback has a ton of stuff on the books between now and June. In February alone, we're hosting an HIV testing/monkey pox vaccine and free concert with the Queen Diva, Big Freedia on Feb 10th, a big Super Bowl party on Feb 12th, BRUT on Feb 18th, and a number of other events to go along with our weekly RPDR viewing parties every Friday Night followed by Lashes. We're also continuing our Tea Dances every Sunday with Disco Vinnie and have launched a new Bear Bust to go along with it. We're committed to providing a safe space for every segment of our community. There's been no change in ownership and we look forward to serving this community and this city for as long as possible.

Respectfully, Floyd Lovelady (He/Him)
That was on January 26, 2023.
Since then, the rumors natually continued. Lovelady has apparently moved out of the city and there have been new staff at The Comeback, programming their line-up of shows and events. Things reached a head this past weekend when more vague posts from various community members showed up on social media including an "R.I.P. Comeback" post implying the venue had shut down based on the fact that The Comeback was not open on Sunday, March 26th for a planned event with RPDR star Tyra Sanchez.
This led to C. Scott Smith posting a very long and detailed post on his FB wall that named all the names involved in his proposed partnership with The Comeback and listed a number of transgressions allegedly committed by The Comeback's ownership including accusations that customers had had fraudulent charges placed on their credit card bills and that a Small Business Administration loan had been improperly if not fraudently filled out.
This led to a blow up on social media with people either lamenting the supposed demise of The Comeback or angry over the allegations including Ladie Chablis, who headlines at The Comeback's weekly drag show Lashes, angrily responding via social media that C. Scott Smith was guilty of "character assassination".
Which of course led to Smith issuing a rebuttal to Ladie Chablis via Facebook…
Meanwhile, The Comeback announced they were going ahead with their Tyra Sanchez show on Monday night, March 27th. The star had had flights delayed due to weather conditions and had been unable to arrive in time for their Sunday show….so, The Comeback was apparently open for business on Monday night.
Meanwhile, the grumblings, rumblings, accusations and vague booking continue on social media with people confused by what exactly is going on….which is why I decided to go ahead and post this explaination to help clear the air a bit. As to what happens next…well, that's to be determined.
(Visited 1,765 times, 1 visits today)