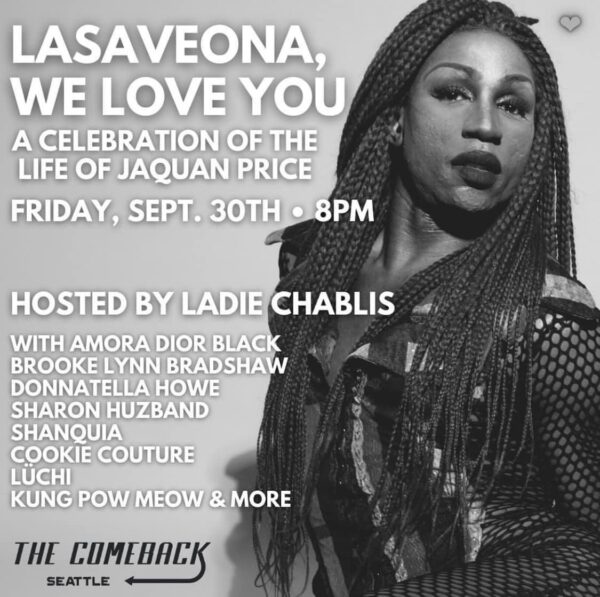 Many people in Seattle will want to come to tonight's tribute and memorial party to honor the life of Seattle drag star, LA SAVEONA HUNT, aka JAQUAN PRICE who passed away earlier this month. It's happening at The Comeback, 1950 1st Avenue South in Seattle's SoDo neighborhood. La Saveona was a former cast member of the Lashes drag show which originated at the now closed R Place on Capitol Hill before moving to The Comeback. Current and former Lashes stars will gather to perform tonight at a special tribute party to La Saveona/Jaquan.
No cover will be charged tonight and tips and donations will go to Jaquan's family for funeral/memorial expenses. The start time of Lashes has been moved up to 8 pm and be advised this will be a full house so get there early to make sure you get into the venue.
Family members of Jaquan will be in attendance and a video tribute to Jaquan will be shown as well.
If you wish to donate to the GoFundMe: https://www.gofundme.com/f/jaquans-aka-la-saveonas-celebration-of-life
Scheduled to perform tonight:
Performances by:
Ladie Chablis
Gaysha Starr
Cookie Couture
Kung Pow Meow
DonnaTella Howe
Taylor Rey
Amora Black
Sheniqua Volt
Brooke Lynn Bradshaw
Atasha Manila
Beyonce B. St James
Celys S Black
Diamond Sj James
Dolan Newell
Londyn Bradshaw
LÜCHI
Mila Skyy
Jessica Paradisco
It's going to be a long tearful, joyous show.
Bring your hankies and boxes of Kleenix!
(Visited 45 times, 1 visits today)