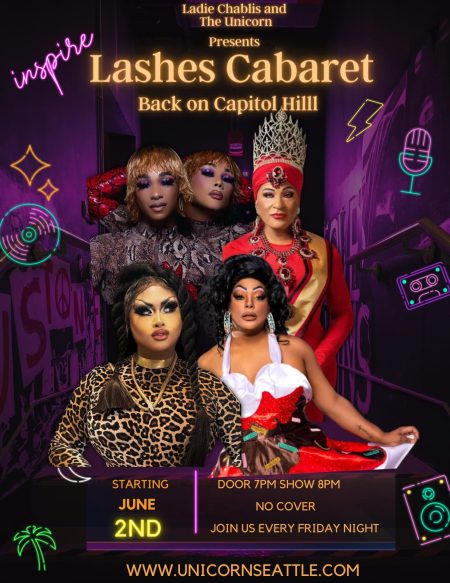 It's hard to keep a tenacious drag queen down!
Veteran Seattle performer LADIE CHABLIS wasn't about to go down with the ship at the impending/lingering death of the SoDo located gay bar The Comeback where her popular and long-running drag cabaret show had been based. The show had originally started back at RPlace, the popular gay bar on Capitol Hill's Pine Street but after Covid-19 and greedy landlords forced that bar to close, the show then moved to The Comeback when it opened in January of 2022 under the ownership of former RPlace general manager Floyd Lovelady.
For years, Lashes had been a Friday/Saturday night showcase for area drag performers; many got their first gigs at the show. But, The Comeback proved to be a challenging new home for Lashes…the show was cut back to only happening on Fridays and there were rumors that talent and staff wasn't being paid promptly. Low attendance and financial woes eventually killed the bar which announced they were shutting down this past Sunday, April 30th.
Well, today, Tuesday May 2nd, the Ladie Chablis (NOT to be confused with the similarly named famous diva from Savannah Georgia best known for the book/film "Midnight in the Garden of Good and Evil") announced on social media channels that she had already found a new home for Lashes…at Capitol Hill hipster bar, The Unicorn.
Per Ladie Chablis, the move will happen on Friday, June 2nd with Fridays as the drag show's regular weekly slot with a show start time of 8pm.
The Unicorn, which started out as a bar for everyone when it opened in 2010 and regularly drew a large, youthful crowd attracted by the bar's vivid and unique design which uses elements from circuses, carnivals, and sideshows and was heavily written up and featured in national media as a "hip" venue to check out. They added a downstairs entertainment stage they called The Narwhal in 2012 and after Seattle drag legend Mama Tits moved her popular and award winning "Mimosas with Mama" drag brunch there after The Grill on Broadway's tragic failure, the venue began to see more and more LGBTQ people show up. Last year, I was told by staff that the Unicorn considers itself to be a gay venue, despite being straight owned. They now host numerous regular LGBTQ+ events including many drag shows including the continued run of the Mimosas Drag Brunch on Sundays with new host Isabella Extynn who took over the reins after Mama Tits began her residency in Puerto Vallarta, Mexico.
In 2022, the bar hosted their first big Pride street festival during Seattle's Pride Weekend and rumor has it, they'll do the same in 2023.
Check out all of The Unicorn's events at: http://www.unicornseattle.com/events
(Visited 270 times, 1 visits today)