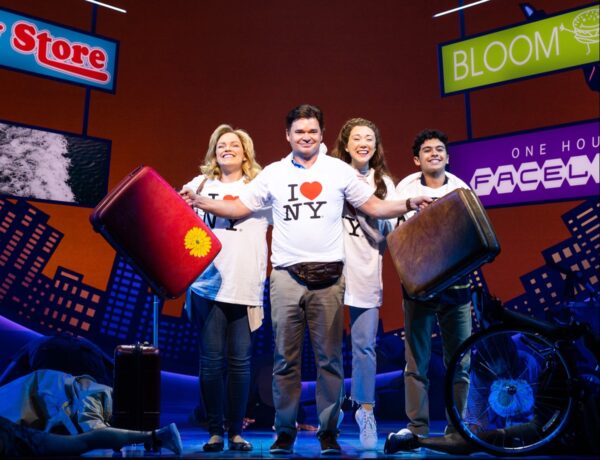 Who doesn't love a trip?!? Especially one down memory lane…with "The Griswolds' Broadway Vacation" onstage at The 5th Avenue Theatre, you get the best of both worlds! A trip! And, one to the past when in the 1980s when we were younger and firmer!
But, have the Griswolds stood the test of time like we have?
Hmmm…..
The 5th Avenue Theatre's production of "The Griswolds' Broadway Vacation" isn't strictly speaking a 5th Avenue production…it's one of their "we're hosting an out of town tryout for a new musical with Broadway Dreams" productions and like so very many of those productions, it's a show based on an old and supposedly beloved movie. Or, in the case of the Griswolds, based on CHARACTERS from the "Vacation" movie series that began in 1983 with "National Lampoon's Vacation" starring Chevy Chase as Clark Griswold, the buffoonish head of a Midwestern family who along with long suffering wife Ellen and teenaged kids Audrey and Rusty, get into nutty escapades traveling across country to Los Angeles to visit the "Wallyworld" amusement park. It was popular enough to lead to 4 more films, the last one being a reboot with Chase's Clark character reduced to a cameo role.
It might be slightly refreshing that the creators of this new musical chose to create something new-ish with this show…it's not a straight up adaptation of one story but since the Vacation films are all very formulaic to start with, it doesn't really make much difference. The plot:
They've been to Wally World, they've been to Vegas, and now the Griswolds are going to… Broadway! Yes, the characters you know and love from the hit Warner Bros. Vacation movies are back—and they're taking their biggest vacation yet. So, get in your family truckster and join Clark, Ellen, Audrey, and Rusty on their big New York City adventure—where of course, everything goes exactly according to plan.
And wackiness ensues!
Sorta.
The main problem with this musical is the fact it's based on a junk material. It's all pretty basic humor and plot lines…there's nothing very clever or surprising here. Which some people enjoy…well, actually, lots of people enjoy simple entertainments; it's why our cinemas are full of super hero movies all with the same premise and our tv screens are full of police procedural shows all with the same premise, some of us hope for/expect a story with just a TINY amount of intelligence or wit or originality at the very least.
Not surprisingly, The Griswolds isn't that kind of show. It's the same characters in a new location, this time it's New York City so of course we have lots of "hicks in the Big City" jokes, a plotline that wasn't very fresh when Abe Lincoln used to go to the theater. Though to be fair, they have tweaked some of those jokes but they're still the same old corn.
Other tweaks: in previous Vacation films, Clark has been the one tempted by women outside his marriage but here it's wife Ellen who, unhappy with Clark, runs into an old friend from high school who tries to rekindle a relationship. And, daughter Audrey has her own little plot line as she attempts to head off to college in the Big City. Still, it's nothing very new or original.
As for the songs…I don't really remember them. Though oddly the second act of The Griswolds is more engaging than the first and opens with a number with terrific energy featuring Cousin Eddie, a recurring character/nemesis from the film series. The song itself and Cousin Eddie's role in the story doesn't really make any sense but the actor playing Eddie, Jay Klaitz is great fun and the number is really the only time the show has any kind of "show stopper" momentum.
The rest of the cast is…fine. Hunter Foster is appropriately dimwitted as Clark and Megan Reinking is appropriately long suffering as Ellen. Livvy Marcus was ok as Audrey, who is a bit of a pill in this story (and is saddled with a weird old lady wig for some reason) and Nathan Levy was appropriately adorable as Rusty who has his own set of adventures in the story. It's all very unlikely adventures but that's the joy of dumb plots; you can do ANYTHING and pretend it makes sense!
I must give credit to the only thing I really loved about this production….Jason Sherwood's witty, colorful scenic design. His terrific Times Square set include a lot of great billboards and all of them will make you giggle. Well, if you're a theater nerd. And, somewhat familiar with New York City.
Who is this show for? Uber fans of the films and characters….people looking for VERY light but professionally done entertainment. Folks who enjoy lovely scenic design.
Cousin Eddie types in other words.
---
Review: "The Griswolds' Broadway Vacation: The Musical" at The 5th Avenue Theare. Book, Lyrics and Music by David Rossmer and Steve Rosen. Directed by Donna Feore. With Hunter Foster, Megan Reinking, Livvy Marcus, Nathan Levy, Alan H. Green, Jay Klaitz.
(Visited 7 times, 1 visits today)