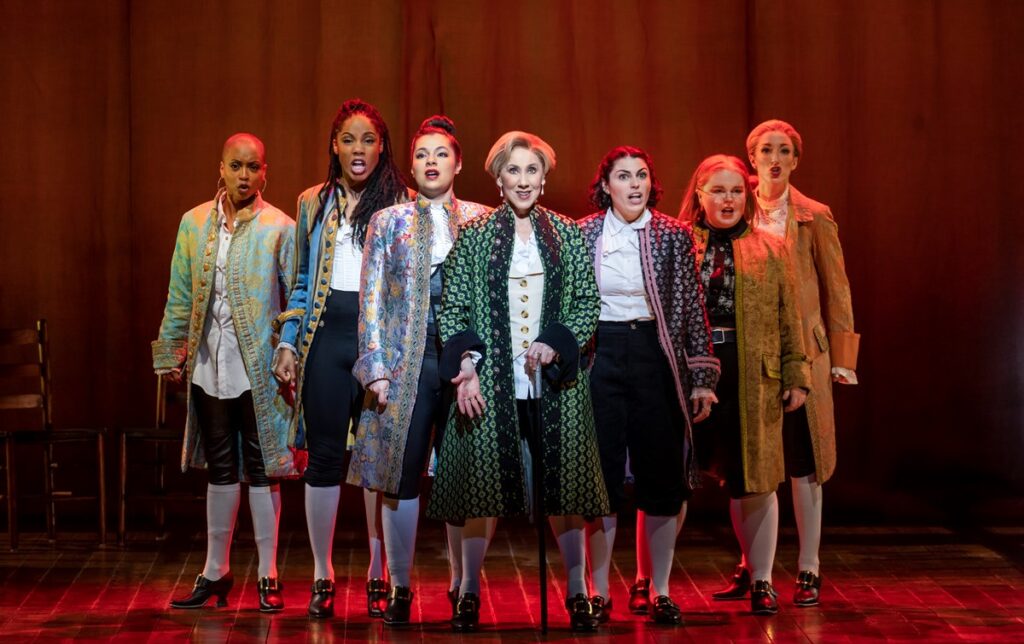 The controversial "gender switched" production of the Tony Award winning musical "1776" is making its way around the U.S. this year after its Broadway run last year. The show is about the summer in (yes, you guessed it: 1776) when the Declaration of Independence was created in Philadelphia. With music and lyrics by Sherman Edwards and a book by Peter Stone, the dramatic/talky show was a surprise hit and won rave reviews and a slew of awards including several Tony Awards. It was made into a film in 1972 (with most of the cast from the original B'way production) and has been revived several times over the years.
The big change with the most recent revival was with the casting of actors who identify as female/trans/non binary (and many of them actors of color) to tell a story that had mostly featured an all male/all white cast of real life historical characters. Originally planned as a project for 2020 with a national tour to coincide with the presidential election, Covid-19 derailed that schedule. Produced by American Repertory Theater of Cambridge MA under the direction of acclaimed Tony Award winning director Diane Paulus and co-director/choreographer Jeffrey L. Page, the production finally debuted in Cambridge in May of 2022 where it received mixed reviews. The show then transferred to American Airlines Theatre on Broadway in September of last year where it received more mixed reviews and struggled at the box office.
There was also some controversy with the production that had a Pacific Northwest connenction when Seattle based actor Sara Porkalob who played Rutledge in the production, gave a very frank interview expressing her own opinions of the material and the specific production which weren't entirely favorable of either. While some members of the Broadway theater community praised Porkalob for exposing problems in the modern theater, others condemned her for violating professional confidences.
This week, the national tour of 1776 hits Seattle's 5th Avenue Theatre (minus Sarah Porkalob who is not a part of the tour) for a one week run.
From the breathless press release:
What will it take to get two dozen powerfully passionate, exceedingly complicated, and all-too-human individuals to settle their differences, while they hold the very future of a nation in their hands? American Repertory Theater at Harvard University/Roundabout Theatre Company's new production of the Tony Award®-winning Best Musical, 1776, is a tuneful, witty, "bold and exuberant" (Variety) reexamination of a pivotal moment in American history from directors Jeffrey L. Page (Violet) and Diane Paulus (Waitress). 1776 comes to Seattle with a cast that reflects multiple representations of race, gender, and ethnicity. You may never think about our country—who we are and why—the same way again.
Despite all the offstage drama and mixed reviews, I'm very much looking forward to seeing this production. It's a rare opportunity to see a seldom produced musical theater classic with a well regarded score and book. Tickets available at: https://www.5thavenue.org/shows/2023-2024/1776/
(Visited 40 times, 1 visits today)