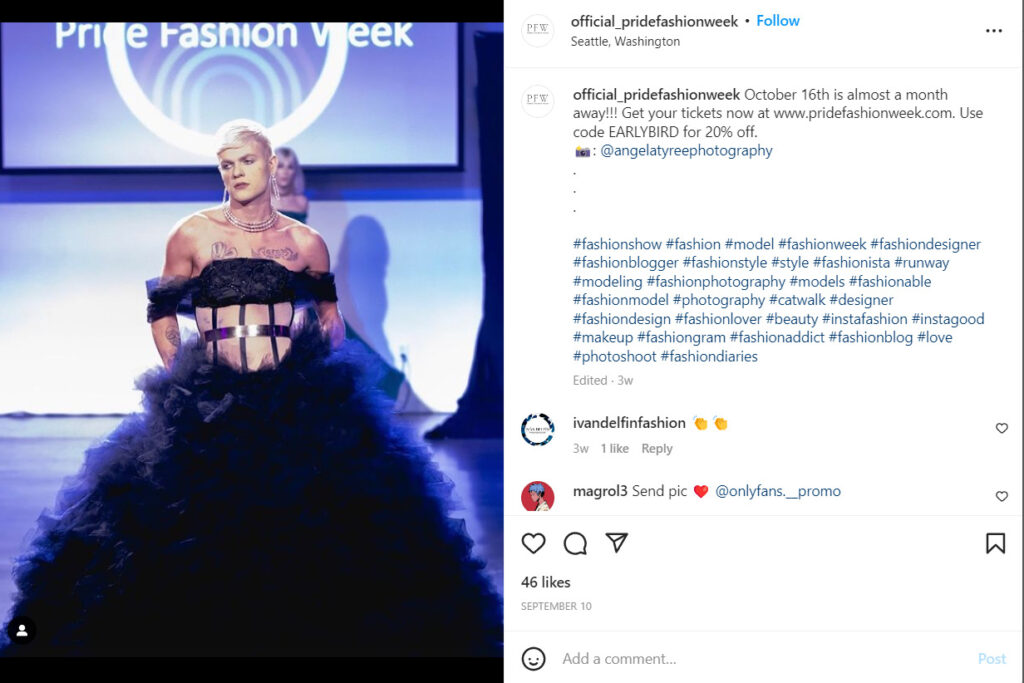 The big Pride Fashion Week event returns on Sunday October 16, 2022 at The 101 event space at 101 S Jackson Street in the Pioneer Square neighborhood. It's a FAHNCY evening celebrating fashion and a fabulous fundraiser for Seattle's Lambert House, the safe space for LGBTQ+ youth. The evening will include an and a fashion show from designers Sophia Luchianni, Bryce Rail, and Arthur Gottlieb.
This is a RARE opportunity to get "dressy" in Seattle so for local fashionistas, this means you can drag out all your real (or fake…) Balenciaga!!!!
Swoon!!!!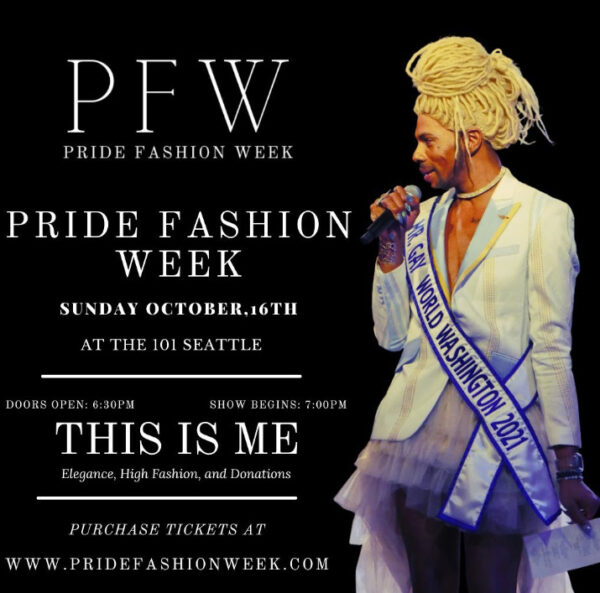 Via press release:
Pride Fashion Week is a business built on the ideas and passions of LGBTQIA+ representation in the fashion industry. We have a desire to prepare, nurture, and grow our models, MUA's, and designers in a way that they are ready to lead and represent the LGBTQIA+ community in the fashion industry. As the official fashion week for the community we are proud to be the innovators of today, and the leaders of tomorrow.
This year we also have the pleasure of offering the chance to hear Jonathon Benjamin talk about his new book "American Airman" and his experience as a wounded veteran and the transition into civilian life as a Black, gay veteran. Book talk will be at 3:30pm with a 2 hour intermission before the show starts.

Dress Code:
Pride Fashion Week – This is a black tie event! Come dressed in your fashionable fancies.
American Airman Book Talk – Business Casual

To ensure the safety of our models, the security of the venue and fashion masterpieces, food and beverage will not be served or allowed at the Venue.

Thank you for your support of Pride Fashion Week; we look forward to seeing you!

FOLLOW PRIDE FASHION WEEK

Hashtag: #PrideFashionWeek
Facebook: https://www.facebook.com/OfficialPridefashionweek
Twitter: https://twitter.com/PFW_Official
Instagram: https://instagram.com/Officialpridefashionweek
Website: www.pridefashionweek.com
(Visited 10 times, 1 visits today)