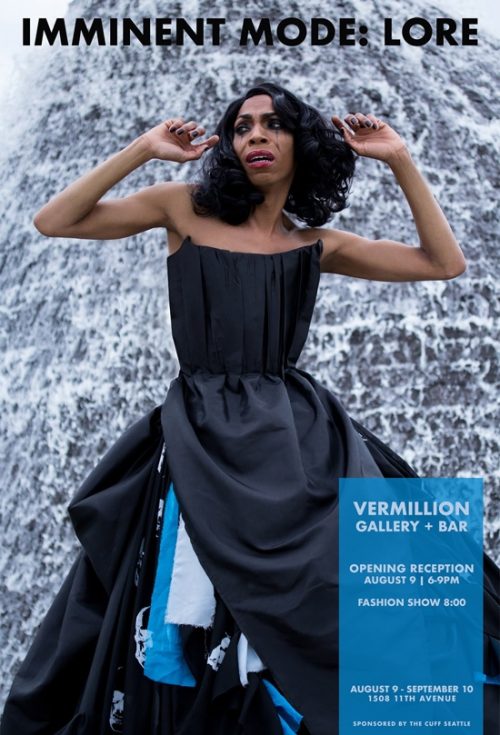 On this hot, hot, HOT day here is an opportunity to see some queer street level original fashion…outdoors!
On 11th Avenue between Pike & Pine on Capitol Hill!
It's the latest installment of the art collaboration series IMMINENT MODE and it's happening tonight (THURSDAY, AUGUST 9TH)  from 6pm to 9pm in front of/inside Vermillion Gallery & Lounge. Hosted by the lovely chanteuse/artiste Adé and featuring collaborative work from 18 local designer/artists working in pairs!
Plus, music! Booze! (indoors)
The live fashion show will start at 8pm!
More poo!
IMMINENT MODE: LORE
 Opening 
Thursday, August 9, 2018 6-9pm
(show runs through 
September 8, 2018
)
STREET LEVEL FASHION SHOW ON 11th AVE
DANCE PARTY ENCOURAGED BEFORE & AFTER!
This fourth installment, "Imminent Mode: Lore" will feature work that tells stories. Whether they are culturally-based or personal, our featured artists will be telling the stories that mean something to them; giving the public a view of who they are, where they come from, and their unique perspectives exhibited through installations and wearable art.
The goal of Imminent Mode is to provide a place for designers and visual artists to play with juxtaposition in creative expression.
Featured Artist Pairings: 
Jordan Christianson + Anouk Rawkson / John Criscitello + Pete Rush / Dan Garlington + Mariel Andrade / Brenda Bryan + Grant Rehnberg / Aaron Lafferty + Travis Ritter / Kerstin Graudins + Ramona Barnes / Orlando Mandujano + Donald McCullough / Devon Yan + Juan Monroy / Diane Knoll + Julia Evanovich
Featuring Photography by Stephanie Jamieson
With DJs
Olivia Phaze + Mister Sister
Presented at Vermillion Gallery + Sponsored by The Cuff Seattle
11th Avenue between E. Pike and E. Pine street is concentrated with businesses and art/music spaces that are predominantly LGBTQ & MWBE (LGBTQ & minority and women owned/operated business enterprises) that strive to represent and host underserved and QTPOC artists.
(We regret that there will be no outside alcohol service for this event but the full bar is open inside Vermillion)
(Visited 3 times, 1 visits today)