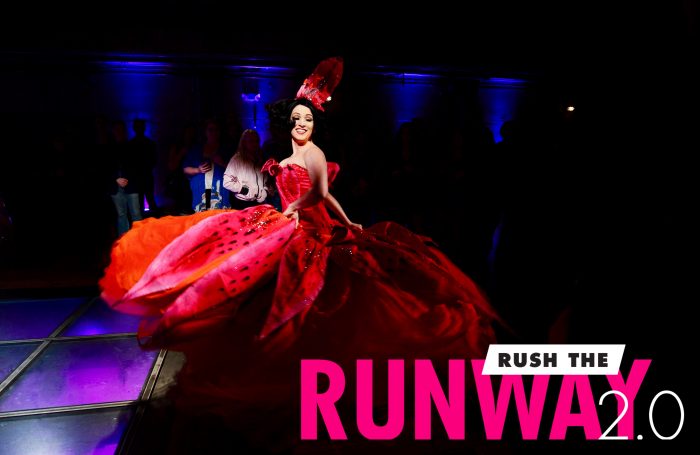 After the huge success of their first attempt at doing a fun fashion/vogue ball/dance party/art event last year, A Sensible Theatre Company has announced RUSH THE RUNWAY 2.0 for Tuesday, February 19th to happen at the huge Fremont Foundry entertainment venue in Fremont.
Paul Flanagan and Jared Michael Brown had a terrific first year with Sensible's line-up of fun events this past year that, besides Rush the Runway 1, included their cabarets done in Seattle and New York City, plus their first full stage production of PAGEANT which was a big hit back in June. 
The cabarets are continuing while they put together RUSH THE RUNWAY TWO.OH which will include showcasing the work of brilliant local queer fashion designers like Jordan Christianson, Justin Z. Couture, Thadayus Wilson, Jayne B Shea and Tony Tramp.
There will also be a big talent line-up, to be announced soon but until then, go grab tix for the event…you can snag them HERE. 
More information below and we'll update once we hear more about the talent to perform.
Since Red Dress Party has been moved to Memorial Day Weekend, this is a fun way to enjoy a mid-winter fashion forward party in a gorgeous huge venue…and, without the tyranny of a color themed dress code!!!!
The poo:

RUSH THE RUNWAY 2.0
TUESDAY, FEBRUARY 19TH, 7:30 PM
Fremont Foundry, Seattle

7:30P – 9:00P :: A SENSIBLE COCKTAIL HOUR
9:00P – 10:00P :: RUNWAY LEWKS & LIVE PERFORMANCES.
10 – Midnight :: DANCE, Honey. W/ DJ Mixx America

A Sensible Theatre Co. is BACK! We're throwing THE party to shake off your winter gray and gloom at Fremont Foundry. Reach far back into your closet. That piece you've been saving for the perfect night, your most avant-garde, fashion-forward outfit you've never had the nerve to wear… That night you've been waiting for is here.

Featuring Seattle Queer Designers:
Jordan Christianson
Justin Z. Couture
Thadayus Wilson
Jayne B Shea
Tony Tramp

And MORE!

Featuring Fierce Seattle Performers – To Be Announced SOON!

$25 – General Admission tickets
$50 – VIP Treatment with a Pre-Party Show and Cocktails

Cash Bar with Beer / Wine / Sensible Cocktails!
Free Grub from Dick's Burgers and Top Pot Doughnuts!

Join us for a night You'll. Never. Forget.
(Visited 1 times, 1 visits today)