In preparation for the 2nd annual "Rush the Runway" event, I had the pleasure of interviewing the event's creators: Jared Michael Brown and Paul Flanagan of A Sensible Theatre Company.
Ryan: Tell me about the beginnings of STC
Jared: We were at a bar and we were reminiscing on our careers—how do we make this positive—we were not getting cast in the things we wanted to get cast in, and we were noticing the types of projects that we wanted were not being produced.
Paul: The positive spin was the birthday. My dream up to that point was that I would have 30th birthday in which I would arrive, be handed a martini, and all my friends would perform a cabaret for me. I asked Jared if he could make that happen and he said yes. And it was an amazing evening, and after that we went out to talk about it all.
J: We did a postmortem on his birthday. "What worked, what didn't work."
P: He said he wanted to do more of this, and I said, "Okay. Why don't we produce 'Pageant' the musical? Yes and! Let's do it!"
J: We were very buzzed, and Paul said we should definitely keep it sensible. And there it is: A Sensible Theatre Company. Growing out of both of us wanting to create our own work, our own opportunities, because we discovered the kind of opportunities that were fruitful and authentic were not happening as much. So we decided to create it ourselves. We also noticed the theater industry tends to be predominantly white. We were dissatisfied with that landscape.
P: As a gay man, there's the realization that every role you're playing is straight. Or not fully portraying yourself correctly. If you do get the opportunity to portray a gay character,"
J: It's an archetype. It's a caricature of a gay man. Not an authentic representation of what these humans are or could be. We wanted something bigger than that. Something more inclusive than that. We wanted queer people to come play and get paid. We wanted people of color to come play and get paid.
It's a beautiful vision. How did you go from this vision to creating the business?
J: The one statement that has remained true for me is, "A rising tide lifts all boats."
P: "What's our business model" is such a funny question to me. We have a business model, and we have the way we're actually making money. Our business model is "Lead with Love."
J: And we make money by showing others how we lead with love. We have someone who is helping us with the production—Michael Hughes—works for Pointe3 Real Estate, and he's been a member of the board of the [Seattle] Men's Chorus for a number of years. When Paul had the opportunity to stand in as talent for the holiday performance, we could make a connection to the Men's Chorus and the people in charge. We made some brilliant connections to provide theatrical service.
P: Michael came to the Winter Social, and after that he said, "I want to be involved." And my first response was like, "Great!" And he told me all that he wanted to do, and I was like, "Why? You're way overqualified to be involved in a Sensible Theatre Company." And he said, "The level of talent that was showcased at the Winter Social and the way that you sculpted the evening, and your mission—this is something that I want to be a part of."
You've had a very successful first year! Producing Pageant, hosting several Sensible Cabaret events, and the first Rush the Runway last year. Tell me about that first Runway event.
P: We were fundraising for a costume budget for Pageant the musical. Pete Rush was our costume designer. We wanted to create a fun event that could help raise those funds but, you know, delight the senses along the way. In regards to runway shows, we hadn't seen costume designers' work being showcased that way.
J: And with Pete's career spanning more than a decade in Seattle, he has a wealth of work to pull from. It was just birthed out of organic conversation of the costumes he creates and what we could use.
P: One of our former board members, Joey Chapman, set us up with the Fremont Foundry. He sent us an email and said, "Fremont Foundry donates one day a year to a non-profit theater company, and I think we should ask if we could have that date."
J: And he did. And we did! Within the next week.
P: And then all the sudden we were like, "Oh fuck."
J: We took one look at the space and said "Jesus Christ, this is larger than anything we've ever done in our lives."
P: "What have we signed ourselves up for?"
J: "Distressed wood with steel features?"
P: It's a huge space. So we were like, "Okay, we have Justin's feature. We have Pete Rush's feature. We need to add some things to this." So naturally I run into Lily Verlaine at a Burslesque show. She says, "Yes, I'll help," and I'm like, "Oh my, we have the Foundry and we have the Lily Verlaine, who are we?!"
J: I think the thing that's the takeaway from Rush the Runway 1.0 was that we were presented with opportunity after opportunity and we had no choice but to say yes.
As in, all the talent was just coming out of the wood work?
J: They just came at us! We had 2 burlesque dancers, a DJ, a circus performance group, we had a cyr wheel.
So what did you learn from the first version, and how will 2.0 be different?
P: I think the biggest thing we learned from 1.0 was, when you provide a space to let people thrive and live their truth, the response is tangible. And really exciting. Rush the Runway was our first event in terms of the lead-up to Pageant, and our first truthful execution in what it means to lead with love. And the response came back to use tenfold. People said "You have to do this again." There was a magic confection of community and love and gayness and queerness and beauty that was just exemplified on the runway. It had to be done again. So for 2.0 we wanted to take all the wonderful things we experienced from 1.0 and add to that to create 2.0 For the first one, there was a lack of exposure for queer designers in Seattle. To be able to provide opportunity for burlesque performers and dancers to perform that's not necessarily your stereotypical burlesque performance was a, "Yes, and do it again."
J: The guests who attended A.) wanted an excuse to get out during the winter, B.) wanted an excuse to dress in their most avant-garde back-of-the-closet outfit, and C.) there was so much bodyodyody in Seattle. I was getting texts in Phoenix from people saying, "Holy shit, these models are so hot. And we don't get to see that in the dead of winter. Where did all these sexy humans come from and why aren't they showing more skin year round?"
P: One of the things we always say at a Sensible event is, "Wear what you always feel most beautiful in." And I think there are multiple occasions to express that beauty. Whether that's a cabaret, you wear a sensible outfit, or a runway, you wear your most avant-garde sensible outfit, because you're perfect just the way you are and the world needs to see that. Coming back for 2.0, we have D Dynasty again. We have DJ Mixx America. We have Hisam Goueli.
J: In addition we are adding Mod Carousel, and Matthew Olshefski, aka The Shirtless Violinist.
P: Alex Crozier, plus some more. There's still a couple we haven't officially finalized. Designer wise, we have Justin Z. Couture, and he's premiering a fuh-resh new line of gowns.
J: He has a new line that he's eventually going to take to Dubai to show there.
P: Then we have Tomboy X, Jane B. Shea who does bisexual t-shirts.
J: It's a gentle unicorn theme.
P: We're starting with the undergarments and working our way up to high fashion.
J: From intimate to opulent.
P: We also have looks from Jordan Christianson, who has designed for Naomi Smalls, BendelaCreme, and Adé A Cônnére. And Sam iAm is creating a look that y'all are gonna die over!
Who would you like to see come to Rush the Runway?
P: I would say anybody who is a fashion enthusiast, anybody who appreciates fashion on other people or themselves, anybody who loves live performance and loves to kick-ball-change,
J: Anybody who enjoys a craft cocktail,
P: A sensible drink,
J: Anybody who has survived the Seattle Snowmageddon and wants an excuse to get the hell out for the night,
P: And anybody who enjoys being absolutely, positively fabulous, this is your time to shine. Anybody who is craving a sense of community and a chance to be in the same space with like-minded people who are also living their truth.
J: Well-put!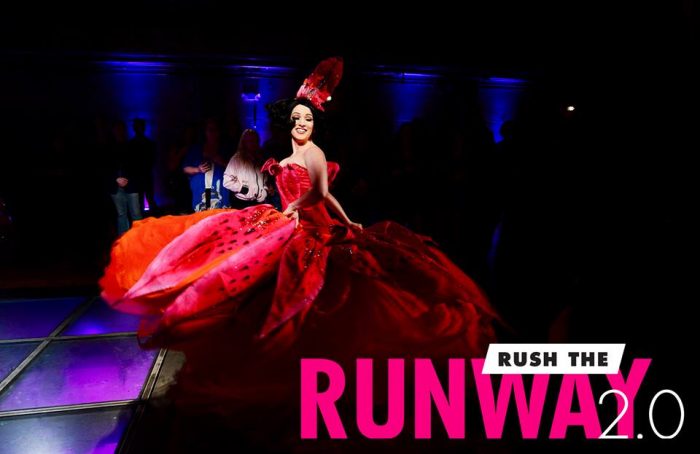 I loved the event last year. Are there going to be burgers and donuts again?
J: Dick's and donuts included.
P: Hashtag tradition.
---
Enjoy all the amazing costumes, sexy live performances, banger-slinging DJs, and—oh yes—all the burgers and donuts you could wish for! Buy your tickets here for Rush the Runway, March 19th at the Fremont Foundry!
(Visited 10 times, 1 visits today)