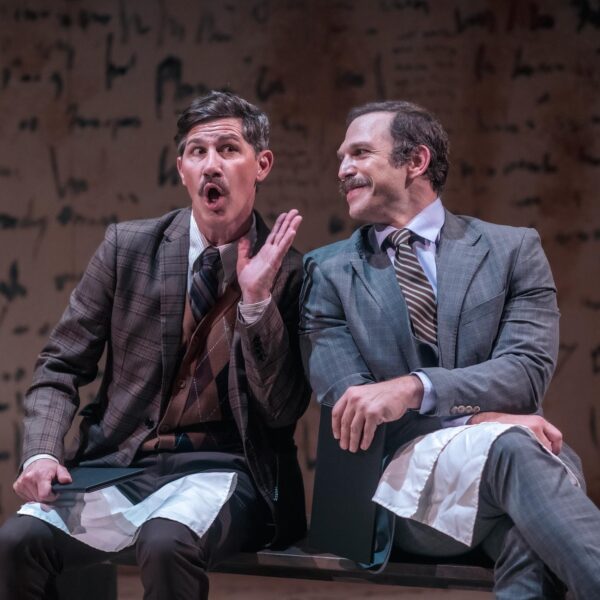 The news that Theatre 22, the excellent small LGBTQ+ focused local theater company, was staging its final production this month, was upsetting and a sad indicator of the tough times that theater companies currently face in our confusing Age of Covid and political/societal confusion. Despite a decade of successfully producing bold and evocative theater, Theatre 22 has to close up shop because it's unable to find affordable theater space in the city after their current space decided to not continue with their partnership.
It's a loss for not only our theater community but for the city as a whole. We should be encouraging and supporting all the arts but especially smaller companies that basically live the equivalent of "Paycheck to Paycheck" or in the case of a theater, "Production to Production". And, it's a shame that theater companies can't work together to help support one another and help one another to survive and grow.
It's all very sad and upsetting and we hope "The 22" will return sometime in the future, or if not that in the form of that company, that we see its two co-founders, husband/partners Alber Sucupira and Corey McDaniel continue making magic on area stages.
HAPPILY, Theatre 22 is going out with a bang because its current production of the play, NONSENSE AND BEAUTY is a delightful winner. It's a bittersweet look at the real life romantic relationship of esteemed British writer E.M. Forster, best known for writing the novels "A Room With A View", "Howard's End" and "A Passage To India" all turned into award winning films since the author's death in 1970.
Forster, known as Morgan to his friends, began a relationship with policeman Bob Buckingham in 1930 that lasted for 40 years, and a relationship that also included the presence of the woman, May, that Buckingham married in 1932. Initially hostile to May, Morgan Forster eventually grew to love and care for May Buckingham who while aware that Forster loved her husband, was unaware for much of the relationship that Forster and her husband had had a physical relationship.
Scott C. Sickles' play initially focuses on Morgan and Bob as they meet at a party given by the very gay writer J.R. Ackerly and gradually develop a relationship that initially centers on Morgan mentoring Buckingham's intellectual pursuits but eventually leads to a physical and loving relationship…at least for awhile. But, Buckingham, concerned about appearances, eventually starts a relationship with no-nonsense nurse May and the play shifts course to focus on them momentarily and the problems that develop in the Morgan/Bob relationship. But, May is an important part of this story, and her character and her developing relationship with Morgan begin to take center stage as the play progresses.
We also see Morgan Forster's loving but fraught relationship with his mother, Lily and to a larger extent, Forster's delightful relationship with the funny and flamboyant Joe Ackerley, the British writer best known for his book about his relationship with his beloved dog, ("My Dog Tulip").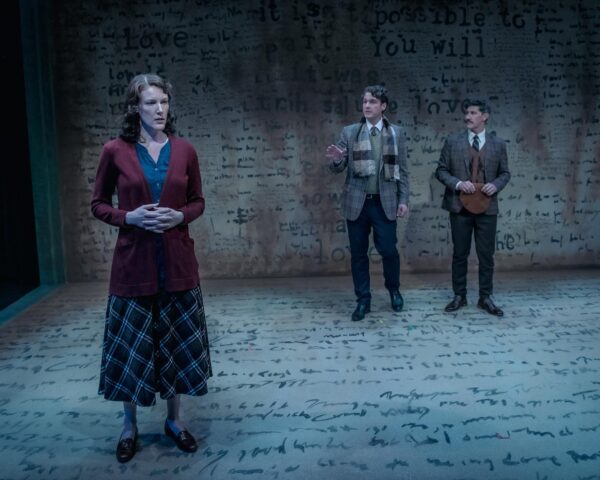 Mr. Sickles has crafted a play that is traditional in its format…Nonsense and Beauty is a two act play based on a real life historical romance with a cast of 5. And, there's absolutely nothing wrong with that. In fact, it's rather a delight to see a new play with such a traditonal format after the trend of so many new plays desperate to be "modern" and "topical" as they deal with societal woes in a 90 to 110 long one act without an intermission leaving audiences exhausted and irritated. Sickles, who has worked in television for many years writing for the daytime soap opera "General Hospital" knows how to pace his scenes and write crackling, compelling dialogue. Many writers would fumble trying to cram 40 years of a story into a 2 hour format but Mr. Sickles does a superb job of keeping to the play's themes and plot…it's centered solely on the complicated relationships between the characters and masterfully balances not only the drama and the comedy but the romance and the pathos of that story. From a literary and theatrical point of view, this is a very well written play.
It's also a very solid production under Corey McDaniel's assured direction, well staged and briskly paced with impressive performances from all five actors. It's a terrific ensemble headed by Eric Mulholland's masterful work as the endearing Forster, who can be charmingly kind in one moment then acidicly bitter in the next. Mr. Mulholland's accent is spot on and he's the rare actor that can convincingly portray old age without resorting to ridiculous gesturing or vocal mannerisms. It's the strongest performance I've seen all year on a Seattle stage and Mr. Mulholland should be heralded for is excellent work.
But, the whole cast is strong. Russell Matthews is very good as the working class Buckingham confident yet fumbling in his various attempts to find love. Marty Mukhalian was her usual superb self in the small but delightful role as Forster's mother. And while Hisam Goueli might be guilty of going a wee bit over the top a time or two in his portrait of the very, very gay Joe Ackerley, it could also be argued that the character and performance do add a lot of charm, warmth and hilarity to a show about repressed early/mid 20th century Brits and their complicated love triads. Mr. Goueli is so delightful we kinda/sorta want Mr. Sickles to write him a vehicle solely centerd on Ackerley, whose actual life as detailed in his posthumous memoir My Father and Myself is very much worthy of being staged.
And, then there's Jennifer Ewing as May Buckingham and she gives an incandescent performance as the very practical but nurturing woman who finds different aspects of love with all three men in her life, or at least the ones we meet in this play: Bob, Forster and Ackerley with whom she forms a very charming relationship. You wouldn't think the female in a triad involving two gay men would be so important or dominant but Mr. Sickles has written a powerful character that very much helps ground this story and Ms Ewing has given a performance that is filled with great insight and strength reflecting the ideal qualities of the character. It's a winning performance in a production full of powerful acting.
Technically, it's a simple but handsome production with some lovely costumes from Jocelyne Fowler carefully reflecting the setting and time period.
So, to sum up, while we're mourning the loss of Theatre 22 and hope they can return in the future, we relish the delight gift they are leaving us…Nonsense and Beauty is a beautiful play lovingly mounted by the company and divinely acted by a superb ensemble. It's very highly recommended and one of the best shows we've seen all year.
And, a toast to Mr. Sucupira and Mr. McDaniel and the entire team at Theatre 22.
Salud!
---
Review: Nonsense and Beauty by Scott C. Sickles. Produced by Theatre 22 at Green Lake Bathhouse Theatre from September 9 to October 2, 2022. Directed by Corey McDaniel. Costume Design by Jocelyne Fowler. Lighting Design by Ahren Buhmann. Set Design by Parmida Ziaei. Sound Design by Kyle Thompson. With Eric Mulholland, Russell Matthews, Jennifer Ewing, Hisam Goueli, Marty Mukhalian. Tickets at: https://www.theatre22.org/nb/
(Visited 38 times, 1 visits today)