Taking time out of his busy schedule promoting the upcoming big gay rom-com film BROS (opening nationally on September 30th) where he co-stars opposite leading actor, Billy Eichner, out gay comedian/actor GUY BRANUM is bopping into Seattle on Saturday, October 8th for a comedy show in the Here-After space at The Crocodile, 2505 1st Avenue.
Tickets for that gig are available at https://www.ticketweb.com/event/guy-branum-from-bros-here-after-tickets/11670385 . It's not Branum's first gig in Seattle; he's been here many times over the last few years.
And, BROS is getting rave reviews (and unfortunately, homophobic trolls are bombarding movie sites with fake negative reviews because they're stupid and hate the idea of a gay rom-com.) Guy plays the funny, sexually active best friend to Eichner's lead character…he's getting good reviews as a "scene stealer" in a film largely cast with brilliant and funny LGBTQ+ actors like part-time Seattle resident Amanda Bearse, Guillermo Díaz, Harvey Fierstein, Dot-Marie Jones, and Bowen Yang plus tons of cameos from actor/allies like Ben Stiller, Amy Schumer, Kenan Thompson and Debra Messing.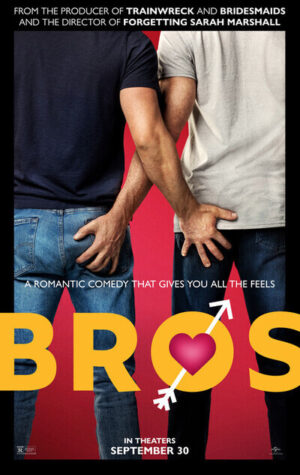 Oh, and besides BROS, Branum is also busy as a writer and producer on the hit HBO Max series Hacks and is currently writing on the new Mel Brooks variety television series History of the World Part II with other funny people like Nick Kroll, Wanda Sykes, and Ike Barinholtz.
And, of course Guy is remembered as a roundtable panelist on Chelsea Lately as well as recently appearing in Netflix's comedy special, Stand Out: An LGBTQ+ Celebration.
(Visited 6 times, 1 visits today)