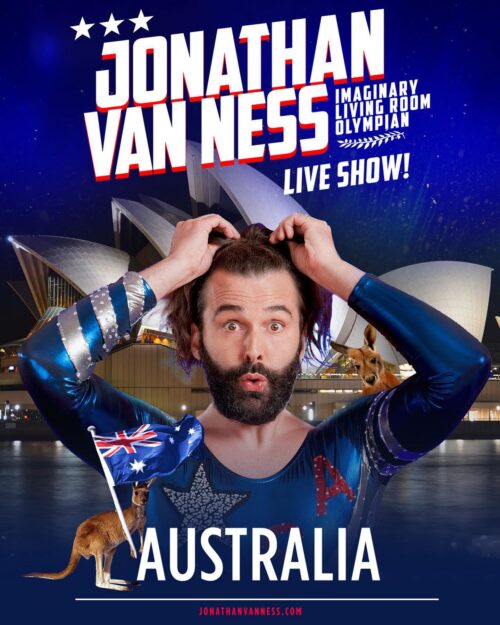 I haven't seen an official announcement about a tour in the United States but it's up on the Seattle Theatre Group's website that beloved "Queer Eye" star JONATHAN VAN NESS will hit The Paramount Theatre on December 9th with his new solo comedy show "Imaginary Living Room Olympian"…which is a pretty cute title. And, of course many of us have played at that same game…prancing around our living rooms living out our Olympic Gold fantasies as a medal winning gymnast or ribbon dancer or ice dancer or "Lava Avoider".
Jonathan himself announced the start of the show's tour on his social media…but only in Australia/New Zealand
Let's get ready to get silly!! It's been way too long & I can't wait to see you for an all new standup comedy tour. Serving queer joy, the mind fuck of duality, and pumpkins! This comedy is giving a night to get out & have some fun hun! Not to mention an all new gymnastics routine and new leotards that will make you want one for yourself!! Get your tix at jonathanvanness.com/tour.
If you click on that link it takes you to his website and more links for shows in the United States including shows in Seattle, Portland, and San Francisco starting in October and info that more shows will be announced soon.
Seattle tickets are going on sale on Friday, July 29th at 10 am. Go here to snag them on that day: https://www.stgpresents.org/calendar/13537/jonathan-van-ness
(Visited 23 times, 1 visits today)