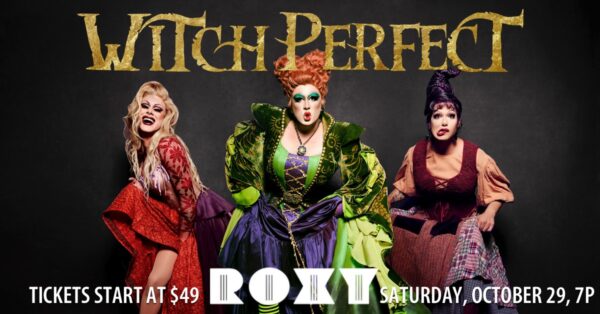 If you're an uber fan of the cult Bette Midler Halloween movie from a thousand years ago, Hocus Pocus you might be booking a trip to travel across Puget Sound to see new touring drag show parody starring RuPaul Drag Race stars TINA BURNER, SCARLET ENVY and ALEXIS MICHELLE.

It's WITCH PERFECT, the live singing comedy cabaret show touring the United States in October and it's being presented locally by Kitsap Pride at the gorgeous Roxy Theatre in downtown Bremerton on Saturday, October 29th at 7pm. Which means that folks from Seattle have time to go see the show in Bremerton then have time to get back to Seattle for all the various Halloween events happening around the city!
Also: it appears to be an all-ages event, at least according to a comment on the Facebook post…but you might want to double check before buying tickets for the kiddies.
A smidge more info from the invite:
"The hysterical spooktacular, Witch Perfect, is a live-singing, comedy parody based on the cult-classic and audience favorite Disney film, Hocus Pocus and features Emmy-winning stars from RuPaul's Drag Race: Season 13's Tina Burner as Winifed, Season 11 and All Stars Season 6's Scarlet Envy as Sarah, and Season 9's Alexis Michelle as Mary. The show features hits from Cardi B to Lady Gaga and American classics, such as the infamous "I Put a Spell on You."

Presented by Kitsap Pride
Though, we're not sure about the "Emmy winning stars" part of that description….we weren't aware Tina Burner, Scarlet Envy and/or Alexis Michelle had been blessed with that award…
Anywhos, go HERE to snag tickets: https://www.eventbrite.com/e/witch-perfect-tickets-421841357857
Should be a fun show and helps benefit Kitsap Pride!
(Visited 43 times, 1 visits today)