Well, not surprisingly, there are a slew of spooky seasonal events happening in the next few days to celebrate Halloween/Day of the Dead in the greater Seattle area, and specifically, LGBTQ+ themed events. It's the first Halloween in years without any Covid-19 regulations so expect the crowds to be big and boisterous this year…despite the rainy weather we're forecast to have all week.
There's really something happening every day for the next week with a few Halloween events starting today (Wednesday Oct 26th) and even more on Thursday, October 27th. But, it's Friday where we see a huge number of events happening and things really going through the roof on Saturday the 28th.
You can check out ALL the events ALL the time over at our Seattle Gay Scene Calendar but here are highlights for this weekend!
Halloween Events for Thursday, October 27, 2022
5:00 PM
October 27 @ 5:00 pm – 11:00 pmRonette's Psychedelic Sock Hop, 4105 Leary Wy NW
Seattle, WA 98107 United States + Google Map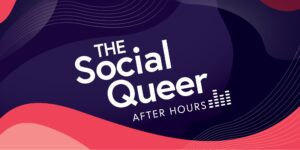 After an amazing summer lineup, we're switching gears and going full fall with a Halloween party from 5pm – close on Thursday, October 26th at Ronette's Psychedelic Sock Hop in Fremont! GET EXCITED!!! Enjoy dinner AND drink specials, with one of Ronette's very best DJs spinning starting at 8pm. Since we'll be kicking off Halloween […]Find out more »
6:00 PM
October 27 @ 6:00 pm – 9:00 pmUnion Seattle, 1009 East Union Street
Seattle, WA 98122 United States + Google Map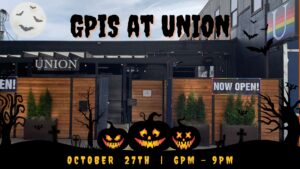 Gay People in Seattle We invite you to come join us on October 27th at Union for another fantastic GPiS event. We are excited to see all of our GPIS friends; as well as meeting all the new GPIS members that have never had the chance to attend one of our events. We look forward […]Find out more »
7:00 PM
October 27 @ 7:00 pm – 9:30 pmElysian Brewing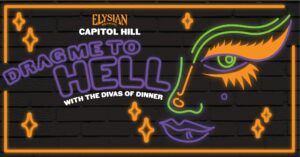 Witch, please! Join us for a night of spooktacular food, drinks, and a Halloween Dragstravaganza on Thursday, October 27th. We will be pouring a wide variety of pumpkin beers, beertails and seasonally inspired cocktails. Dig out your creepiest or most gourd-geous costume for the chance to win a prize during the costume contest! Prizes will […]Find out more »
8:00 PM
October 27 @ 8:00 pm – 10:00 pmSupernova Seattle, 110 South Horton Street
Seattle, WA 98134 United States + Google Map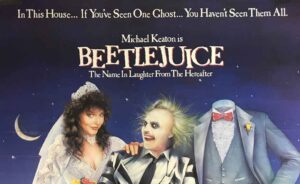 BOO! Spooky season is coming up and we are bringing back our Free Movie Night at Supernova! Join us on October 27th for a very special screening of Beetlejuice! Free admission and free popcorn, all you need to do is BYOC (bring your own chair, pillows work too!) Tickets are limited to 150 attendees, RSVP/Ticket […]Find out more »
8:30 PM
October 27 @ 8:30 pm – 11:30 pmClock-Out Lounge, 4864 Beacon Ave S
Seattle, 98108 United States + Google Map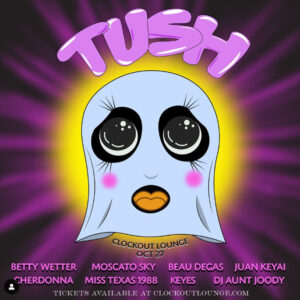 SOLD OUT!!! Tush (hosted by @betty.wetter ) tickets just went on sale this morning for 10/27 and we are already half sold! Special performers this month include @cherdonnashinatra , @moscatosky , @dark_wiley , @beau_degas , @misstexas1988 , @juankeyai and @djauntjoody ✨✨✨grab yours now!! Doors 8:30 21+ $15Find out more »
Halloween Events for Friday, October 28, 2022
6:00 PM
October 28 @ 6:00 pm – 2:00 amQueer Bar, 1518 11th Ave
Seattle, 98122 United States + Google Map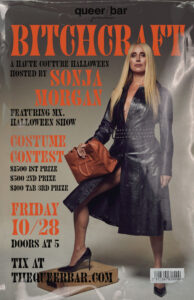 🚨 ON SALE NOW 🚨 The only thing worse than stale brioche at a party is stale guests" so you better not let her down 💅 Real Housewives of NYC star @sonjatmorgan is joining us Friday 10/28 to host and adjudicate our annual costume contest with a grand prize of $1500 for first place 💋 Catch your […]Find out more »
7:30 PM
October 28 @ 7:30 pm – 10:00 pmSkylark West Seattle, 3803 Delridge Way SW
Seattle, WA 98106 United States + Google Map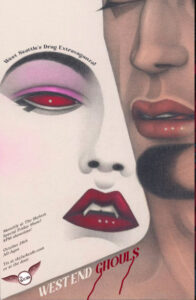 West End Ghouls! West Seattle's Drag Spooktacular Special Friday Show! Friday, October 28th 8PM Show Come early to grab a table, drinks & dinner! $13 tickets at skylarkcafe.com $15 at the door All-Ages // PG-13 3803 Delridge Way SWFind out more »
8:00 PM
October 28 @ 8:00 pm – 12:00 amSouthgate Roller Rink, 9646 17th Ave SW
Seattle, 98106 United States + Google Map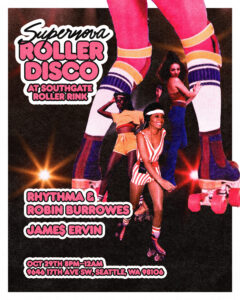 Wear your Halloween costume or Disco threads and roll with us to Southgate Roller Rink for a Halloween Roller Disco like no other! Groove and glide as resident Supernova DJs spin Disco classics and NuDisco favorites live from the center of the rink! Tickets include skate rental and there is a "double header" ticket option […]Find out more »
October 28 @ 8:00 pm – 2:00 amCc Attle's, 1701 E Olive Way
Seattle, 98102 United States + Google Map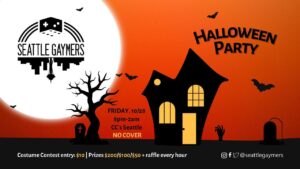 An annual tradition! Join Seattle Gaymers for our sixth ever Halloween Party, this year as a no-cover event! Optional entry for costume contest: $10* with prizes of $200 – 1st place $100 – 2nd place $50 – third place PLUS a raffle every hour* – *all proceeds benefit Seattle Gaymers
9:00 PM
October 28 @ 9:00 pm – 1:00 amThe Unicorn, 1118 E Pike St
Seattle, WA 98122 United States + Google Map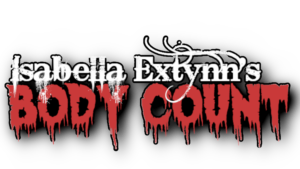 ISABELLA EXTYNN'S BODY COUNT FRIDAY, OCTOBER 28, 20229:00 PM SATURDAY, OCTOBER 29, 20221:00 AM Unicorn1118 East Pike StreetSeattle, WA, 98122United States (map) Google Calendar ICS Isabella Extynn is getting sexy and spooky this year, we will be hosting a dance party with DJ Gold Chisme and performances by some of the top burlesque talent in Seattle. At […]Find out more »
October 28 @ 9:00 pm – October 29 @ 4:00 amKremwerk / Timbre Room Complex, 1809 Minor Avenue
Seattle, WA 98101 United States + Google Map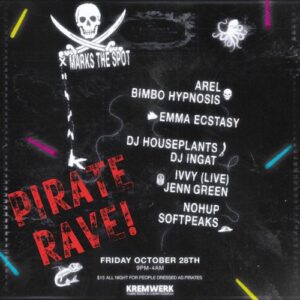 X MARKS THE SPOT: A PIRATE RAVE Ahoy Matey! On Friday, October 28th, come get lost at sea! The Kremwerk – Timbre Room – Cherry Complex will rip and burn yer jolly rodger with three dance floors of high sailing, plank walking, booty shaking jams until 4AM. This is a PIRATE RAVE, but no scabby […]Find out more »
October 28 @ 9:00 pm – October 29 @ 4:00 amMonkey Loft, 2915 1st Ave S
Seattle, 98134 United States + Google Map
👻 TICKETS ON SALE NOW @ bit.ly/NCDark5 👻 Noise Complaint is back with a very spooky edition of everyone's favorite party, as we turn Monkey Loft into the sort of haunt where goblins, ghouls, ghosts, vampires and everything in between can come dance the night away to a Monster Mash like none before it. You […]Find out more »
October 28 @ 9:00 pm – October 29 @ 4:00 amSupernova Seattle, 110 South Horton Street
Seattle, WA 98134 United States + Google Map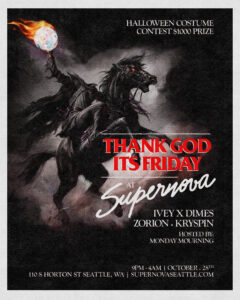 It's Halloween weekend and we want to see your best costumes! Enter our costume contest for your chance to win a $1,000 Supernova gift card, Supernova merch, VIP admission and MORE! Hosted by Monday Mourning, Thank God It's Friday at Supernova features your favorite vocal house dance party anthems with the occasional current hit! Do […]Find out more »
10:00 PM
October 28 @ 10:00 pm – 3:00 amThe Cuff Complex, 1533 13th Ave
Seattle, WA 98122 United States + Google Map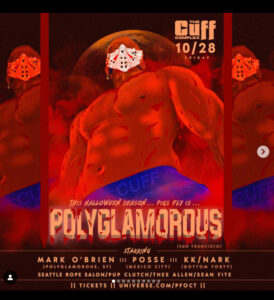 This Halloween, Pigs Fly is Polyglamorous ✨😈✨ 10/28 at @thecuffcomplex w/ @polyglamoroussf @posseesposse @obrienmusic @theseanfite @jabarri_pupxo @seattle_rope_salon tix universe.com/pfoct // 📸 @nunzillaFind out more »
October 28 @ 10:00 pm – 3:00 amThe Comeback, 1950 1st Ave S
Seattle,, WA 98134 United States + Google Map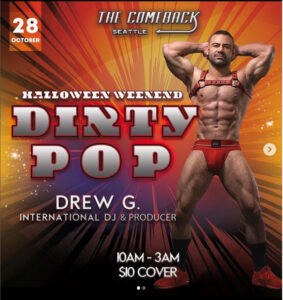 Halloween Weekend at the Comeback is going to be EPIC! Friday October 28th, Dirty Pop w/ Drew G! Saturday October 29th Gods & Monsters with DJ Jack Jack! Come dressed or undressed all weekend! $10 21+ w/IDFind out more »
10:30 PM
October 28 @ 10:30 pm – 2:00 amChop Suey, 1325 E Madison St
Seattle, 98122 United States + Google Map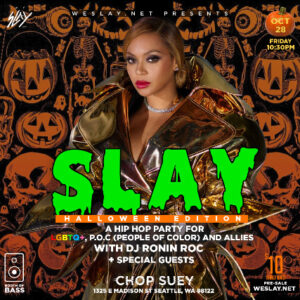 Chop Suey Presents: SLAY – Halloween Edition: A hip hop party for LGBTQ+, P.O.C., & allies.Partial proceeds will go to Planned Parenthood and local charities.Find out more »
Halloween Events for Saturday, October 29, 2022
12:00 PM
October 29 @ 12:00 pm – 6:00 pmSeward Park, 5902 Lake Washington Blvd S
Seattle, 98118 United States + Google Map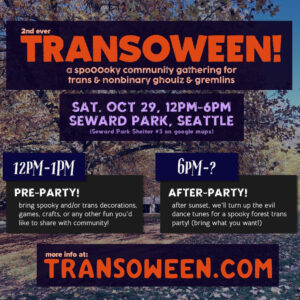 Transoween 2022, Sat Oct 29, 12pm-6pm, Seward Park Seattle. 🎉 IT'S TRANSOWEEN TIME!!The very first Transoween in Seattle happened in October 2021, and now we're doing it again! Last year, we had over 300 trans & nonbinary people visit in costume, enjoyed some candy, transy costumes,This time we have a awesome small group of trans […]Find out more »
5:00 PM
October 29 @ 5:00 pm – 7:00 pm|Recurring Event (See all)Oddfellows West Hall, 915 E Pine St
Seattle, WA 98122 United States + Google Map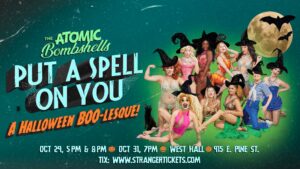 COMING THIS HALLOWEEN, TWO NIGHTS ONLY: Must be the season of the WITCH….Seattle's "most dazzling burlesque troupe" (Seattle Weekly) return to the stage to cook up some seriously sexy spooky magic in their glittery cauldron with the return of their smash sold out BOO-lesque spectacular: The Atomic Bombshells…PUT A SPELL ON YOU! Join these internationally […]Find out more »
5:30 PM
October 29 @ 5:30 pm – 9:30 pmRenaissance Seattle Hotel, 515 Madison Street
Seattle, WA + Google Map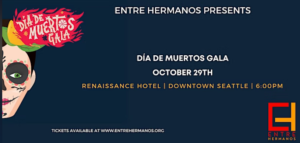 Join us to celebrate the 31 year anniversary in honoring beloved ancestors and continuing the fight for LGBTQ+ and immigrant rights! About this event Día De Muertos Gala 2022 Entre Hermanos wants to celebrate their 31 year anniversary with you! Honoring beloved ancestors and continuing the fight for LGBTQ+ and immigrant rights! Since 1991, Entre Hermanos has […]Find out more »
6:00 PM
October 29 @ 6:00 pm – 9:30 pmKremwerk, 1809 Minor Ave
Seattle, WA 98101 United States + Google Map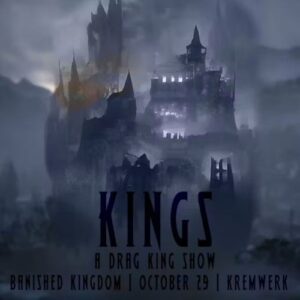 Join the Kings, Things and Supremes on the outskirts of your imagination. Tickets: https://link.dice.fm/g24673875bea $10 Limited GA Presale $15 Advance Seating $20 at Door Time: 6pm Doors 7pm Show RSVP for Lineup Drop …………………………………… SAFER SPACE The following actions or displays of behavior will not be tolerated: bigotry, racism, sexism, transphobia, homophobia, misogyny, and ableism. […]Find out more »
October 29 @ 6:00 pm – 10:00 pm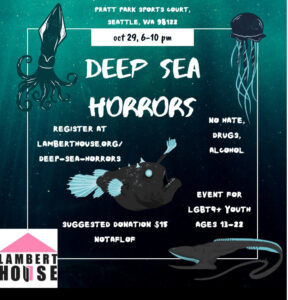 We are very excited to announce our Halloween Dance, planned by LGBTQ youth for LGBTQ youth: Deep See Horrors! Saturday, October 29th 6-10pm at Pratt Park Sports Court. Calling all Seattle (and beyond) queer youth, it's spooky season! Join Lambert House for a night of candy, costumes, and dancing. Wear a costume or warm party […]Find out more »
7:00 PM
October 29 @ 7:00 pm – October 31 @ 3:00 amThe Cuff Complex, 1533 13th Ave
Seattle, WA 98122 United States + Google Map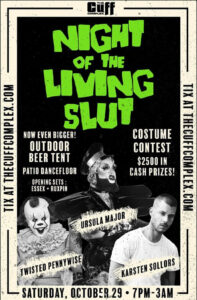 NIGHT OF THE LIVING SLUT | Saturday 10/29 cum cut to the chase this Hole-oween and let's get fucking nasty 😈 We're closing off the block for our biggest bash yet with a beer garden, patio party DJ, celebrity special guests @karstensollors playing the dance floor, Dragula sensation @theonlyursulamajor hosting the Costume Contest judged by TikTok star @twistedpennywise for a total […]Find out more »
October 29 @ 7:00 pm – 9:00 pmHighline Performing Arts Center, 401 S 152nd St
Burien, 98148-1107 United States + Google Map

Join us for an evening of thrills, chills, and trills as the Rainbow City Concert Band kicks off its first performance of our 25th Anniversary Season entitled, "Play On!" Our first concert of the season will be an evening of light frights and spooky delights as we discover what goes Bump in the Night! This […]Find out more »
October 29 @ 7:00 pm – 9:00 pmHistoric Roxy Theatre, 270 4th Street
Bremerton, WA 98337 United States + Google Map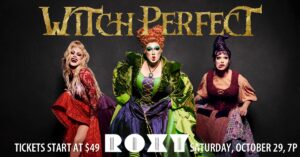 "The hysterical spooktacular, Witch Perfect, is a live-singing, comedy parody based on the cult-classic and audience favorite Disney film, Hocus Pocus and features Emmy-winning stars from RuPaul's Drag Race: Season 13's Tina Burner as Winifed, Season 11 and All Stars Season 6's Scarlet Envy as Sarah, and Season 12's Widow Von'Du as Mary. The show […]Find out more »
October 29 @ 7:00 pm – 9:00 pmChop Suey, 1325 E Madison St
Seattle, 98122 United States + Google Map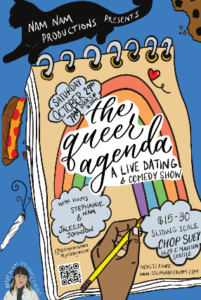 Chop Suey & Nam Nam Productions Present: The Queer AgendaHave you binge-watched every dating show on Netflix? Are you interested in taking your relationship with reality shows to the next level? Then mark your calendars for Seattles hottest live comedy dating show: THE QUEER AGENDA!From the producer that brought you Written In The Stars: a […]Find out more »
8:00 PM
October 29 @ 8:00 pm – 10:00 pm|Recurring Event (See all)Oddfellows West Hall, 915 E Pine St
Seattle, WA 98122 United States + Google Map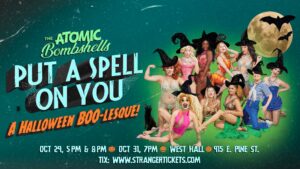 COMING THIS HALLOWEEN, TWO NIGHTS ONLY: Must be the season of the WITCH….Seattle's "most dazzling burlesque troupe" (Seattle Weekly) return to the stage to cook up some seriously sexy spooky magic in their glittery cauldron with the return of their smash sold out BOO-lesque spectacular: The Atomic Bombshells…PUT A SPELL ON YOU! Join these internationally […]Find out more »
9:00 PM
October 29 @ 9:00 pm – 3:00 am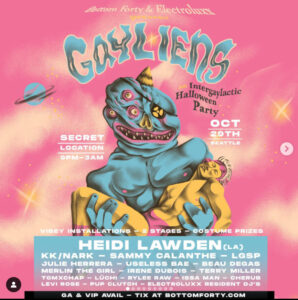 Halloween is for secrets and raging- join us 10/29 – presented by @bottom_forty and @electroluxxprty Bottom Forty and Electroluxx Present- GAYLIENS An InterGaylactic Halloween Party One of us! One of us! Join up and bust out your craziest wildest and/or most intergalactic alien space fantasy this Halloween as we roll out this mega party for you! Featuring […]Find out more »
October 29 @ 9:00 pm – 3:00 amQueer Bar, 1518 11th Ave
Seattle, 98122 United States + Google Map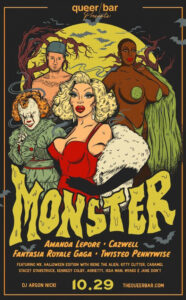 ON SALE NOW 🚨 MONSTER 💋 10.29 we're flying in all of your favorite party monsters from across the globe for a for our sexiest Halloween to date. Performances by legendary nightlife icon @amandalepore , Hot Haus Winner @fantasiaroyalegaga , renowned recording artist and father figure @cazwellofficial , and TikTok phenomenon @twistedpennywise along with all of your fave MX babes. After thee body-ody-ody […]Find out more »
October 29 @ 9:00 pm – 2:00 amThe Woods, 1512 11th Avenue
Seattle, WA 98122 United States + Google Map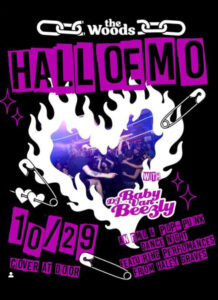 Join us Saturday 10/29 for 🦇 HALLOEMO 🦇 Seattle's busiest girlboss @babyvanbeezly takes over The Woods for 3 Floors of Emo Pop-Punk partying 🔥 Featuring a pop-up performance by @haleygravesofficial , this is one Emo night you don't wanna miss 21+ w/ID A party for everyone!Find out more »
October 29 @ 9:00 pm – October 30 @ 6:00 amKremwerk / Timbre Room Complex, 1809 Minor Avenue
Seattle, WA 98101 United States + Google Map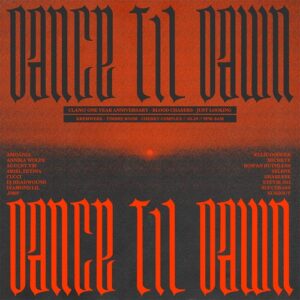 DANCE TIL DAWN On October 29th, The Complex is ready to CLANG all those living, dead and in between, during this all-night affair. We are JUST LOOKING to devour your hearts and spill your throats across three dance floors of blood pumping electronic music. The death dance begins at 9PM with discounts for BLOOD CHASERS […]Find out more »
October 29 @ 9:00 pm – 1:00 amRose Temple, 1801 East Olive Way
Seattle, WA 98102 United States + Google Map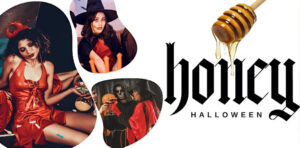 This is a women-focused event that welcomes all girls, gays and theys, prioritizing space for BIPOC women, trans women, women femme, masc, but includes all gender diverse individuals. This event is coordinated by black & brown women FOR black & brown women. DJ LADY COCO our resident DJ will be playing all of your favorite hits. […]Find out more »
October 29 @ 9:00 pm – 2:00 amThe Unicorn, 1118 E Pike St
Seattle, WA 98122 United States + Google Map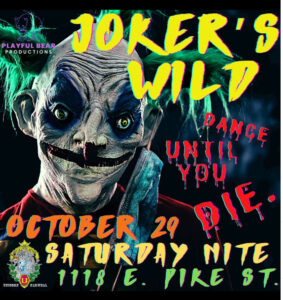 OKER'S WILD‼️ Dance Until You Die‼️ GoGos Galore + NO COVER‼️ A Halloween Weekend Dance Party with popular hits, obscure underground tunes, a bit of creepy crawly sounds and other on brand themed music to dance the night away‼️ @unicornseattle 9p-late .Find out more »
October 29 @ 9:00 pm – 2:00 am|Recurring Event (See all)Union Seattle, 1009 East Union Street
Seattle, WA 98122 United States + Google Map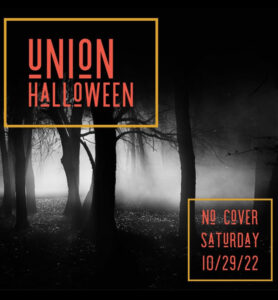 Join Us At Union For Halloween Weekend 🧟‍♂️ Saturday 10/29/22, Photographer at 9pm Dress Up, Drink Some Brew, and Howl at the Moon Until 2am Monday 10/31/2022 🦸🏾‍♀️ Celebrate the Gay High Holiday, Halloween at Union! Drinks Features for All You Ghouls All Weekend LongFind out more »
October 29 @ 9:00 pm – October 30 @ 4:00 amSupernova Seattle, 110 South Horton Street
Seattle, WA 98134 United States + Google Map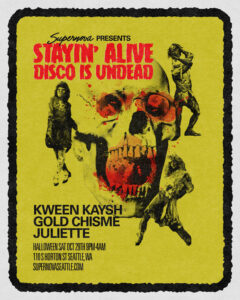 This Halloween, Disco isn't dead… it's undead! Zombie Disco is the vibe, but we encourage you to wear any costume you like! Stayin' Alive is the past, present and future of Disco! Guest and resident DJ's spin classics and NuDisco favorites accompanied by our resident live musicians and in-house band, Universal Peoples! Be dazzled by […]Find out more »
10:00 PM
October 29 @ 10:00 pm – 3:00 amThe Comeback, 1950 1st Ave S
Seattle,, WA 98134 United States + Google Map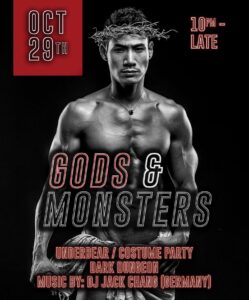 Gods & Monsters Underbear / Costume Party The Comeback creates a dark hunting ground for Gods and Monsters. Will you hunt or be hunted? Beats by Jack Chang from Germany. 21+ w/IDFind out more »
October 29 @ 10:00 pm – October 30 @ 4:00 am|Recurring Event (See all)Neighbors Nightclub, 1509 Broadway
Seattle, WA 98122 United States + Google Map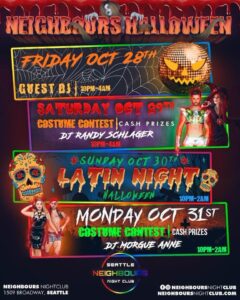 Halloween Costume Contests with prizes on both nights! On Saturday, Oct 29 w/DJ Randy Schlager 21+ until 2am 19+ from 2am to 4am On Monday, Oct 31, w/DJ Morgue Anne 21+ w/ID only. Open until 2am Find out more »
Halloween Events for Sunday, October 30, 2022
7:00 PM
October 30 @ 7:00 pm – 10:00 pmQueer Bar, 1518 11th Ave
Seattle, 98122 United States + Google Map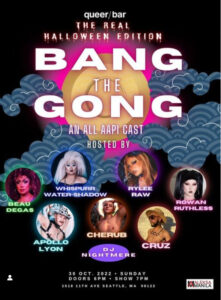 A show so nice we're having it twice 🎃 Bang the Gong is serving double feature realness this month with the Real Halloween edition Sunday 10/30. Hosts @whispurrwatershadow & @ryleeraww are heavily encouraging you to come out in your finest costume attire for a thematic weekend finishFind out more »
October 30 @ 7:00 pm – 9:00 pmThe Unicorn, 1118 E Pike St
Seattle, WA 98122 United States + Google Map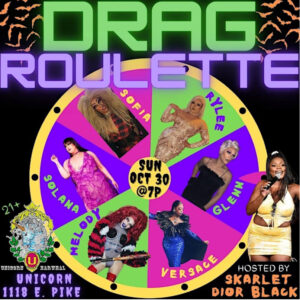 DRAG ROULETTE 2 is here! Sunday, October 30 @unicornseattle doors at 7p with show at 8p! Limited $5 early bird tickets are available until 11:59p this Saturday 10/8. $12 advance presale after, $20 at the door. 🚨LINK IN BIO🚨 Host: @skarletdiorblack Competitors: @glenn.coco.official @solanasolstice @theonlymelodylushparadisco @theeversacedoll @ryleeraww @sofiadtorah This group is going to TURN IT OUT! Who do […]Find out more »
8:00 PM
October 30 @ 8:00 pm – 2:00 amSupernova Seattle, 110 South Horton Street
Seattle, WA 98134 United States + Google Map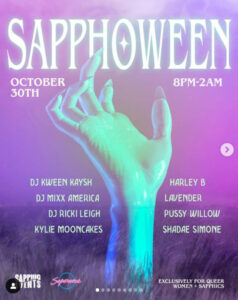 Are you ready for the spookiest time of the year???? 🎃👻🔮‼️ It's SAPPHOWEEN season babyyyy! We know y'all have been eagarly awaiting this drop, and we're so excited for our halloween party 🙂 This event is sunday, oct 30th from 8pm-2am at supernova 🌙 Tag 2 friends for a chance to win 3 VIP tickets […]Find out more »
October 30 @ 8:00 pm – October 31 @ 11:30 pmThe Cuff Complex, 1533 13th Ave
Seattle, WA 98122 United States + Google Map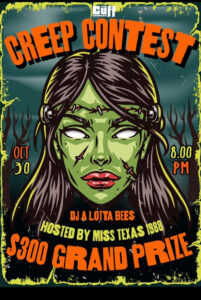 Due to the lack of tops in Seattle, we're topping off Hole-oween weekend ourselves with Miss Texas 1988's Creep Contest 👹 Sunday 10/30 join us on the dance floor where 6 performers will compete to be the Crowned Creep and win a $300 cash prize 🧟‍♀️💰🧟 Winner is chosen by audience vote, so make sure […]Find out more »
9:30 PM
October 30 @ 9:30 pm – 1:30 amThe Unicorn, 1118 E Pike St
Seattle, WA 98122 United States + Google Map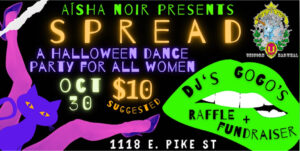 SPREAD – A Halloween Dance Party for ALL Women Part of the HALLOWEEN 2022 collection AÍSHA NOIR Presents SPREAD – a Halloween dance party for all women and femmes. DJs, Sexy GoGos + Fundraiser. A safe, femme centered party!Find out more »
10:00 PM
October 30 @ 10:00 pm – 2:00 amTimbre Room, 1809 Minor Ave.
Seattle, 98101 United States + Google Map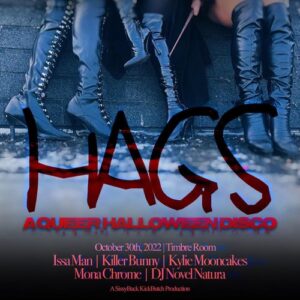 H.A.G.S. is thee queer Halloween extravaganza you've been needing! Novel Natura starts spinning at 10pm, with pop up performances and go go sets all night from some of the best drag entertainers from Seattle and beyond. DJ NOVEL NATURA ISSA MAN KILLER BUNNY KYLIE MOONCAKES MONA CHROME $10 Pre-Sale // $15 DoorFind out more »
Halloween Events for Monday, October 31, 2022
7:00 PM
October 31 @ 7:00 pm – 9:00 pm|Recurring Event (See all)Oddfellows West Hall, 915 E Pine St
Seattle, WA 98122 United States + Google Map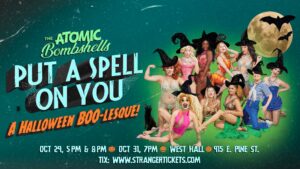 COMING THIS HALLOWEEN, TWO NIGHTS ONLY: Must be the season of the WITCH….Seattle's "most dazzling burlesque troupe" (Seattle Weekly) return to the stage to cook up some seriously sexy spooky magic in their glittery cauldron with the return of their smash sold out BOO-lesque spectacular: The Atomic Bombshells…PUT A SPELL ON YOU! Join these internationally […]Find out more »
8:00 PM
October 31 @ 8:00 pm – 11:00 pmCherry @ Kremwerk Complex, 1809 Minor Avenue
Seattle, WA 98101 United States + Google Map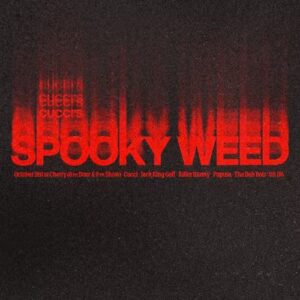 CUCCI'S SPOOKY WEED HALLOWEEN EDITION 8PM DOORS 9PM SHOWS THIS IS THE SCARIEST DRAG SHOW OF THE YEAR, NOT BECAUSE IT IS ON A MONDAY BUT BECAUSE IT IS ON HALLOWEEN! FEAR FILLED PERFORMANCES BY: CUCCI JACK KING GOFF KILLER BUNNY PUPUSA THE DAB BOIZ UH-OH FLIER BY: STEVIE DIDISFind out more »
October 31 @ 8:00 pm – 10:00 pmSIFF Cinema Egyptian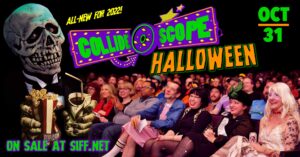 We're baaaack! Collide-O-Scope's annual Halloween celebration returns, live and in-person, with their one-of-a-kind found-footage phantasmagoria of hilariously hair-raising film freakouts and outrageous oddball video! A deliriously demented cavalcade of expertly crafted montage, packed with absurd pop culture ephemera, obscure oddities, and awesome music — all remixed and mashed into an evening of eerily epic entertainment. […]Find out more »
9:00 PM
October 31 @ 9:00 pm – 1:00 amCha Cha Lounge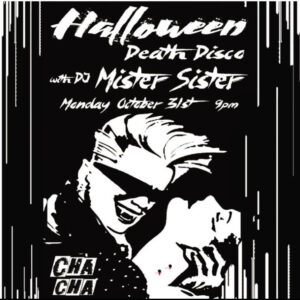 Come haunt the Cha Cha with DJ Mister Sister on Halloween. Perfect post-Collideoscope destination !! 21+Find out more »
October 31 @ 9:00 pm – 2:00 am|Recurring Event (See all)Union Seattle, 1009 East Union Street
Seattle, WA 98122 United States + Google Map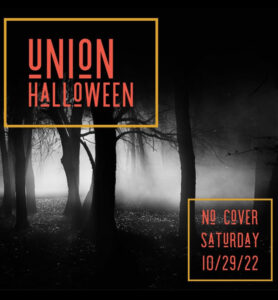 Join Us At Union For Halloween Weekend 🧟‍♂️ Saturday 10/29/22, Photographer at 9pm Dress Up, Drink Some Brew, and Howl at the Moon Until 2am Monday 10/31/2022 🦸🏾‍♀️ Celebrate the Gay High Holiday, Halloween at Union! Drinks Features for All You Ghouls All Weekend LongFind out more »
10:00 PM
October 31 @ 10:00 pm – 2:00 am|Recurring Event (See all)Neighbors Nightclub, 1509 Broadway
Seattle, WA 98122 United States + Google Map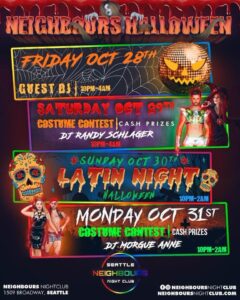 Halloween Costume Contests with prizes on both nights! On Saturday, Oct 29 w/DJ Randy Schlager 21+ until 2am 19+ from 2am to 4am On Monday, Oct 31, w/DJ Morgue Anne 21+ w/ID only. Open until 2am Find out more »
(Visited 95 times, 1 visits today)