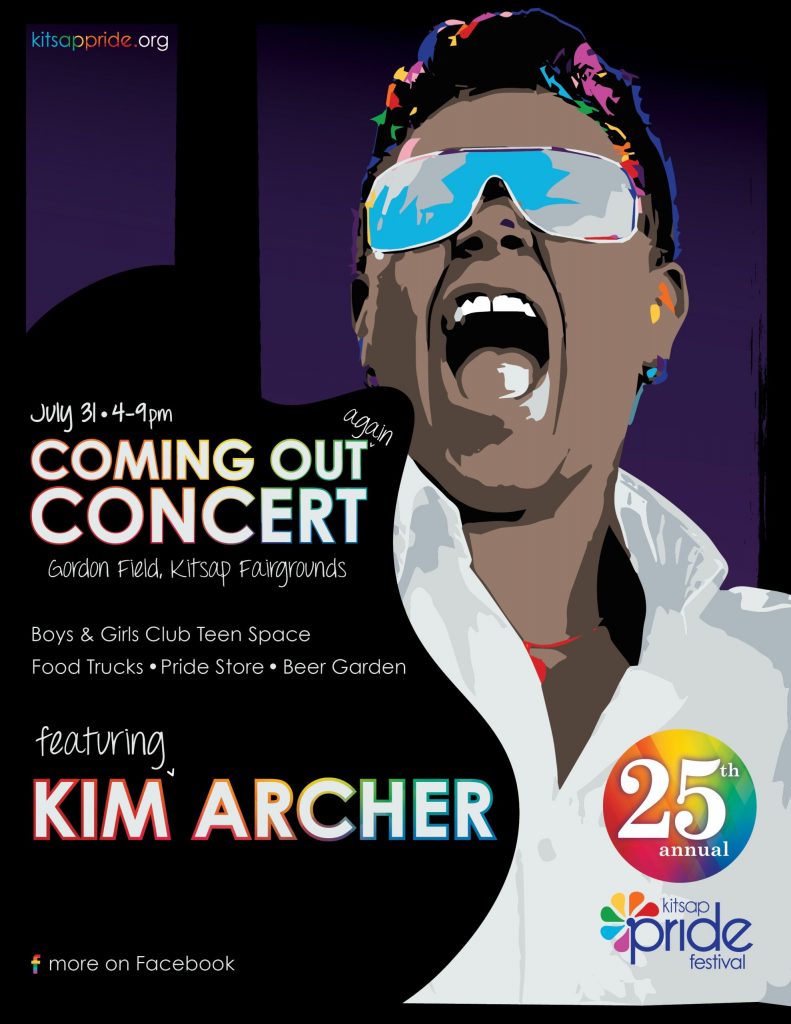 Didn't get enough Pride this year due to Covid-19 putting a damper on live, in-person events in Seattle?
If you're still jonesin' for some Pridey fun, you can head over to Kitsap County this Saturday for their big Kitsap Pride "Coming Out" Concert and Festival happening in Bremerton at Gordon Field at the Kitsap County Fairgrounds.
It's a FREE event happening from 4pm to 9pm with the Kim Archer Band as their headliner plus Seattle's own DJ Dana Dub and plenty of drag performances. You can help support the event and Kitsap Pride by buying a $25 Plush Blanket that will be very handy to use at the show…then take it home for use all year long!
Here's a link to the Facebook invite that includes a map. For folks living on this side of Puget Sound, it would be fastest to take the Bremerton Ferry (obviously) or if you have a morbid fear of ferries, then you can take a long drive around the Sound!
More info:
• Fair Food and Food Trucks – Sno Cones, Hot Dogs, Egg Rolls, Tacos, Hamburgers, and more!
• Pride Store – Get all your rainbow gear from Kitsap Pride and our vendors!
• Over 40 Vendors! Artisans, local businesses, local non-profits, and more!
• Beer Garden featuring slushees, Tito's Vodka, Silver City Brewery, and Eleven Winery.
• Teen Space by the Boys & Girls Club. Family friendly activities.
• Vaccine Pop-Up by the KPHD. Health information, PrEP info, and HIV testing in the park.
(Visited 1 times, 1 visits today)