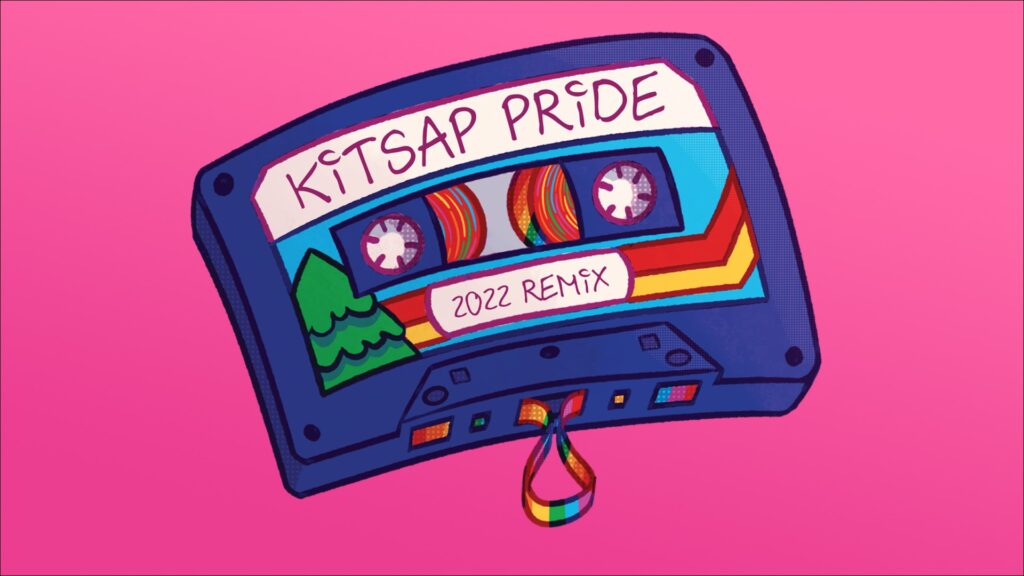 STILL need more pridey stuff to do? Haven't had enough of being outdoors in the glorious sun in the company of other LGBTQ+ people and allies? Desperately in the need of eating overpriced food truck grub? Yearning to head over to the Kitsap Peninsula for a change of pace? Anxious to avoid the crowds of suburbanites taking over Capitol Hill this weekend for Block Party?
Well, have we got an event for you! It's Kitsap Pride happening this coming Saturday, July 23rd at the Kitsap County Fairgrounds (north of Bremerton/south of Silverdale) from 4pm to 9pm!
And, of course, it's a FREE festival and open to everyone!
The deets:
This year's International Pride theme is Silence to Solidarity. It got our board thinking about how music can help us fill silence – in our souls and in a space. That brought us to the cassette tape image. We talked about making mix tapes. How music has helped fill space in the pandemic and how this is not our community's first pandemic. It's a crazy time for so many and we felt like this is a Remix. It's familiar and different.

We mixed it up a bit this year and have Nite Wave closing out the stage – playing some great music from the 80s – our first pandemic. Much like the current resurgence of Kate Bush there is something both comforting and empowering. Music can bring us together.
We will start the festival off with a bang – a grand entrance from the Rainbow City Marching Band. We are so excited to have them back and see what they have in store for us. We will do an official welcome and opening to recognize the land and any dignitaries present. Up next will be DJ & Drag. Returning is DJ Dana Dub for dancing and good vibes on the pride lawn. We will also have Versace Doll and friends Melody Lush, Sable Jones St James, Drew Paradisco, Jessica Paradisco, Nemisis, Crystal Jewel Box, Kris Rose, & Sativa Queen.

After Dana finishes his set at 7:30 Nite Wave will take the stage.

The Boys & Girls Club and Kitsap Regional Library is co-hosting a Teen Pride Space with free snacks, books, crafts, games, and a place to hang & connect.

We have 70 vendors signed up including many food and snack options.

The Garden will be our 21+ area featuring Silver City Brewery beer with their Live Loud hard iced tea, Locust Cider from Gig Harbor, Eleven Winery from Bainbridge, and Tito's Vodka frozen slushee drinks. We have significantly increase our capacity based on last year's demand.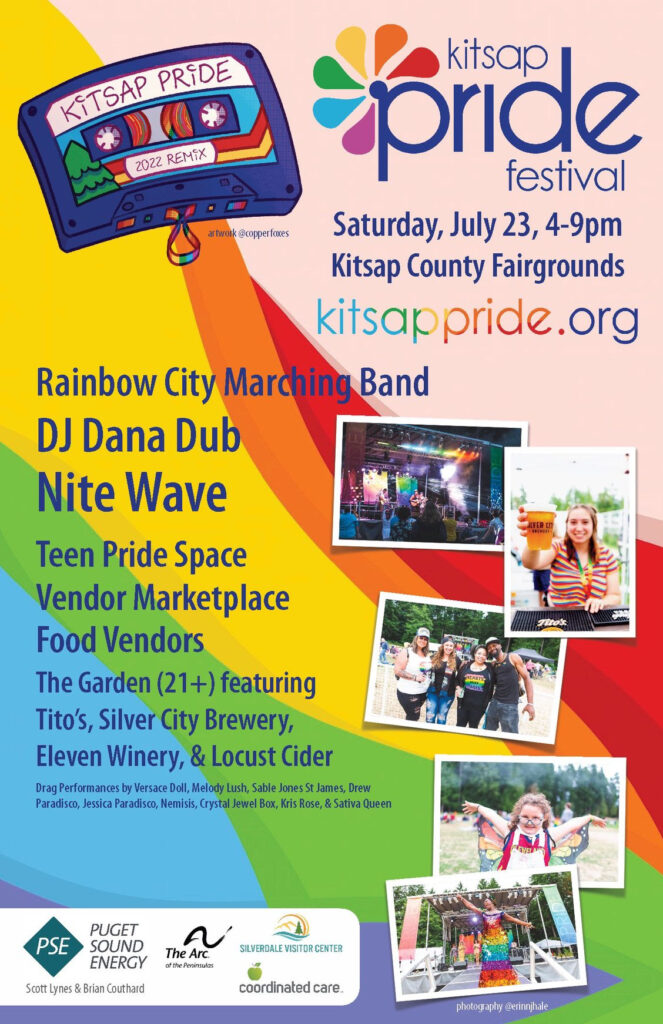 How to Enjoy Pride
This year there are other events happening at the fairgrounds so parking may be tighter. Gordon Field is at the most eastern part of the fairgrounds. You may have to park in a lot and walk over to our area. Our event on July 23 is from 4 to 9 pm – we plan to be ready early. Look for these signs.
You can bring a blanket or chairs for the lawn – no grills or outside alcohol. Bring a water bottle to refill – help us be more sustainable.
As our event has grown it is less suitable for even the most well-behaved dogs. Please consider leaving them at home.
We ask that you refrain from smoking or vaping in the festival area.
(Visited 3 times, 1 visits today)