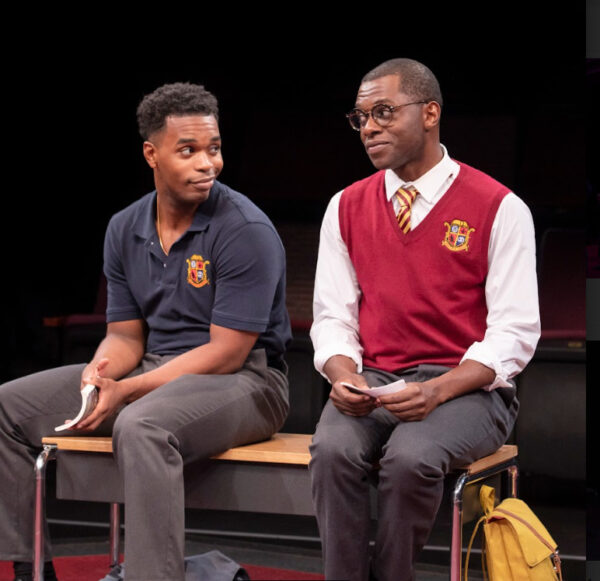 It's September which means it's time for local theater to shake off the cobwebs from summer vacation and get back to staging plays and musicals. And, one of the first ones out of the gate is the most recent co-production between Seattle's ACT Theatre and The 5th Avenue Theatre (but staged at ACT). It's not an out and out musical like most of their collaborations but CHOIR BOY, a play with music, from screenwriter/playwright Tarell Alvin McCraney the out gay writer who won an Oscar in 2017 for the film, MOONLIGHT.
Choir Boy centers on Pharus, a scholarship student at the Charles R. Drew Prep School, a prestigious private school for Black male high school students. Pharus is intelligent, opinionated, and conniving but only because he has to be…he's rather obviously gay in a "don't ask; don't tell" world where he can't be open about his sexuality.
He's also passionately involved with being a star in his school's choir, a place he feels a bit of freedom to express himself. While the Headmaster and many of the students don't have issues with Pharus being gay (at least while he's in the closet) he does have problems with bullying from another student, Bobby Marrow who is also a nephew of the school's headmaster. During the graduation exercises at the end of the school year, Bobby says cruel things to Pharus during a choir performance causing Pharus to break up while singing. This angers the Headmaster who calls Pharus on the carpet but when Pharus explains that another student caused the incident, the Headmaster wants that boy's name and Pharus refuses to snitch, which is a violation of the student's code.
The story then picks up at the start of the next year, with Pharus now the choir leader during his senior year. This leads to more issues with Bobby. Pharus also has an awkward relationship with David, a student with strong religious beliefs who had been his roommate in years past but now the two are estranged. Fortunately, Pharus has a good relationship with his current roommate AJ, who's also in the choir and a jock; AJ has no issues with Pharus being gay.
The play then unfolds over the course of the school year and largely revolving around choir practices and the introduction of a new teacher, Mr. Pendleton, who is white and actually an old teacher who has come out of retirement to teach a class in order to get the choir boys to have better relationships with one another.
There are a lot of minor conflicts and a lot of chorale singing throughout the school year. Of the two, the singing is the most fun and joyful and entertaining. The songs help express the feelings of the different characters and do help in propelling the story along…and, to be honest, the story needs that help. Despite having an interesting central character in Pharus, Choir Boy suffers from a lot of things…like a lack of a cohesive story and dramatic structure. And, while we get background and some insight into Pharus, the play suffers because the other characters are mostly just briefly sketched out.
And, despite the fact this isn't McCraney's first play, at times it feels very much like an early work. Or, honestly, it feels like an early draft of an early work. But, this play premiered in 2012 and has had multiple productions over the years including a Broadway run. Still, it doesn't really match the power of the playwright's Brother/Sister trilogy of plays. It feels under developed and while I liked the placement of music within the play (frankly, there could be more) and learning more about Pharus and his life, this production and play just feel a bit…under whelming.
Part of the problem is the fact we have a small cast. For a play about a choir, it only features 5 students IN that choir. I don't know if we're supposed to assume the choir is BIGGER but the way it's presented here is that it's a 5 man performance group, which would make it a quintet.
Maybe Quintet Boy was rejected as a title?
Despite the fact it's an intimate cast, we don't learn too much about the other boys. AJ is the nice jock/roommate and Bobby is the privileged bully/jerk (but he's not THAT awful) and David is the conflicted religious one and there's another boy, Junior who is just there because I guess we needed another character or it would look too skimpy; all he has to do is provide a bit of comedy relief.
For adults, we have the Headmaster and Mr. Pendleton and to be honest, I don't know why Mr. Pendleton is even in this play….he didn't really add anything to the discussion. Is sudden arrival into the play didn't make much sense and while he provided the catalyst for some friction to further the plot, it all seemed a bit contrived.
So, the play itself…disappointed me. I had expected a lot from Mr. McCraney mostly based on reputation and because I very much liked the Seattle Rep production of his play The Brothers Size from a decade ago. Chorus Boy, as is, is a minor play.
But, I did very much like this cast. Nicholas Japaul Bernard was very good as Pharus and nicely centered the excellent ensemble, a mix of newer and more experienced actors. Brandon G. Stalling was very effective as the conflicted David finding subtle nuances to play in a character that is rather underwritten. Kyle Ward was adorable as AJ, the hunky roommate/straight ally we all long to have. Donovan Mahannah was charmingly comedic as the comedic relief student and Jarron A. Williams made the most of his role as the bully Bobby, managing to bring some honesty and charisma to a stereotypical role.
Arlando Smith was compellingly masterful as the Headmaster, though seemingly far too young for the role. And, Larry Paulsen was appropriately "Larry Paulsen-y" as the avuncular nutty professor with a heart of gold.
I think Jamil Jude did a fine job of directing…I don't envy anyone having to stage shows in ACT's ghastly in the round Allen Theatre which I've complained about in quite a few reviews. There are two shower scenes in the play requiring full nudity from the actors and Jude's careful staging and Andrew Smith's subtle lighting design kept those scenes tasteful and respectful to the actors and audience while doing an excellent job of conveying the dramatic power of those scenes.
So, it's a mixed review for me. I very much liked the use of the gospel choir music (and thought there could be more) and the principal character of Pharus is a compelling one. The underdeveloped storytelling and rambling structure of the play do hold it back from being a truly great piece of American drama. But, the overall strong production from ACT and the 5th Avenue and the charm/talent of the actors are enough to get me to recommend you check it out for yourselves.
---
Choir Boy by Tarell Alvin McCraney. Directed by Jamil Jude. Produced by The 5th Avenue Theatre and ACT-A Contemporary Theatre. Onstage at ACT from September 9 to October 23, 2022. Tickets at https://acttheatre.org/2023-season/choir-boy/
(Visited 58 times, 1 visits today)