September 23, 2022

•
by
Michael Strangeways
Seattle's Social Justice Film Festival returns for its 10th year both online and live! All live screenings at Northwest Film Forum.

For tickets and info: https://nwfilmforum.org/festivals/social-justice-film-festival-2022/
Photo credit: Understanding Transition Age Youth (TAY), dir. Nathanael MatanickIn-Person show:
Sep. 28 at 6:30pm
Understanding Transition Age Youth (TAY)
(Nathanael Matanick, US, 2021, 57 min, in English)With grit and sensitivity in equal measure, a handful of emerging adults grapple with coming of age amidst the challenges of growing up within the child welfare and juvenile justice systems. Screens with: Behind These Walls, 180, and Second Shot (TRT: 100 min) • WATCH AT NWFF / WATCH ONLINE

Photo credit: José Feliciano: Behind This Guitar, dir. Frank LicariIn-Person show:
Sep. 28 at 9pm
José Feliciano: Behind This Guitar
(Frank Licari, US, 2021, 92 min, in English)A full-length documentary on the life and 55+ year career of eight-time Grammy winner José Feliciano. Feliciano is the first-ever Latin crossover artist, the first to stylize the national anthem, and one of the most underrated singer/guitarists of all time. Screens with: Light, Incredibly Light (TRT: 107 min) • WATCH AT NWFF / WATCH ONLINE
Photo credit: Boycott, dir. Julia Bacha, courtesy of Kate SchwartzIn-Person show:
Sep. 29 at 6:30pm
Boycott
(Julia Bacha, US, 2021, 73 min, in English)When a news publisher, an attorney and a speech therapist are each told to choose between their jobs and political beliefs, they launch legal battles exposing an attack on freedom of speech in the US. Screens with: Soldiers and Reporters Hanging Out, The Revolutionary Cabinetmaker (TRT: 103 min) • WATCH AT NWFF / WATCH ONLINE

Photo credit: The Doctrine of Recovery, dir. Brisind, courtesy of Leslee GoodmanIn-Person show:
Sep. 29 at 9pm
The Doctrine of Recovery
(Brisind, US, 2022, 75 min, in English)Three Indigenous women explain how Pope Alexander VI's "Doctrine of Discovery" unleashed devastation on the original inhabitants of North America and present a countervailing Doctrine of Recovery. Screens with: Total Disaster, Therefore Socrates is Mortal (TRT: 98 min) • WATCH AT NWFF / WATCH ONLINE
Photo credit: Stranger at Home, dir. Michael Kleven & Elke HautalaIn-Person show:
Sep. 30 at 6:30pm
Stranger at Home
(Beth Dolan & Luis Remesar, US, 2022, 77 min, in English)Stranger at Home shines a spotlight on the catastrophic state of American military mental healthcare and the immediate solutions to this problem. The film weaves the life-altering stories of the Navy psychologist forced into whistleblowing, the Army Ranger involved in the friendly fire killing of NFL star Pat Tillman, and the Vietnam Marine turned world-renowned trauma expert, as they work tirelessly to deliver their urgent call-to-action for military mental health transformation. Screens with: The Train I Missed (TRT: 102 min) • WATCH AT NWFF / WATCH ONLINE

Photo credit: Raised Up West Side, dir. Brett A. SchwartzIn-Person show:
Sep. 30 at 9pm
Raised Up West Side
(Brett A. Schwartz, US, 2022, 87 min, in English)Profiling the harrowing, yet inspiring plight of ex-offenders, social activists, and entrepreneurs on Chicago's West Side, this film reveals the tools to change the narrative — and change lives. Screens with: Breaking Ground: America's First Black Tomb Guard, Free to Care (TRT: 102 min) • WATCH AT NWFF / WATCH ONLINE
Photo credit: NECESSITY: Climate Justice & the Thin Green Line, dir. Jan HaakenIn-Person show:
Oct. 1 at 1:30pm
NECESSITY: Climate Justice & the Thin Green Line
(Jan Haaken, US, 2021, 57 min, in English)This story of climate resistance in the Columbia River Gorge follows tribal leaders, Indigenous activists and white allies as they resist oil terminals and trains cutting through critical waterways. Screens with: When Mama & Me Lived Outside: One Family's Journey Through Homelessness, Sacrificed, New-Chah-Nulth: Reclaiming Tradition, Into Dust (TRT: 133 min) • WATCH AT NWFF / WATCH ONLINEPhoto credit: Mango House, dir. Ross TaylorIn-Person show:
Oct. 1 at 4:30pm
Mango House
(Ross Taylor, US, 2021, 56 min, in English)Mango House is the largest shared space for refugees in Colorado and the greater West. Within Mango House are a medical and dental clinic, shops, restaurants, event spaces and a scouting program, all of which exist to serve and support refugees in a system that doesn't always consider their needs. Screens with: When I Get Grown — Reflections of a Freedom Rider (in-person only!) (TRT: 90 min) • WATCH AT NWFF / WATCH ONLINE
Photo credit: Emergence: Out of the Shadows, dir. Vinay Giridhar, courtesy of Alex SanghaIn-Person show:
Oct. 1 at 7:30pm
Emergence: Out of the Shadows
(Vinay Giridhar, Canada, 2021, 81 min, in English)For Kayden, Jag, and Amar, awakening to and expressing their sexuality within conservative South Asian families was a lonely and terrifying experience. Denial, shame and despair haunted their youths, even threatening their lives. Yet, they've emerged. Screens with: Teguh (TRT: 95 min) • WATCH AT NWFF / WATCH ONLINEPhoto credit: Abortion: Add to Cart, Jessica Sarah Flaum. directorIn-Person show:
Oct. 1 at 9:30pm
Abortion: Add to Cart
(Jessica Sarah Flaum, US, 2022, 35 min, in English)In the digital age, self-managed abortions come in a new form: pills ordered online. Activists are combining the powers of abortion pills and the Internet to provide abortions in a revolutionary way. Screens with: The Forbidden Call, The Recess, Apnoia, MOTHER / POLE (MATKA / POLKA) (TRT: 97 min) • WATCH AT NWFF / WATCH ONLINE
Photo credit: Tipping Point, dir. Jon MeyerIn-Person show:
Oct. 2 at 1:30pm
Tipping Point
(Jon Meyer, US, 2021, 88 min, in English)Through never-before-seen footage and exclusive interviews with Portlanders on the ground, Tipping Point humanizes the headlines from Summer 2020 about Portland's protests against systemic racism and police brutality. Portland holds a mirror to all of America – the past that brought us here and the future we must choose. Screens with: To Repair 修理, Black Action Figures, Remember Me (TRT: 132 min) • WATCH AT NWFF / WATCH ONLINEPhoto credit: Becoming Black Lawyers, dir. Evangeline MitchellIn-Person show:
Oct. 2 at 4:30pm
You are Your profile – personal considerations when online
(Jerry de Mars, US, 2022, 50 min, in English)YaYp addresses the increasing importance and complexity of digital human rights. The film follows several stories from young, city-dwelling people, and the sacrifices and considerations that figure into their Internet presence. Are we aware of the complexity and nuance of online interaction and online platforms? How do we deal with scams, cyberbullying, sextortion, etc? Is our personal data in our control? Screens with: Digital Champions leading the fight against FGM in Tanzania, In Between, Becoming Black Lawyers (TRT: 99 min) • WATCH AT NWFF / WATCH ONLINE
Photo credit: I Was Not Born for War, dir. Vladyslav RobskyiIn-Person show:
Oct. 2 at 7:30pm
I Was Not Born for War
(Vladyslav Robskyi, Ukraine, 2022, 70 min, in Ukrainian with English subtitles)Kostya Oborin went through hell in war, yet never lost his fortitude and faith in people. Now, in a rather unusual way, he helps people with disabilities bring back their thirst for life. Oborin prepares two disabled veterans of the ATO (the War in Donbas) for a parachute jump. They've never skydived, but Oborin is both persuasive and reassuring: the jump is a method of rehabilitation, to broaden their minds and provide a strong, clear example of positive risk-taking. Screens with: The Afghan Journalist (TRT: 75 min) • WATCH AT NWFF / WATCH ONLINEPhoto credit: Klondike, dir. Maryna Er GorbachIn-Person show:
Oct. 2 at 9:30pm
Klondike
(Maryna Er Gorbach, Ukraine, 2022, 100 min, in Ukrainian with English subtitles)The story of a family that, from July 17-19, 2014, finds itself at the center of the MH-17 air crash catastrophe near the village of Hrabove in the Donetsk Oblast of Ukraine. • WATCH AT NWFF / WATCH ONLINE
EXTRA-FESTIVAL HAPPENINGS
Sep. 28 – Oct. 2
Yuni [In-Person Only]
(Kamila Andini, Indonesia, France, Singapore & Australia, 2021, 95 min, in Indonesian with English subtitles)Yuni is a teenage girl — smart, with big dreams of attending university. When two men she barely knows ask to marry her, she rejects their proposals, sparking gossip about the myth that a woman who rejects three proposals will never marry. With the pressure building, a third man asks for her hand, and Yuni must choose between the myth of her final chance at marriage, or her dream of future happiness. • TICKETS + INFO
Oct. 7–9 & 12–13
Forbidden Love: The Unashamed Stories of Lesbian Lives [In-Person Only]
(Lynne Fernie & Aerlyn Weissman, Canada, 1992, 84 min, in English)Three Dollar Bill Cinema joins NWFF to present this special 30th anniversary restoration of an award-winning doc classic!Mixing lively testimonials from unforgettable women at the forefront of mid-century lesbian bar culture with scripted segments that take the Hollywood melodrama in provocative (and sexually explicit) new directions, Forbidden Love is an eye-opening cultural history – and one of the most memorable Canadian films of the '90s. With a soundtrack of late '50s and early '60s hits by The Fleetwoods, Connie Francis, Jimmie Rodgers, and The Shirelles, this is a stirring, funny, and ultimately moving portrait of rebellion flourishing in the face of repression. • TICKETS + INFO"…for every lesbian wannabe out for a quick fix, every heterosexual queer curious about the past, every out-of-it straight who's read Newsweek and wants to know where lesbian chic came from." – B. Ruby Rich (1992)
Oct. 8 & 12–13
DOUBLE FEATURE: No Maps On My Taps + About Tap [In-Person Only]
(George T. Nierenberg, US, 1979-1985, 85 min)A stage-shaking documentary double feature, co-presented with Earshot Jazz! Tap dancer and saxophonist Alex Dugdale, Earshot's 2022 artist-in-residence, will intro Oct. 8The incandescent artistry showcased in No Maps On My Taps speaks directly to one's soul from the soles of fleet-footed hoofers Sandman Sims, Chuck Green and Bunny Briggs, dancers whose virtuosity is lovingly documented in these two films by George Nierenberg. Each man has dramatically different dance aesthetics, but they share deep history, solidarity, and spirit, both with one another and with the camera. About Tap, Nierenberg's blissful followup film, introduces Gregory Hines, who shares his childhood memories of watching and imitating the tap greats at the Apollo Theater.

Tap dance, an art form indigenous to the States, is a powerful, full-body, multi-sensory expression of Black heritage and culture. Nierenberg's extraordinary films document a crucial moment in its history, and for that, we're eternally grateful. • TICKETS + INFO
Oct. 7–9
Unstreamable – The Garbage Pail Kids Movie [In-Person Only]
(Rod Amateau, US, 1987, 100 min, in English)Gross! Ugly! The stinkiest film ever made! The GPKs continue Chase Burns & Jas Keimig's incredible new film series, co-presented with Scarecrow Video
(Visited 5 times, 1 visits today)
As the Editorial Director/Co-Owner, Michael Strangeways writes, edits and does about a million other jobs for Seattle Gay Scene, Puget Sound's most visited LGBTQ news, arts and entertainment website now celebrating its 14th year as a media outlet. A semi-proud Midwesterner by birth, he's lived in Seattle since 2000. He's also a film producer who would like you to check out the Jinkx Monsoon documentary, "Drag Becomes Him" now available on Amazon.com. In his spare time, he gets slightly obsessive about his love for old movies, challenging theater, "otters", vodka, chocolate, "I,Claudius", Lizzie Borden, real books made out of paper, disaster films, show tunes, Weimar era Germany, flea markets, pop surrealistic art, the sex lives of Hollywood actors both living and dead, kitties, chicken fried steak, haute couture and David Bowie. But, not necessarily in that order.
Related Posts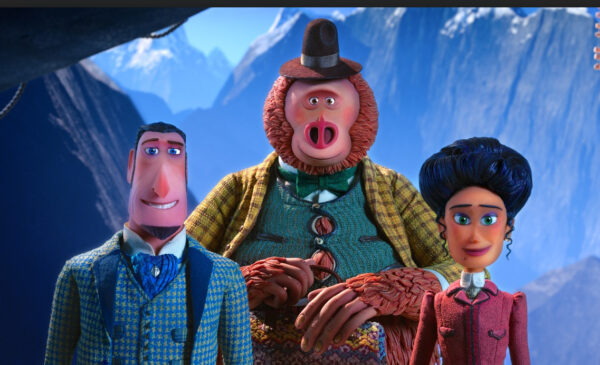 *Seattle Cinemaland • Arts & Entertainment • Arts News • Capitol Hill News • Family Friendly • Film • Film Festivals • Kid Friendly (Under 12) • Living • News • Parenting • Seattle News
Hey, LGBTQ+ parents and parents of LGBTQ+ kids, the 18th
...