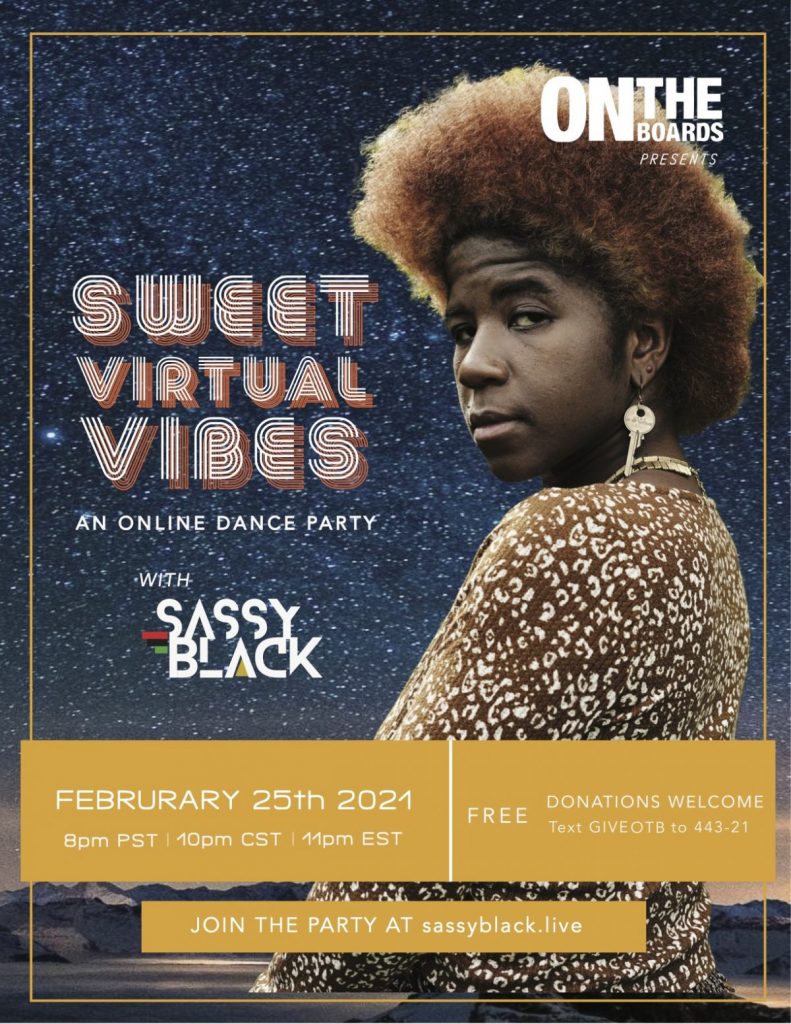 Jeebus…will this never ending dreary winter/Covid cursed season ever end?
Like many of you, we're very very tired of the endless grey, drizzle and lack of entertainment opportunities. There's nothing to do except eat and watch the same shows over and over again on Hulu, Netflix and Disney+.
While it's still a virtual/online event, there IS something fun and festive to look forward to, event wise, coming up on February 25th via Northwest Film Forum, On The Boards, and Jacob Lawrence Gallery…it's SWEET VIRTUAL VIBES, AN ONLINE DANCE PARTY with Seattle's own " Goddess of electronic psychedelic soul & hologram funk" SASSY BLACK!
It's happening this Thursday, starting at 8pm Pacific Time and it's a Sliding Scale Payment, so even if you're broke you can still check it out…go HERE to RSVP!
All the deets:
Jacob Lawrence Gallery, Northwest Film Forum, and On the Boards co-present this edition of Sweet Virtual Vibes,  an extension of each organization's ongoing collaboration with  SassyBlack  in support of her as an artist, musician, and creative thinker.
This Sweet Virtual Vibes will include a screening of Ilana Harris-Babou's LONG CON, which invites viewers to explore their associations with and assumptions about the wellness industry through a collage of clips of well-known fortune-tellers and health gurus, such as the Honduran healer Alfredo Darrington Bowman, aka Dr. Sebi, and Youree Dell Harris, aka Psychic Readers Network spokeswoman Miss Cleo.
The February performance will feature a special music video interlude:
Fifth House x BookWorm – "Loose Leaf"
(Kamyar Mohsenin, Seattle, WA, 2021, 3 min)
Music by Hanan Hassan (@onedesertflower) & Toni Banx (@toni.banx) Featuring BookWorm (@369kw0rm)
Instrumentals produced by Noah Coinflip (@noah_coinflip)
A film by Kamyar Mohsenin (@kamyar.m)
To learn more about Ilana Harris-Babou's exhibition at the Jacob Lawrence Gallery click here.

So, sit back, stand up, dance, curl up, but whatever you do get yourself ready for a sweet sweet virtual vibe!
SassyBlack is a space age singer, songwriter & producer. This Goddess of electronic psychedelic soul & hologram funk explores the concepts of sound through deep compositions.

Her dance party extravaganza, Sweet Vibes, was launched summer of 2018 in Brooklyn, NY to celebrate positive energy, good music, and of course sweet vibes. On the Boards will be partnering with Sassy to bring Sweet Virtual Vibes on Twitch four times a year for your listening and dancing pleasure.
Check out Sassy's video, FLUIDITY, made by Clyde Petersen.
(Visited 3 times, 1 visits today)