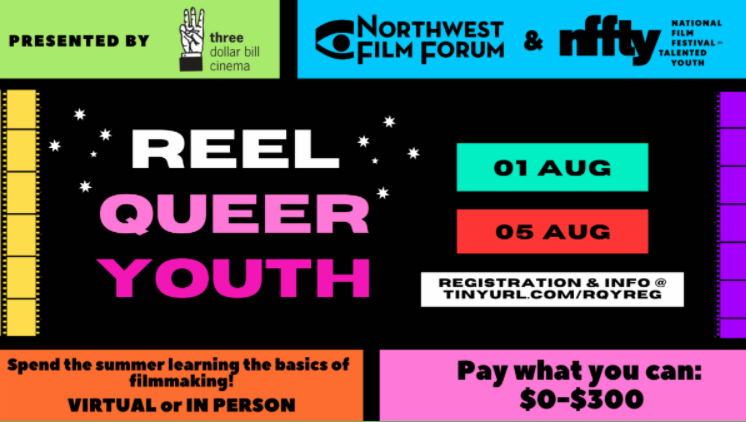 If you're an LGBTQ+ or an ally and in grades 9 through 12 AND you're interested in video production, then it's that special time of year when applications become hope for Three Dollar Bill's annual REEL QUEER YOUTH filmmaking camp!
This year's camp will take place from August 1st through the 5th and is a co-presentation with Northwest Film Forum and NFFTY.
This is a terrific way to learn new skills AND to meet and collaborate with other LGBTQ+ and allies who are also interested in film, video and media!
Oh, and it's a sliding scale payment with scholarships available so EVERYONE has opportunities to be involved!
Go here to apply and here's all the details:
Reel Queer Youth is an expansive educational program, presented by Three Dollar Bill Cinema, Northwest Film Forum, and NFFTY, serving queer youths 13-18 years old interested in the art of filmmaking. Featuring hands-on training, world class speakers, and lessons designed to spark creativity, Reel Queer Youth provides a safe space for young queer filmmakers to explore their passions with other like-minded creators, and receive valuable advice from positive and supportive film professionals. Through their participation, youths gain access to a host of sustained organizational support to help them grow and flourish as they come into their own as artists. With TDBC's hybrid model, both in-person and virtual attendance options are available, increasing accessibility and allowing youths from across the country to learn and thrive together.

Make a film and meet other young LGBTQ+ and ally filmmakers this summer! During this week-long online camp, participants will explore queer cinema, and create a film using media and tools they have available. We'll learn about different film genres, such as narrative, documentary, and experimental, and how story and identity can be shared through each. We'll also cover how filmmaking practices for planning productions, recording video and sound, and editing can be used to create dynamic films for various platforms, from the big screen to your phone screen. We'll celebrate our stories and experiences and build connections that are so important for creative work.

COST: Sliding Scale, $0-$250, scholarships also available. A registration link will be provided after your application is accepted.

WHEN: Monday, August 1 through Friday, August 5 – 11 AM to 2 PM (Pacific Time)
WHERE: on ZOOM (links and passwords will be provided)

Participants will be required to be masked while in the building. Disposable masks are available at the door for those who need them. To be admitted, patrons will also be required to present EITHER proof of COVID-19 vaccination OR a negative result from a COVID-19 test administered within the last 48 hours by an official testing facility. Boosters are strongly recommended, though not required for entry.

NWFF is adapting to evolving recommendations to protect the public from COVID-19. Read more about their policies regarding cleaning, masks, and capacity limitations here.
(Visited 7 times, 1 visits today)