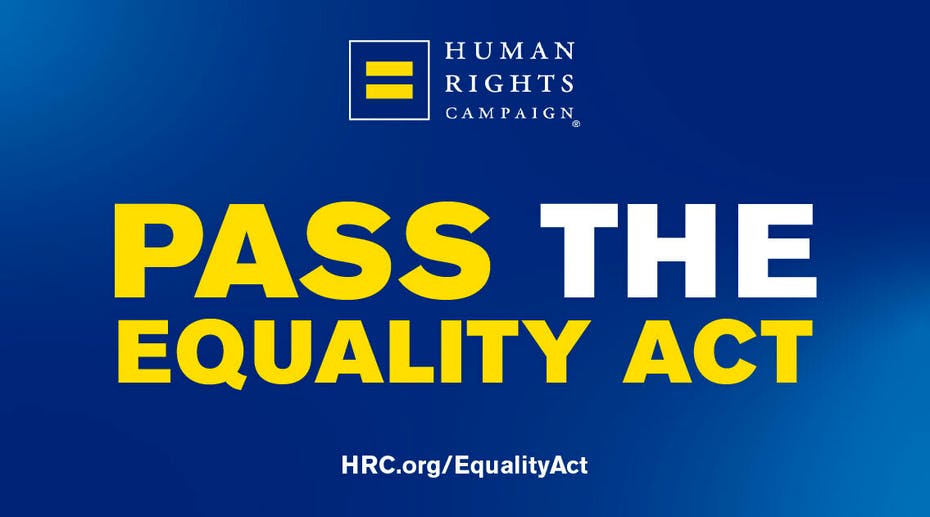 The first step to the Equality Act becoming law was achieved today when the United States House of Representatives approved the bill by a vote of 224 to 206. The bill now moves to the Senate where it faces strong opposition from the Republicans.
The bill will update existing federal nondiscrimination laws, including the Civil Rights Act of 1964 and the Fair Housing Act, to affirm that discrimination based on gender identity and/or sexual orientation is unlawful and prohibited when it comes to housing and employment as well as to other areas of daily life including education and banking and commercial activities and all federally funded government programs. The Equality Act also adds protections for women, people of color and people of all faiths.
Via The National Center for Lesbian Rights:
Currently, only 22 states have non-discrimination protections that fully protect LGBTQ individuals. According to the Center for American Progress, more than 1 in 3 LGBTQ Americans have reported facing some form of discrimination within the past year, with the number increasing to 3 in 5 for transgender individuals. This discrimination often causes substantial harm to the psychological and economic wellbeing of the LGBTQ community and creates undue difficulties for many LGBTQ people in accessing medically necessary healthcare – most dramatically for the transgender population and people of color.
The most recent polling from the nonpartisan Public Religion Research Institute (PRRI) shows that more than 80 percent of all Americans (including a majority of Democrats, Independents, and Republicans) support comprehensive nondiscrimination protections that include LGBTQ individuals. FiveThirtyEight has also similarly found that President Biden's executive order mandating that federal agencies implement the Supreme Court's ruling in Bostock v. Clayton County in nondiscrimination policies was the most popular of his early executive actions, with the support of an overwhelming 83% of Americans.
The Equality Act was originally introduced and passed by the House in 2019 but then Senate Majority Leader Mitch McConnell ignored the bill and refused to bring it to the Senate floor for discussion and a vote. With the current tie in the Senate between the Democrats and Republicans and with the advantage of Democrat Vice President Kamala Harris presiding over the Senate, the measure will be able to move to the Senate for consideration.
President Joe Biden has made the Equality Act a major priority for his first 100 days in office.
The Victory Institute issued the following message after the approval of the bill:
Today LGBTQ Victory Institute – the only national organization dedicated to supporting LGBTQ elected officials – applauded the U.S. House for passing the Equality Act and called on U.S. senators not to filibuster the civil rights legislation. Out LGBTQ U.S. Representative David Cicilline introduced the Equality Act and all nine out LGBTQ U.S. House members voted to support it.

Mayor Annise Parker, President & CEO of LGBTQ Victory Institute, released the following statement about its passage:
"This is a defining moment in our nation's political history and soon U.S. senators will decide their legacy on equality for LGBTQ people. History is not kind to those who oppose or filibuster civil rights legislation and excuses won't pass muster with future generations. An overwhelming number of Americans support the Equality Act – including a majority of Republicans – and today the U.S. House voted for the will of the people. It is imperative senators be given that same opportunity to vote and understand that history books will remember their decision."
(Visited 1 times, 1 visits today)