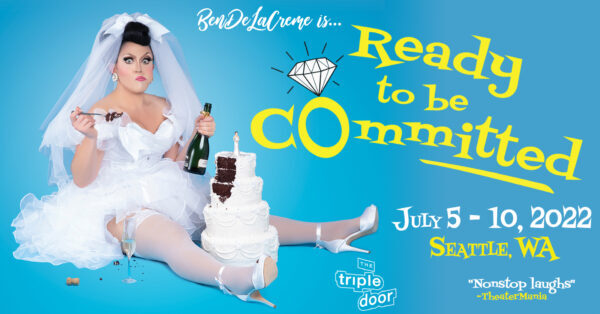 She's on the road with a semi-newish show…one time Seattle burlesque/drag star BenDeLaCreme returns to town in July with "BenDeLaCreme is…READY TO BE COMMITTED" for a week ling stay at Seattle's beloved Triple Door cabaret theater. And, I say "new-ish" because it's new to MOST people…unless you saw it when the diva originally performed it in Provincetown back in 2019 before the Plague happened…DeLa was set to go on the road with the show in 2020 when Covid hit and now she's ready to spread her insanity across this great ravaged land of ours!
It's all about DeLa's stuggle to get married, which is odd since in real life the former RuPaul's Drag Race veteran has been happily hitched for several years but logic and art and showbiz often do NOT go hand in hand!
You can grab tickets for the show here…it runs Tuesday, July 5th through Sunday, July 10th with multiple performances to choose from. https://tickets.thetripledoor.net/eventperformances.asp
More from the p.r.
Global drag icon and RuPaul's Drag Race star, BenDeLaCreme, will embark on her biggest solo tour yet as star and Lead Producer – April 13 through July 16, 2022 – with her critically acclaimed, narrative-cabaret, "BenDeLaCreme is…READY TO BE COMMITTED" (produced by BenDeLaCreme Presents). This one-queen extravaganza is a hilarious and heartfelt spectacular that blends burlesque, comedy, and original music with her signature Terminally Delightful charm. 

After years of people asking the aggressively effervescent queen if she can "please, settle down," BenDeLaCreme is finally ready to tie the knot in something besides her corset. Now, all she needs is a potential spouse. And a dress. And a cake. And the ability to consider others. 
It's a relay race to the altar as DeLa dodges pervy Grindr suitors, bitchy wedding-cake-toppers, and the errant arrows of Cupid himself! Join the blushing bride as she tackles the pitfalls of love, marriage, and romance in a limited engagement about the limitations of engagements.

After the original iteration of the "Ready to Be Committed" tour was postponed in 2020, the 2022 tour has increased in size. BenDeLaCreme's 2021 holiday tour, "The Return of the Jinkx & DeLa Holiday Show, LIVE!" with co-star Jinkx Monsoon, marked the queen's highest grossing tour under BenDeLaCreme Presents, further showcasing DeLa's growing impact within the drag and theater industry as a producing powerhouse. She also became the first drag queen to produce a feature film (under pandemic restrictions) with "The Jinkx & DeLa Holiday Special" (2020), landing BenDeLaCreme Presents an exclusive licensing deal with streaming giant, Hulu. The film won "Lockdown LOL" at the 2021 Queerties.
Written, directed, and produced by BenDeLaCreme, "BenDeLaCreme is…READY TO BE COMMITTED" showcases the multifaceted superstar at her best. The show played to sold-out crowds in New York City and Provincetown upon its debut in 2019.
(Visited 3 times, 1 visits today)