June 3, 2022

•
by
Michael Strangeways
Every year we write about LGBTQ+ Pride events for just about every demographic of the community…Black Pride Events, and Latin Pride Events, and Asian/Pacific Islander Pride Events. Even though there's shockingly few, we even manage to point out Lesbian events and Queer Youth events, too. Obviously Gay Male Pride events still dominate…there's still a lot of Pride parties that seem to be explicitly aimed at gay men wanting to get down with other gay men with a Beer, a Stoli, and an opportunity to hook up "for Pride".
One community I have seldom seen any kind of Pride event for is…the Indigenous/Native American community. Over the years, I've come across a tiny handful…which is ridiculous. Despite the fact that Seattle and the Pacific Northwest have a large LGBTQ+ native community, they seem to have been lost and forgotten when it comes to anyone acknowledging them as members of our community. Which isn't anything new when it comes to how society treats Native and Indigenous people in general.
Happily, this seems to be changing. Local queer indigenous people are making their voices heard with multiple events happening during June Pride in the Seattle area including an art show, a burlesque show, a variety show event and a festival on the waterfront.
Just opened is the Indigiqueer Joy Exhibition at Vermillion Art Gallery & Bar. Curated by local indigenous drag queen Hailey Tayathy who also seems to be the mastermind behind several of these new events, the month long art show features "photos that were taken by Evan Benally Atwood (Diné/Navajo) and Nate Lemuel (Diné/Navajo), The exhibition also features works by other local queer Indigenous artists including Hailey Tayathy (Quileute) and Dove Little Home (Blackfeet/Cree)."
This exhibition is part of the Indigiqueer Joy Campaign that was created by the Paths (Re)Membered Project at the Northwest Portland Area Indian Health Board with support of the Friends of Waterfront Seattle and yəhaw̓ Indigenous Creatives Collective. The exhibit will be up through June 30th and they'll be a reception for the show and the artists during Capitol Hill Artwalk on Thursday, June 9th.
In addition to the art show, the Indigiqueer Joy Campaign will also include an actual afternoon long event, the Indigiqueer Festival happening Saturday, June 25th from 2pm to 7pm at Pier 62 on the Seattle Waterfront.Per the website, enjoy " food, music, drag and more while coming together with the Queer Indigenous community to celebrate ourselves… Join us as we celebrate Two Spirit and LGBTQ+ activism, art, and pride!" with more details to be added closer to the event.
Both the art show and festival are free and open to the public.
The next event isn't necessarily for EVERYone…it's SWEATLODGE, an Indigenous Burlesque Show and After Party at Gallery Erato in the Pioneer Square neighborhood. Here's the description:
SWEATLODGE
Indigenous Burlesque and PoC only Late Nite After Party!

Sweat Lodge at 8pm, doors at 730
The After Party at 10 (PoC only at midnight till after hours!)It's time to get sweaty SWEATLODGE is going to bring you to another level, a new height of salacious, sexy Indigenous bodies shakin what the Creator gave them! SWEATLODGE is the first all Indigenous burlesque show in Seattle, and is right on time for Pride! Come for the show, stay to shake your ass at The Sweatlodge After Party! (The After Party will be PoC only after 12).The After Party will be going to late late late!
See you all soon at Gallery Erato!

Featuring

Whisper de Corvo
Madame Steph
theres more
Hailey Tayathy
Mia Mirage
Andrés José
A portion of the proceeds are benefitting the Pan Eros Foundation.
Link: https://www.strangertickets.com/events/124723717/sweatlodge
Now, this to me is a clear example of an event that is really for the specific people who are creating the event. It's an event created BY and FOR indigenous people. They are providing tickets with guidelines that allow non-indigenous/POC to attend but…that doesn't mean that non-indigenous and non-POC people SHOULD attend. (With an exception being if you're partnered with or personally asked to attend by an indigenous person.)
Marginalized communities should be allowed to gather as they wish. Now, there's gonna be some people who read that and they're going to get all butt hurt and indignant and huffy and puffy and Karen-y…and, just stop. This isn't "reverse discrimination". And, this isn't about you. Not every event is for everyONE. You have plenty of other events to go to. Like, most of them.
(I feel the same way when events are clearly indicated as "adult only" or "no pets, please" and there's always someone who has to whine, 'that's not fair! Why can't we bring our 3 year old triplets and our rambunctious cocker spaniel?!?!!!!' And, I always want to respond with, 'because we want to have a good time…')
Now that I'm done with that soapbox let's talk about the final event (that I'm aware of) and it's a super fun show at Cafe Racer on Capitol Hill (next door to Vermillion Art Gallery actually). It's INDIGEQUEER which is also happening on Pride Saturday, June 25th, starting at 8pm. Indigequeer is the variety show/dance party by and for Native/Black/POC and they're not just celebrating LGBTQ+ Pride with this event, they're also celebrating Custer's Death at Little Big Horn!
From the Facebook invite:
INDIGEQUEER: Anniversary of Custer's Death (and also Pride) Edition! INDIGEQUEER is back, and this time we are celebrating the queerest, Native-est of days, the anniversary of Custer's death! Get ur decolonial butts in here and shake ur ass like you just won a major battle! We have djs, gogos, pole dancers, Indigenous vendors, performances, and a few special surprises (hint, its Custer, and he's not happy)! We are back at Cafe Racer, 8pm-2am!

Hosted by Stephy Styles and Howie Echo-Hawk

Dj's
Goal Suspectum (Portland)
Toya B
there's more!

Performances by
Hailey Tayathee
Gila Suspectum
and special guests!

Native, Black and PoC $20 presale, $25 night of

General admission $30 presale, $35 night of

"Ally" $40
Custer was my Uncle $50
Land Back Recovery Fund $100
Again. An event by and for the people who created the event. If you're an ally and really want to go, then go and happily pay the appropriate cover and be a good ally to the community!
The last event we want to mention isn't LGBTQ+ specific but it's still an important event…it's the Indigenous People Festival happening next Saturday, June 11 at Seattle Center and produced by the Seattle Indian Health Board. It's the free, annual event in honor of Indigenous arts, culture and cuisine. Per the press release: "Shop from BIPOC vendors, experience cultural performances, and dance the day away in celebration of Pride and #NativeJoy!"
It's also open to EVERYONE in the community! So, yes, pack up the triplets and the cocker spaniel and come on down!
Finally, as an ally, we're happy to see there's more events by and for LGBTQ Indigenous/Native/Two spirit people. If we're missing any events, please let us know so we can add them to this post and to the SGS Calendar.
(Visited 44 times, 1 visits today)
As the Editorial Director/Co-Owner, Michael Strangeways writes, edits and does about a million other jobs for Seattle Gay Scene, Puget Sound's most visited LGBTQ news, arts and entertainment website now celebrating its 14th year as a media outlet. A semi-proud Midwesterner by birth, he's lived in Seattle since 2000. He's also a film producer who would like you to check out the Jinkx Monsoon documentary, "Drag Becomes Him" now available on Amazon.com. In his spare time, he gets slightly obsessive about his love for old movies, challenging theater, "otters", vodka, chocolate, "I,Claudius", Lizzie Borden, real books made out of paper, disaster films, show tunes, Weimar era Germany, flea markets, pop surrealistic art, the sex lives of Hollywood actors both living and dead, kitties, chicken fried steak, haute couture and David Bowie. But, not necessarily in that order.
Related Posts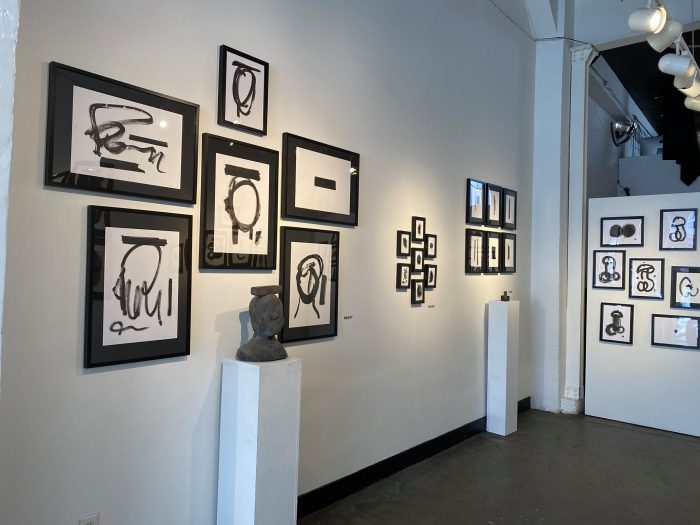 *Resist. Protest. Obstruct. Inform. • Arts • Arts & Entertainment • Arts News • Capitol Hill News • Galleries & Art Walks • Gay 101 • News • Queer Arts
Are you craving art? And, a return to seeing art
...