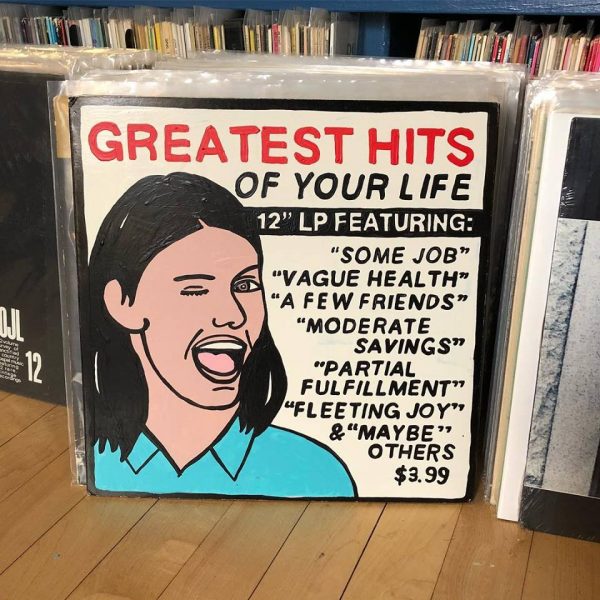 He's not a homospecial (to my knowledge) but we still j'adore the art work of one time Seattle resident Derek Erdman…his colorful and oddly lovable paintings are all over the place. It's likely you already OWN a piece of Erdman art or you know someone who has one hanging in their powder room. His Pop-y Warholian aesthetic is both amusing and sly, from the School of Wisenheimer.
Mr. Erdman lived here for several years before leaving for the Windier City of Chicago…but he's bopping back to town this weekend to sell some art at Vermillion on 11th Avenue on Capitol Hill this Saturday from 6pm to 9pm. It's a chance to snag one of his pieces at LOW LOW prices before he becomes hella famous and they rise in value.
Modestly Fun Fact: We both live/lived in buildings owned by the same landlord, well known for their shockingly low rents and lack of washer/dryer units in their buildings.
He wrote this amusing piece on his Seattle life and return to the city we call our moist, chilly, standoffish, overpriced home: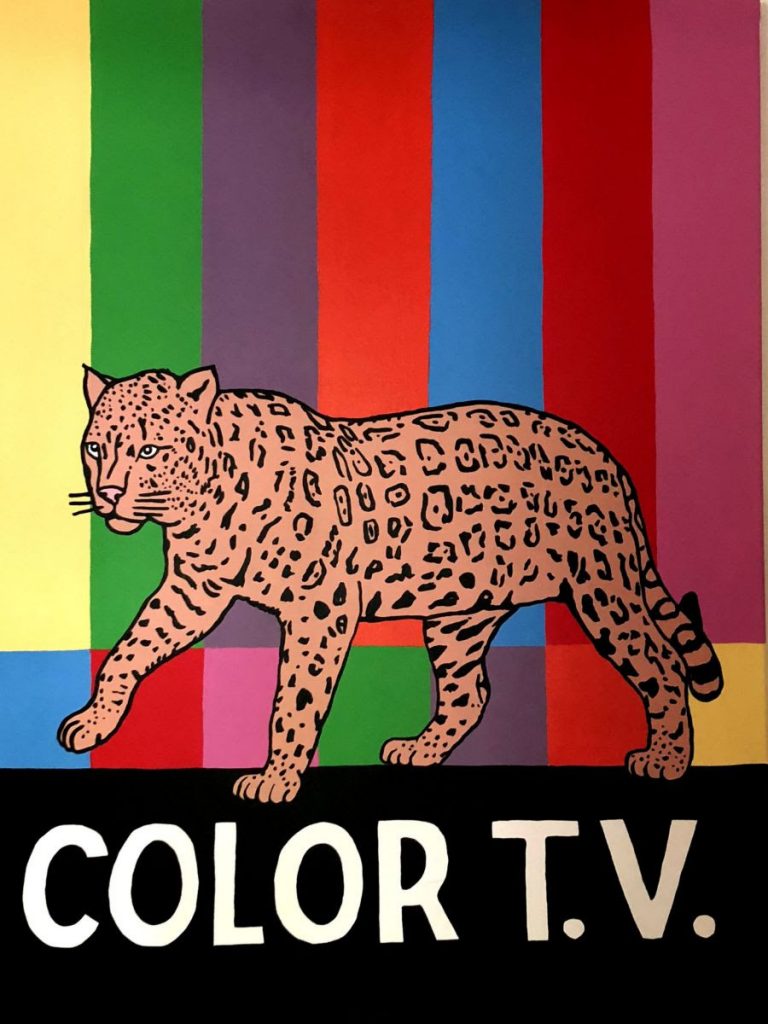 Derek Erdman says: "I moved to Seattle in September of 2010, I'd been in the Midwest for most of my life and made a decision that I wasn't going to die in the Midwest. Seattle was such a kind place to me, people were so nice and bought my things and a weekly paper let me write whatever I wanted.
Alas I was a brat, and didn't want to write anything weekly, and got married and really started to not like Seattle. It was damp and cold and small and uncomfortable for me. I did the best I could, making paintings and drawings of Sonics players and Mount Rainier, etc. Eventually I landed a job as the receptionist at Sub Pop Records, which is truly the best job that I'll ever have. I ate candy and watched YouTube videos for three years straight.
Eventually I got divorced, was still a brat, and moved into the best apartment at 16th and Madison. I'd noticed that apartment building five years earlier while visiting Seattle, and had the eerie feeling, "That is where I will die." After living there (and not dying) for three years, I decided to move back to Chicago because I realized that I'm Midwestern and my people are Midwestern and they just eat cheese and bread all day long. The style in Chicago is horrible and everybody is stodgy, but the buildings are old and a person doesn't have to live in terror of finding a new and expensive place to live.
The only art show I've had in Seattle since I moved was outside of a wonderful bagel shop last year, this show is my first in a "gallery," a place that I really care for and hope stays in business. I don't care a whole lot about "old Seattle," I arrived in 2010 and I think that was long gone by then. But I have fond memories of Seattle and will be glad to spend one final time there, before I indeed die or whatever.
I now still paint and also work at a civil rights law firm as a paralegal where I do what's called intake. Essentially I listen to horrific stories from people all day long on the telephone, and am in the middle of writing a book called Disappointing Finish Line. That's not really the title, I just made that up, but I'd love to see you on September 7th, if you're around and available. No big deal if not, it's only my last show in Seattle. Oh, and Sarah Galvin will be there making balloon animals. I love her so much. XOXOXOXOXOOXOX,
Derek Erdman"
See more of Derek's work at: derekerdman.com
Instagram: @derekerdman
Twitter: @derekerdman
Facebook: https://www.facebook.com/derekerdman
Vermillion is honored to host Derek Erdman's "last gallery show before he dies, or whatever…". We've shown Derek in June of 2011 and March of 2017. He's also contributed to a charity auction in 2019. This is sure to be a packed event so, your patience is appreciated. The show will be viewable Friday, September 6 in the evening but no sales will be transacted.

"GRAB AND GO" STYLE
THREE HOUR ART SHOW
SAT SEPT 07, 2019 6PM-9PM
VERMILLION ART GALLERY
1508 11TH AVE, SEA, WA 98122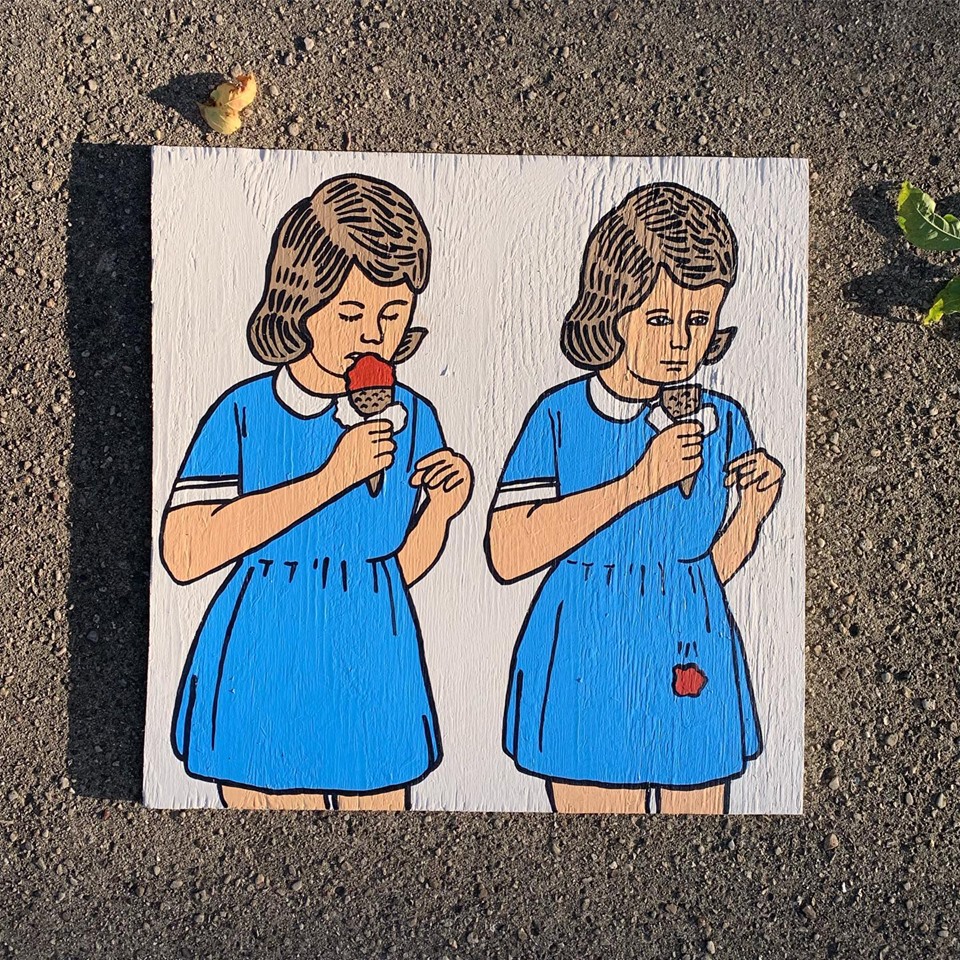 (Visited 2 times, 1 visits today)