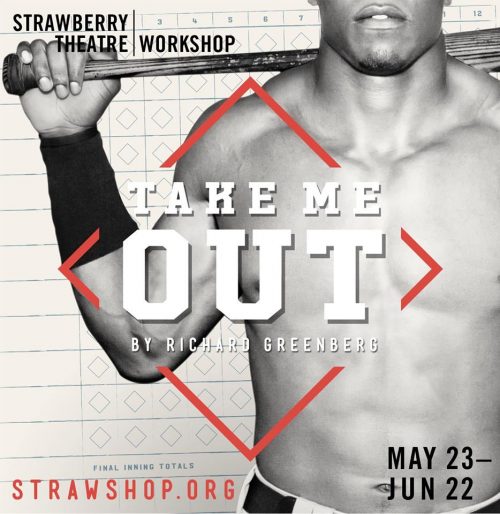 Strawberry Theatre Workshop, one of Seattle's best theater companies and one that has been committed to producing major LGBTQ plays like The Laramie Project and The Normal Heart over the years has announced they'll mount Richard Greenberg's Tony Award winning 2003 play, TAKE ME OUT for a run from May 23rd through June 22nd at the 12th Avenue Arts theater space on Capitol Hill.
The play centers on major league baseball player announcing he is gay and the ripple effect that has on him, his career and his team. The comedic drama is set in the team's locker room and shower area and is famous for its full frontal male nudity. (Which shouldn't be your sole reason to see a play….geeesh. There's naked people ALL over the internet! Why only go to the theater so you can gawk? Tacky. Though it does raise the question, if they're going to have showers on stage, where does the water go?)
This production has a terrific local cast headed by Lamar Legend as the out gay ball player Lemming and Trick Danneker as the narrator Skippy with Nicholas Japaul Bernard, Miguel Castellano, Jon Lutyens, Tony Magaña Jr, Roger Estrada, Craig Peterson, Josh Kenji and Carter Rodriquez in support.
More info:
STRAWBERRY THEATRE WORKSHOP WELCOMES
PRIDE MONTH TO CAPITOL HILL WITH
RICHARD GREENBERG'S "TAKE ME OUT"
 Is baseball ready for an openly gay superstar?
Take Me Out explores what happens when a superstar player on a major-league baseball team announces that he is gay.  What outfielder Darren Lemming receives is disarming—and often hilarious—candor from his teammates, manager, and agent.  Setting his play entirely in the team's clubhouse and shower, playwright Richard Greenberg traps a dozen (often naked) men in one room with their most intimate thoughts and no place to hide.
Enter into this sheltered atmosphere a mid-season roster addition from outside the team's familial bubble.  A rookie relief pitcher's unfiltered television interview opens a locker of complicated insights about masculinity, democracy, race, and identity for the twenty-first century.
Artistic Director Greg Carter (Our Town, Frost/Nixon) directs Greenberg's sharp contrast of disillusionment and community.  TPS Gregory Award winner Lamar Legend (Everybody) plays Lemming and Trick Danneker (The Memorandum) plays his teammate/narrator Kippy Sunderstrom.  The all-male cast also includes Nicholas Japaul Bernard (Hedwig), Jon Lutyens (Dorian Gray), Craig Peterson (B), Josh Kenji (Last of the Boys), and Carter Rodriquez (Merchant of Venice) among others.
Richard Greenberg is the author of The Violet Hour, The Dazzle, Three Days of Rain, among many other plays. He received the Oppenheimer Award for a new playwright as well as the first PEN/Laura Pels Award for a playwright in mid-career. He is an associate artist at South Coast Repertory and a member of Ensemble Studio Theater.
Take Me Out was the winner of the 2003 Tony Award.
"…what an enchanting and enchanted take on baseball Mr. Greenberg has created… passionately personal and lyrically analytical. It's a sensibility that is so smart, raw and sincere all at once that you may find tears in your eyes…an unconditional, all-American epiphany…to cherish."
—NY Times
"…a heady, heartfelt and enormously appealing romance… Perhaps never in my theater going experience have I experienced such an overwhelming—and spontaneous—surge of affection sent across the footlights." 
—Variety.
TAKE ME OUT
written by Richard Greenberg (2004)
directed by Greg Carter
performed by
Lamar Legend
Trick Danneker
Nicholas Japaul Bernard
Miguel Castellano
Jon Lutyens
Tony Magaña Jr
Roger Estrada
Craig Peterson
Josh Kenji
Carter Rodriquez
graphic design by Melanie Wang
About Strawberry Theatre Workshop
Founded in 2004 by Greg Carter, Strawberry Theatre Workshop is a professional theatre company dedicated to socially engaged work of the highest caliber. Strawshop is a Stranger Genius Award winner, a six-time Seattle Times Footlight Award winner, and the only company to be nominated for a TPS Gregory Award for Outstanding Production four years in a row (2009-12). (Editor's Note: It's also won a number of Gypsy Awards for theater excellence over the years, something it seldom acknowledges….) Known for its critically acclaimed productions of Frost/Nixon, Our Town, The Normal Heart, Breaking the Code,The Elephant Man, and Proof, Strawshop is anchored in Seattle's Capitol Hill neighborhood. Strawshop is one of the resident companies in the 12th Ave Arts building, which opened on Capitol Hill in 2015.
Mission Statement
Strawberry Theatre Workshop is committed to the idea that the theatre is the people's place of aspiration, and that any voice from the stage is translated exponentially into conversations at coffee shops, bus stops, classrooms, and play fields. Strawshop is dedicated to the idea of ensemble, in the broadest sense of the word. Our ensemble does not only mean a resident company of workers, but a collective that includes our work, our audience, and our neighborhood. This is an activist stance. To be a good neighbor is to be a relevant neighbor, a responsible neighbor, and a vocal neighbor.
Title: Take Me Out
Previews: Thu-Fri May 23-24, 2019
Opens: Saturday, May 25, 2019
Plays: Fri-Sat and Mon at 7:30 pm, and Sun at 2:00 pm
NO PERFORMANCE SUNDAY MAY 26 and MONDAY MAY 27
Venue: Mainstage Theatre at 12th Ave Arts
Address: 1620 12th Ave, Capitol Hill, Seattle
Ticket Prices: $36 General, $24 Mondays
Phone Sales: 1-800-838-3006
Online Sales: strawshop.bpt.me
This show contains nudity and sexual language and situations.
READ MORE AT: www.strawshop.org
Tags: Gay Plays, LGBTQ Theater, Queer Theater, Strawberry Theatre Workshop, Take Me Out