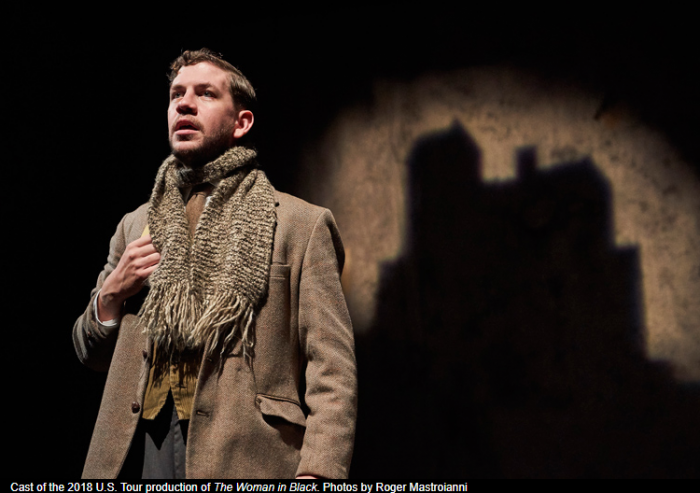 Review: THE WOMAN IN BLACK based on the novel by Susan Hill and adapted for the stage by Stephen Mallatratt. Produced by PW Productions and Pemberley Productions and presented locally by Seattle Repertory Theatre. Directed by Robin Herford. Designed by Michael Holt. Lighting Design by Kevin Sleep. Original Sound Design by Rod Mead. Sound Designer: Gareth Owen. With Bradley Armacost and Nick Vidal. Now through March 24, 2019 at Seattle Repertory Theatre.
Other than its rather banal title which I get confused with:
there's much to like about the very long running West End (of London) spooky stage hit THE WOMAN IN BLACK, a two actor piece about a vengeful ghost in a very creepy remote British country house. It's based on a 1983 novel of the same name by Susan Hill which was adapted by actor/writer Stephen Mallatratt in 1987 and became a huge hit running continuously for the last 32 years largely due to its DIY charms of ghostly storytelling. The show relies on the actor's performances, and moody lighting and sound effects to achieve its chills and thrills without the use of anything very technical or computer generated.
In a nutshell and totally cribbed from Wikipedia:
The (story) follows Arthur Kipps, a junior solicitor, as he journeys to the small market town of Crythin Gifford to attend the funeral of a client, Mrs Alice Drablow. At the funeral, he sees a young woman with a wasted face, dressed all in black, standing in the churchyard.

Bemused by the villagers' reluctance to speak of the woman in black, Arthur goes to Eel Marsh House, Mrs. Drablow's former abode, an old building in the middle of a marsh, which is cut off from the mainland at high tide. Sorting through Mrs Drablow's papers, he finds a box of letters, and ultimately discovers the dreadful secret of the Woman in Black – to his own terrible cost.
The play version sets the story within a play being told within a play. A now elderly Arthur Kipps hires a young actor to help him dramatize his horrible story, in order for Kipps to exorcise the demons that have tormented him for decades. The young actor enacts the role of the young Kipps while the Older Kipps portrays all the other characters encountered in the terrible visit to Crythin Gifford and the horrors of Eel Marsh House.
Naturally, the fun of experiencing The Woman in Black is in not knowing anything about the specifics of plot, the twists and turns so a reviewer/critic is rather limited in what can be said about the plot….and, I'm not about to be a "spoiler".
(Hint: there's a Woman in Black character, too)
Seattle Repertory Theatre is presenting this touring production of The Woman in Black now through March 24th…nothing about it is local; it's a nationwide tour based on the original staging and design of the original production. It's a handsome show with well designed, atmospheric elements and two talented actors. On opening night, it was Bradley Armacost as Older Kipps, doing a terrific job of playing a multitude of different characters, and understudy Nick Vidal equally strong as the Young Actor.
This is really one of those review-proof shows. It's a beloved hit that's played for years and people go to it totally based on its reputation as a fun night at the theater. It's a spooky roller coaster ride with British accents. I personally can't imagine wanting to see it again (there are people who have seen it many many times) because once you know where the "frights" are, why would you be scared a second time but those frights are fun. In fact, half the joy of seeing The Woman in Black is seeing how the rest of the audience reacts…there is considerable shrieking (as well as laughing) when the spookier things happen. It's like seeing The Rocky Horror Picture Show in a cinema and enjoying the floor show as much as what's on screen.
If you like fun, frothy ghostly tales well told, then The Woman in Black is a slight, but very fun night of theater. 
Plus, there's a cute dog. 
(Visited 1 times, 1 visits today)