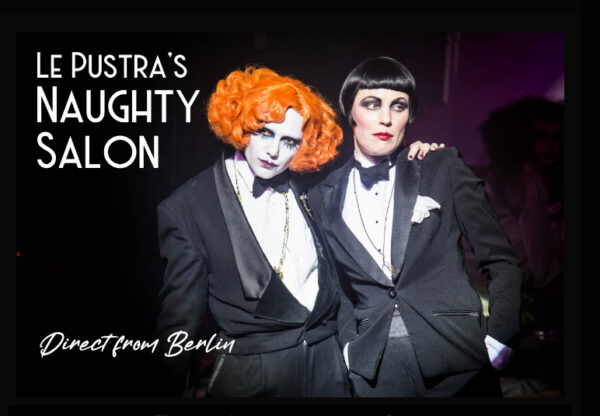 You better hurry if you want to snatch tickets to the direct from Berlin cabaret show coming to The Triple Door this Friday and Saturday, September 16 and 17….there's only a handful of tickets left for any of the three shows of "Le Pustra's Naughty Salon" being brought to Seattle by local producer Mark Siano. And, it looks like it's gonna be a deliciously decadent night of exotic Berlin style cabaret!
And, yes, it's going to be reminiscent of beloved Broadway musical/Liza Minnelli starring movie CABARET but the REAL DEAL is a lot…darker. Grittier. Naughtier. Bolder. After all, Berlin Kabarett was born during the topsy turvy years of the Weimar Republic, that period from the end of the First World War to the rise of the Nazis in 1933 when Berlin dealt with revolution, runaway inflation, corruption, rampant crime, poverty, the sexual revolution and non-stop political and social instability.
During this period, amazing night clubs were built and amazing artists appeared on the scene to create new forms of art and self-expression. While many of these clubs were small holes in the wall, others like The Eldorado were enormous pleasure palaces with multiple floors and rooms of themed entertainment featuring all sorts of illicit pleasures including all expressions of gender and sexuality.
More from producer Mark Siano:
Go to https://tickets.thetripledoor.net/eventperformances.asp?evt=1776 to snag one of the last tickets!
Hopefully, with this huge success, Le Pustra will return to Seattle in the future!
(Visited 7 times, 1 visits today)