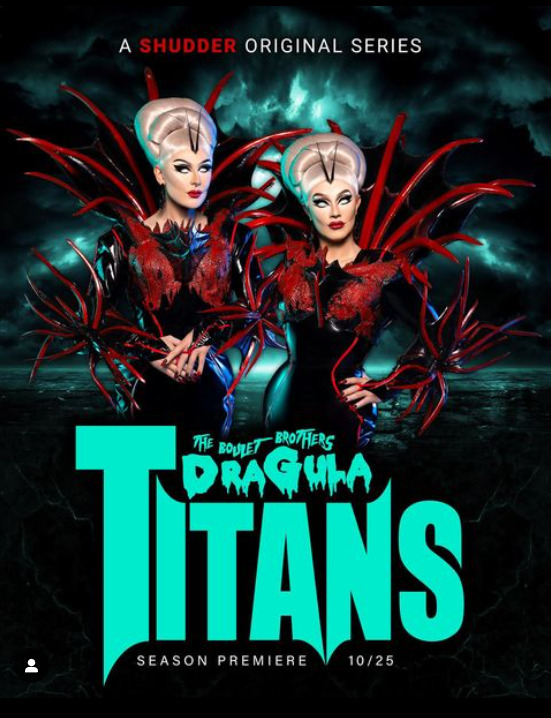 Well, they're not CALLING it that because, well, HOW OBVIOUS and the Boulet Brothers are never going to take the safe and generic route…their new series is basically an All-Stars version of their very popular scary drag queen competition series, DRAGULA but this version, set to debut on Tuesday, October 25th on the Shudder and AMC+ networks, is titled:
"The Boulet Brothers' Dragula: Titans."
That's a mouthful!
It's all part of the Boulet Brothers hot new deal with Shudder/AMC that includes this series, plus another regular season of Dragula AND other special projects.
"Titans" will kick off with 2 episodes on October 25th, then the remaining 8 episodes will air weekly. AND, for this special edition, the winner gets $100,000.
No contestants have been announced (several Seattle queens have competed over the years) but tjhey have announced that guest judges will include Elvira, drag stars Alaska and Katya, pop star Poppy, and actors like Harvey Guillen and David Dastmalchian.
All the poo from the press release:
NEW YORK – September 12, 2022 – Just in time for the scariest month of the year, drag legends The Boulet Brothers and Shudder, AMC Networks' premium streamer for horror, thrillers and the supernatural, announced today a new spin-off series, "The Boulet Brothers' Dragula: Titans." Based on the popular competition reality show "The Boulet Brothers' Dragula," the series will debut with a two-episode premiere on Tuesday, October 25 on Shudder and AMC+ with subsequent episodes rolling out weekly. Key art and new imagery have also been released for the upcoming series.

Hosted and created by "horror's new icons" (Fangoria) the Boulet Brothers, "The Boulet Brothers' Dragula: Titans" will be a ten-episode spin-off series starring some of the most popular drag icons from the show's previous seasons competing in a grand championship of drag artistry and shocking physical challenges for a one hundred-thousand-dollar grand prize, the headlining spot on the upcoming world tour and the first ever "Dragula Titans" crown and title.

While fans of the series will feel right at home watching this spin-off, "The Boulet Brothers' Dragula: Titans" offers a new format that promises a haunted mansion full of shocking twists and turns that take place in a brand-new "underworld" set that was built just for the season.
"The Boulet Brothers and our previous 'Dragula' series have attracted a wonderfully passionate, engaged and diverse fanbase and we're delighted to bring them even more of the content they crave with this next competition series, especially during our biggest, most celebrated month of the year," said Craig Engler, GM of Shudder.

Along with returning fan favorite competitors (to be announced at a later date), there will also be a rotating cast of guest judges from the show's past and present, including horror icon Cassandra Peterson (Elvira), Harvey Guillen (What We Do In The Shadows), Justin Simien (director of Disney's upcoming Haunted Mansion film), David Dastmalchian (Dune, Suicide Squad), pop metal princess Poppy, drag superstars Alaska and Katya, and horror royalty Joe Bob Briggs ("Last Drive In"), Bonnie Aarons (The Nun) and Barbara Crampton (Reanimator, Jakob's Wife) to name a few, with surprise guests making unannounced appearances along the way.
The Boulet Brothers have become the go-to source for horror commentary in the pop culture zeitgeist. The Boulet Brothers are entrepreneurial multi-hyphenates who have their claws in all aspects of their creative projects, be it in the writing, artistic vision, illustration, music production, costume design, logistical coordination or business affairs.

From appearing on the cover of legendary magazines like Fangoria & Heavy Metal, to emceeing at high-profile horror conventions, to coverage in Entertainment Weekly, The Onion AV Club, The Advocate, Alternative Press and more, to cultivating a robust and dedicated following via "The Boulet Brothers' Dragula," the duo of Dracmorda and Swanthula have and will continue to break boundaries and broaden horizons within both horror and queer communities. The Boulet Brothers appear as key commentators on the recent acclaimed Shudder original series "Behind the Monsters" and also appeared on the streamer's popular show "The Last Drive-In with Joe Bob Briggs." Previous seasons of "The Boulet Brothers' Dragula" can also be seen on Shudder.
ABOUT SHUDDER
AMC Networks' Shudder is a premium streaming video service, super-serving members with the best selection in genre entertainment, covering horror, thrillers and the supernatural. Shudder's expanding library of film, TV series, and originals is available on most streaming devices in the US, Canada, the UK, Ireland, Germany, Australia and New Zealand. For a 7-day, risk-free trial, visit www.shudder.com.
(Visited 7 times, 1 visits today)