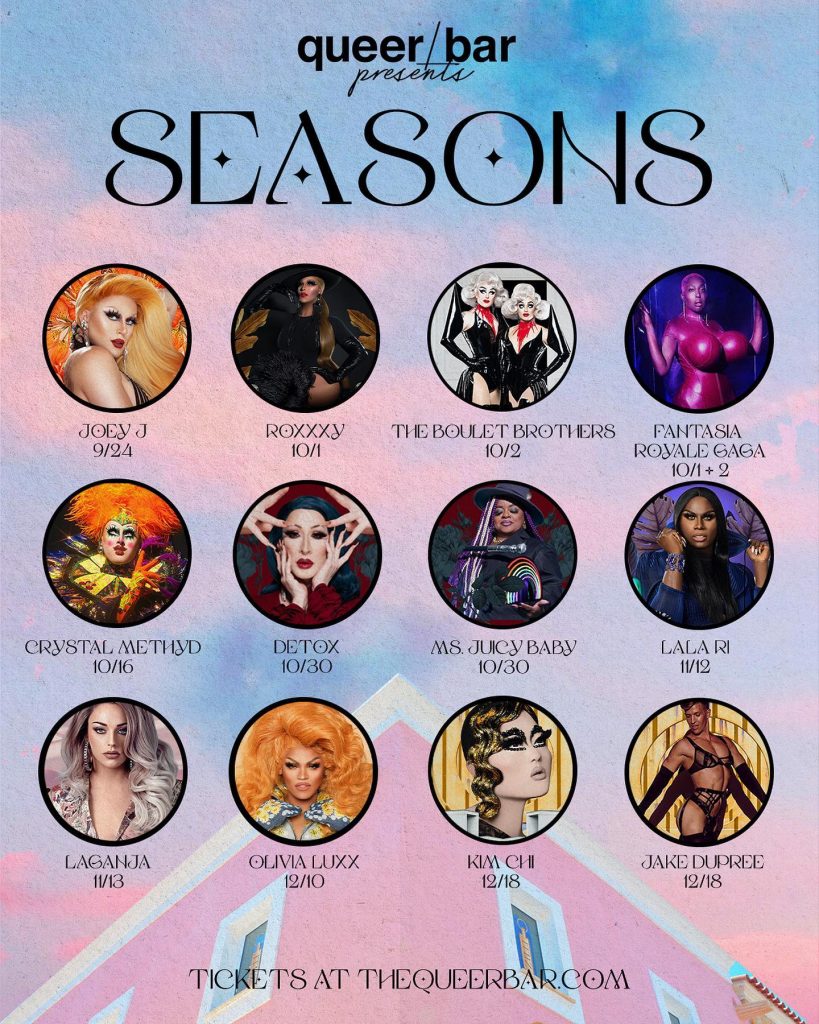 Queer Bar's big summer season of nationally known drag superstars including Kandy Muse, Heidi N Closet and Sonique was a huge hit (with one more star to perform, Ginger Minj this Saturday, September 18th. Tix are sold out but try to get on a wait list at the door if you show up early!)
When you have a big hit, you make a sequel so Queer Bar just announced they've programmed a new drag show series for Fall 2021: 'Seasons' will kick off on September 24th with RPDR Season 13 star Joey Jay and conclude December 18th with dancer/burlesque star Jake DuPree and RPDR Season 8 star Kim Chi with 9 other big names starring inbetween including The Boulet Brothers on October 2nd, Detox on October 3oth, LaLa Ri on November 12th, and Laganja on November 13th.
Tickets go on sale TUESDAY, September 14th at 12 Noon at Queer Bar's website! Don't dawdle to snag tix to your favorites….many of the summer shows sold out pretty fast!
Note that Crystal Methyd who was scheduled to perform this summer but had to cancel her show will return on October 16th and ticket holders for the original show will have first access to tickets to the new show! If this applies to you, check your email for notification!
The full list:
Friday, Sept 24: Joey Jay
Friday, Oct 1: Roxxxy
Friday and Saturday, Oct 1 & 2: Fantasia Royale Gaga
Saturday, Oct 2: The Boulet Brothers
Saturday, Oct 16: Crystal Methyd
Saturday, Oct 30: Detox
Saturday, Oct 30: Ms Juicy Baby
Friday, Nov 12: LaLa Ri
Saturday, Nov 13: Laganja
Friday, Dec 10: Olivia Luxx
Saturday, Dec 18: Kim Chi
Saturday, Dec 18: Jake DuPree
(Visited 5 times, 1 visits today)