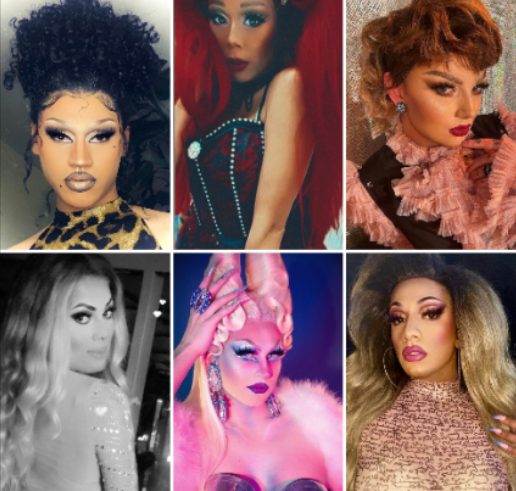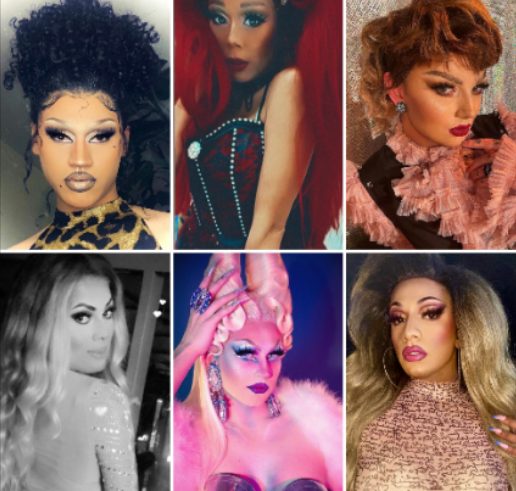 The poop emoji hit the overworked air conditioner last week at Julia's on Broadway, the home of the long running drag show LeFaux and an equally popular drag brunch. Last week, the six main cast members of the drag shows at the cabaret sent Julia's owner and LeFaux producer Eladio Preciado the following statement requesting salary hikes and changes to their working conditions: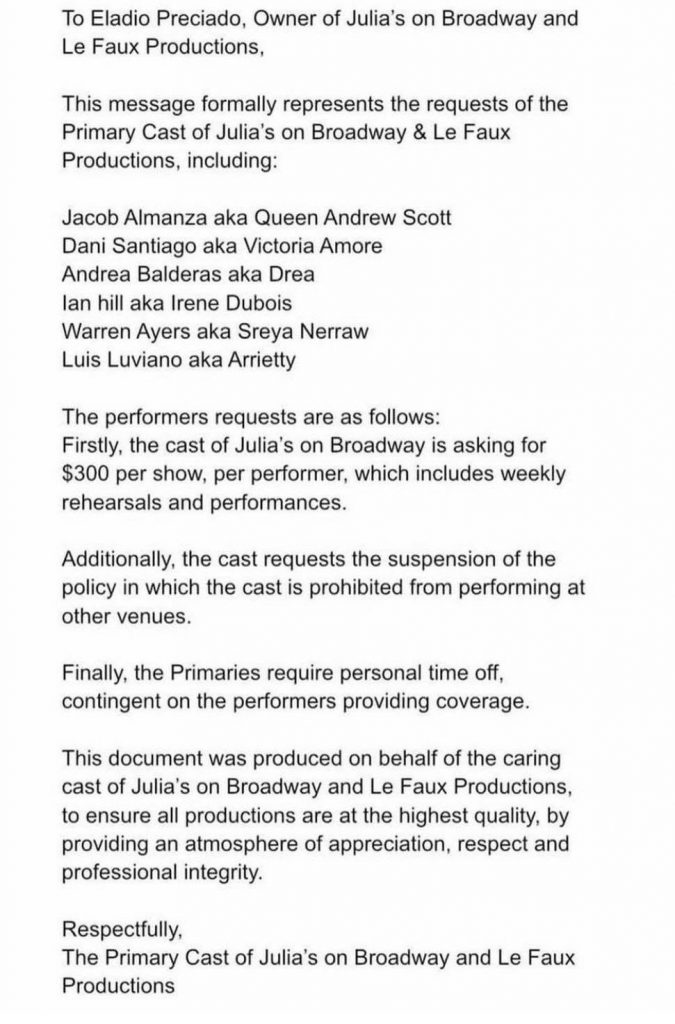 This all went down on Friday, July 9th before a weekend of performances at the venue. The LeFaux Cabaret cast performs on Friday and Saturday nights and their "Throwback Brunch" performs Saturday and Sunday for a total of 4 weekly shows at the venue with Irene Dubois as the principal host. The long running cabaret has had a starry line of talent over the years that has included future RuPaul's Drag Race stars like Jinkx Monsoon and Robbie Turner and famed Puerto Vallarta based drag star Mama Tits.
But, over the years, there's been a series of complaints about life at LeFaux's from disgruntled performers who've accused Eladio Preciado of being a demanding boss to work for. The company has long required contracts for its regular entertainers and some clauses of those contracts have rankled some performers including the exclusivity clause which requires performers to get permission to work at other drag/performance gigs. According to the list of demands released on Friday by the most recent cast, that appears to continue to be an irritant for them, though it should be noted that co-star Queen Andrew Scott does regularly do gigs outside of Julia's/LeFaux including hosting of a RuPaul's Drag Race viewing party at Deluxe Bar & Grill down the street from Julia's on Broadway.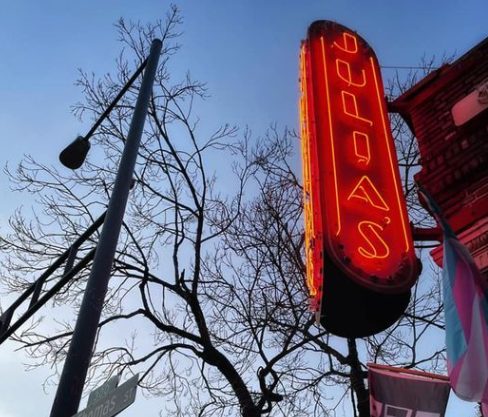 After the cast sent management their list of demands to management on Friday, the story gets…confusing. It appears management failed to respond to their first message and they sent a second message stating they would walk out which they did that night, not showing up for work. At that point, management fired the six cast members for not showing up to work.
The cast then sent out their statements via social media and asked for a boycott of Julia's and to rally for better conditions for all performers: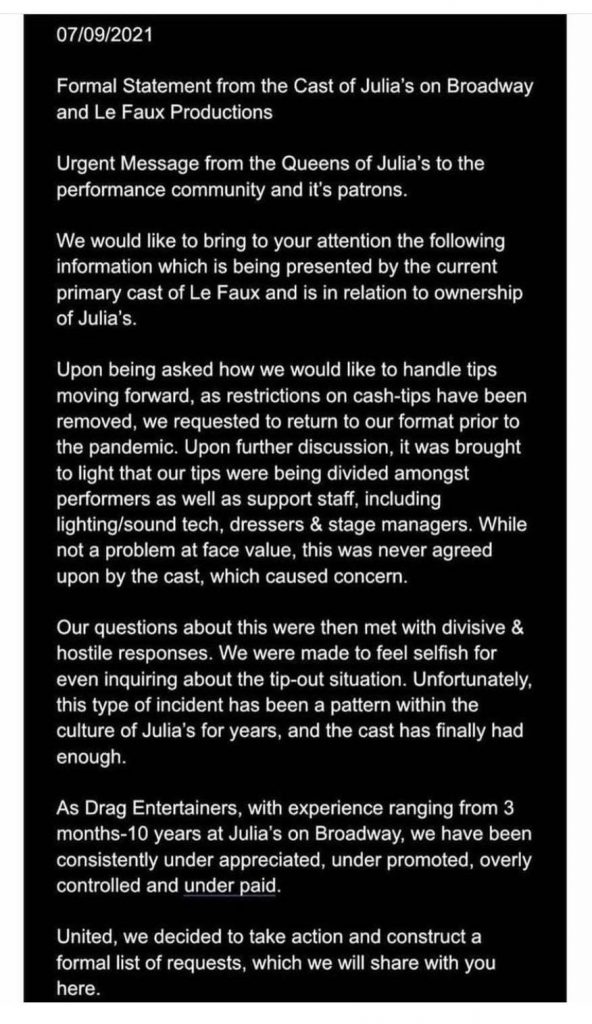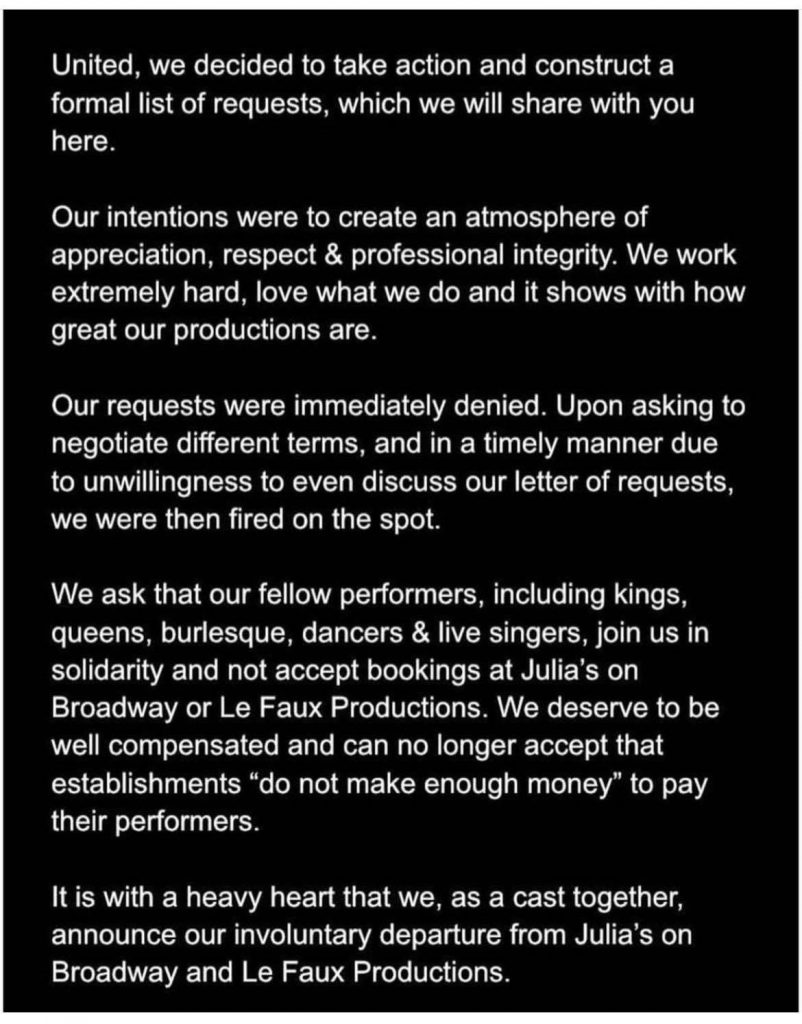 Eladio Preciado then shot back on Facebook with his side of the story including explanations on the arrangement with the cast about salaries and tip sharing following the venue re-opening this spring after the state allowed venues to re-open after Covid quarantines. He also (and, rather surprisingly) goes into great detail about how the show operates and included an image of the show's payroll breakdown for the previous weekend that rather boldly lays out how the cast and crew are paid.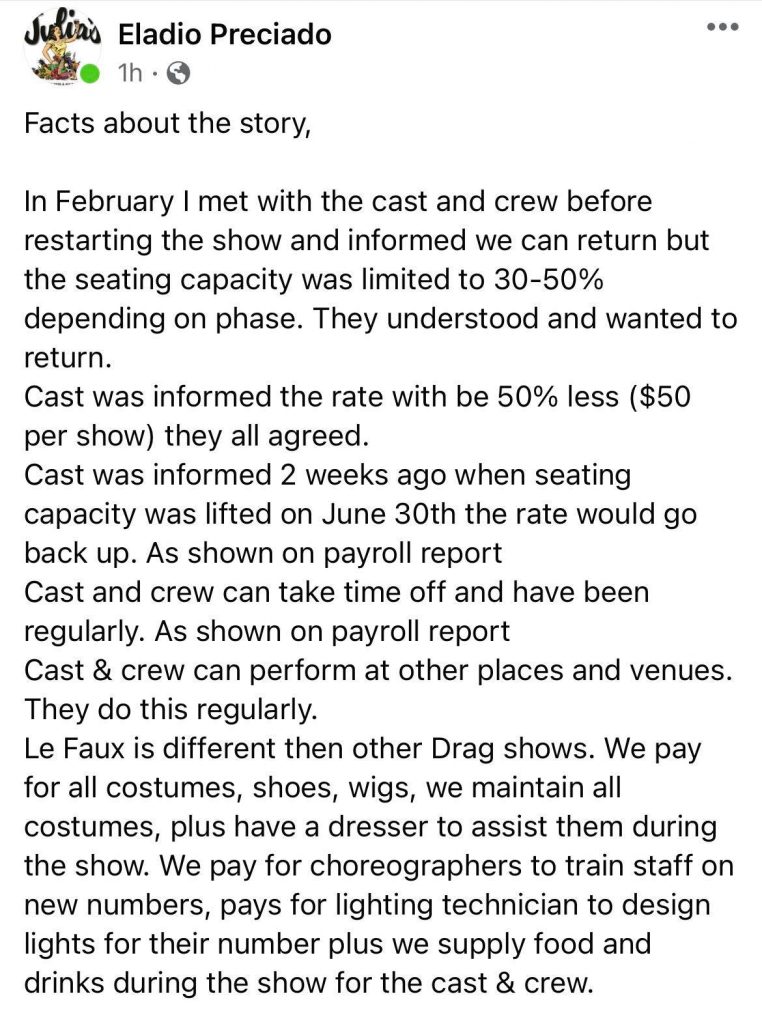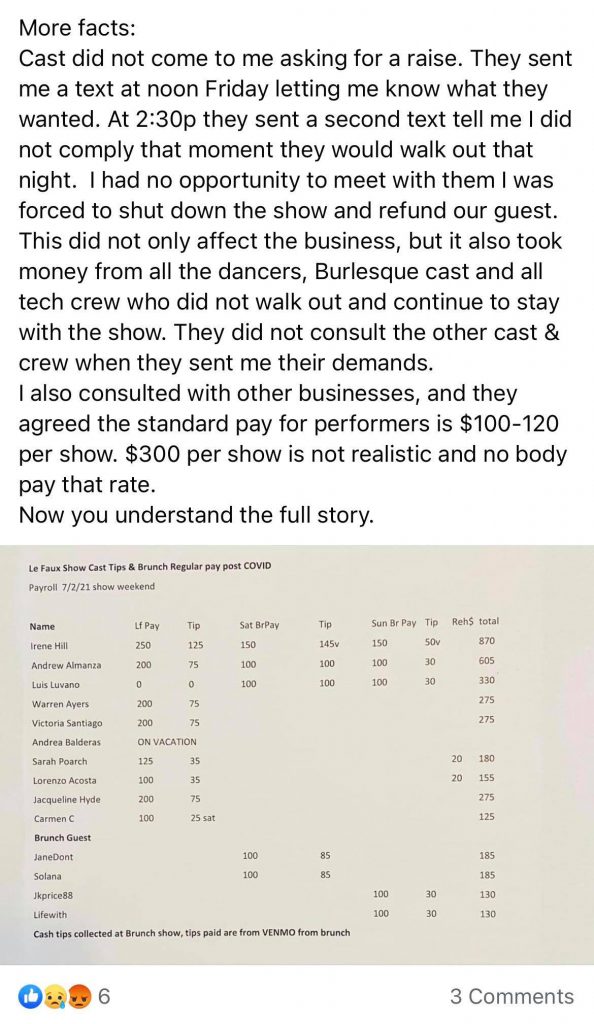 Since the news broke this weekend, the six performers have rallied other area performers and fans to their cause via social media with calls for solidarity and to urge better pay and working conditions for performers. A GoFundMe was created to aid the six who lost their jobs. The cast has also indicated they are still willing to meet with Preciado but to date, no meeting has been scheduled.
Meanwhile, Julia's was forced to cancel all LeFaux and brunch shows and refund thousands of dollars of tickets to fans. And, like many businesses hit hard by Covid-19 closures over the past year and a half, the business is coping with $200,000 of incurred debt from that closure. Preciado has vowed that the shows will return with an all new cast in a few weeks.
(Visited 61 times, 1 visits today)