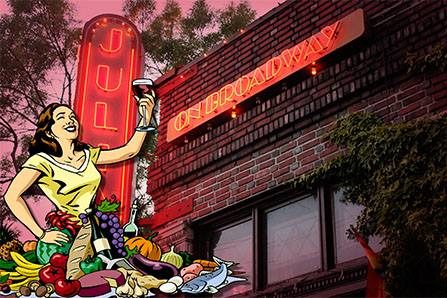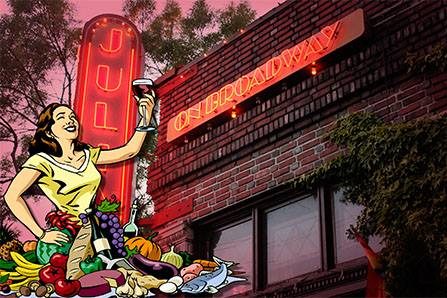 It's been a hectic few weeks for the former cast of drag shows at Capitol Hill restaurant and cabaret venue Julia's on Broadway. On Friday, July 9th the six main cast members who perform at the Friday and Saturday Vegas style celebrity impersonation show known as Le Faux and the Saturday/Sunday drag brunch show Throwback Brunch sent Julia's owner Eladio Preciado texts asking/demanding (depending on how you want to look at it) a list of requests for raises and changes in compensation. (See original story here).
The six performers, headed by host Irene DuBois and co-star and longtime Le Faux performer Andrew Scott, also includes Arrietty, Victoria Amore, Dreya and Sreya Nerraw. Their list of issues with Preciado included unhappiness over the tip sharing situation with backstage personnel, and claims they weren't allowed time off or to perform at other venues. They also asked for substantial raises to $300 per show, up from the $100-$125 they currently made.
A second text was sent stating they wouldn't perform that night unless Preciado would agree to meet with them resulted in them following up on that threat and not showing up at their scheduled start time which was followed by Preciado sending them messages they needed to come in to pick up their belongings implying they no longer had jobs at the venue. Thus the eternal question was then raised: "Did they quit or were they fired?"
The six took to social media with their story and not surprisingly actual online and print media soon started reporting on the story (I mean, of course the real media picked it up…drag queens on strike will snag web hits!) The "Le Faux Six" even managed to get onto local TV and local print as well.
Meanwhile, Preciado released his side of the story on social rebutting the claims and demands made by the cast pointing out that the cast could (and did) take time off; did perform at other venues; that the tip sharing situation had been agreed upon when the shows had returned after being being shut down due to Covid-19 for nearly a year. And after conferring with other venues that produced drag shows that $100 to $125 per show was a standard rate locally for local performers.
Preciado also posted a screenshot showing compensation for all the Le Faux performers from the last weekend of shows at the club including tips. Host Irene DuBois apparently grossed $870 for that week's work with Andrew Scott following up with $605 and the other four with smaller amounts (due to performing fewer shows that the two senior performers who did all four shows that weekend).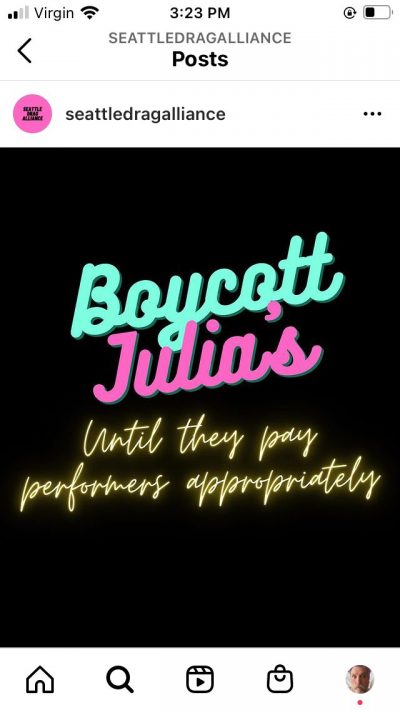 The cast then went on the offensive and created a new group called "Seattle Drag Alliance" along with an Instagram page, and encouraged other local performers to join them to fight for higher wages/benefits. That group has had meetings with other performers including the cast at MX. the other large professional drag show in town produced at Queer Bar which hosted at least one of the meetings for the group.
After his brief rebuttal immediately following the drag walkout, Preciado returned to his usual stance of radio silence and quickly began recasting his shows followed by rehearsals. Tickets for both Le Faux and the brunches went back on sale later in July and the new Le Faux will debut this Saturday, August 7th with a new cast headed by a Le Faux/Julia's veteran Sean Paul. The Throwback Brunch returns on Sunday, August 8th.
Also last week, the Seattle Drag Alliance group issued a call to boycott Julia's on Broadway and to specifically gather at the venue at 300 Broadway Avenue East at 5pm on Saturday, August 7th to publicly protest at the reopening of the new Le Faux show.
The post on their Instagram page reiterated their claims that their tips had been redistributed without their knowledge and consent and that they had been fired for organizing and "had been gaslit and underpaid for years". They also stated that another purpose of the protest was to "demand that the cast is rehired and compensated fairly" .
More as it develops.
Added: LeFaux release new poster image with new cast: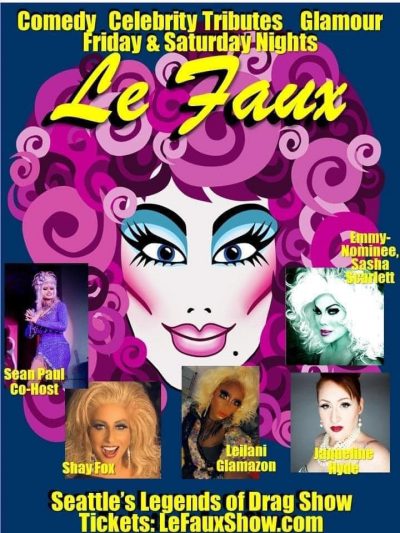 (Visited 36 times, 1 visits today)