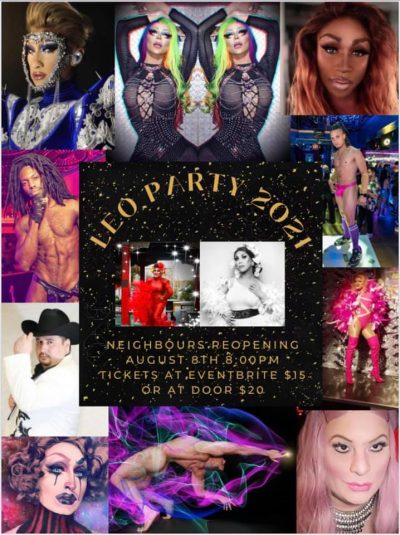 It's the last of the LGBTQ venues to do so but it looks like Neighbours Night Club is set to re-open after months of being closed due to the Covid-19 virus, this Saturday, August 7th with what looks like to be a "cold" opening; there's no information other than a Facebook invite with zero specific information attached. We're assuming you'll need vaccination proof, like every other bar requires now, so make sure you bring it with you!
There's more info about what you can expect on Sunday, August 8th when the annual LEO PARTY takes place at the club. That's the big August event created by onetime Neighbours bartender Joe Torres that raises money for various causes by throwing a bash chockfull of drag divas. Normally, the event brings in a headliner from out of town but this year they're stripped down a bit and the party will star all local talent including longtime host, Aleksa Manila and her drag daughter Atasha Manila.
Tickets this year are just $15 (in advance/$20 at door) and you can snag them over HERE. This year's party benefits Entre Hermanos and C89.5 FM. Doors open at 8pm and the event goes until 2am…it's 21+ and Proof of Vaccination against Covid-19 will be required so bring your vax card or a copy of it (along with your photo I.D.) if you wanna join in on the fun.
The line-up is scheduled to include:
Amora Dior Black
Anetra (Vegas)
Curtis Goodman
El Jilguerillo
Fraya Love
Jack Mozie
La Gorda
La Saveona Manila Hunt
Maritza
Roxy Doll
Skyy Martini Ice
Urtreen White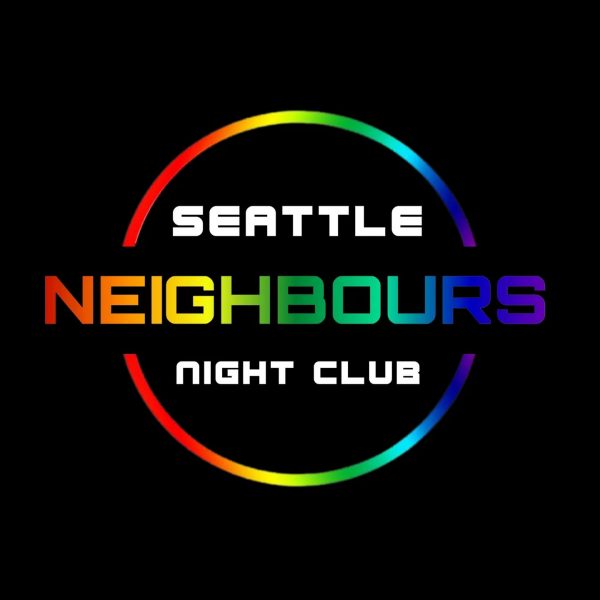 The return of Neighbours was complicated by a number of issues including the fact the venue was broken into several times in 2020 after the club closed due to the pandemic. Apparently the building was inadequately secured by staff and people vandalized the business and stole items. Longtime Neighbours performer and Seattle drag veteran Roxy Doll became the new manager for long distance owner Moustafa "Moe" Elassiouti and his family who primarily reside in Vancouver, B.C. in Canada but also have ties and businesses in Egypt. Roxy has overseen the restoration of Neighbours for months which has included a lot of DIY repairs completed with the help of volunteers who have also donated goods and money to the project.
We've reached out to Roxy for a comment about reopening but as of yet have not been able to get any further information on this Saturday's opening night line-up or future plans for the club which was known for its disco dance nights on Fridays and Saturdays and themed events during the year. Also not known is whether the club will return to allowing the under 21 crowd access to Neighbours after 2am on the weekends, one of the very few Seattle clubs that had underage access events.
(Visited 8 times, 1 visits today)