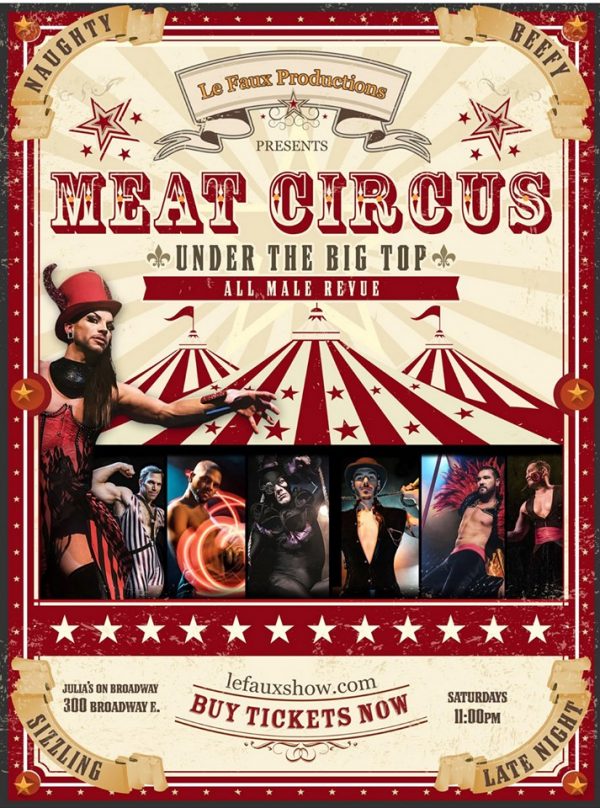 Just when you were hungry for a new weekly show in the Gay Scene to check out, Le Faux at Julia's on Broadway announces just such a thing. They're proud to announce the debut of MEAT CIRCUS: UNDER THE BIG TOP, their new all male boylesque cabaret starting on Saturday, June 22nd.
Meat Circus will snag the late night spot at 11pm after the weekly Saturday night Le Faux drag/celebrity impersonation show that has been running for years and has included plenty of big stars in its casts over the years like Jinkx Monsoon, Mama Tits and Robbie Turner.
This new show seems to be the brainchild of Hisam Goueli, who might be the man with the most bizarre career hyphenates ever: he's an actual medical doctor AND an out community leader (he ran for City Council 2 years ago) AND an actor AND a burlesque performer AND now a creator of Meat Circus…that's a lot of gigs.
Here's more poo from Le Faux and it looks like you can starting booking your tickets now, over HERE.
Le Faux Productions, the longest running cabaret-style dinner theatre in Seattle's history, proudly presents Meat Circus: Under the Big Top.

Meat Circus is an adults-only all male cabaret featuring circus, dance, boylesque, music and comedy.  It is a celebration of theater in all of its forms and tests the boundaries of masculinity.  The show intends to entertain and entice with equal parts inclusion, seduction and love.

Planning a special event, birthday, bachelorette party or just a night out on the town? You name the occasion, we are your #1 event destination! Have a guest of honor? Our host will pull them right out of the crowd and let them be a star for a night! Our host will keep you laughing with their bright, hilarious, and sassy monologues. VIP packages are available to cater to your individual party needs.

Our highly rated tourist destination is located only 5 minutes from Downtown Seattle, come and see our intimate cabaret dinner theater venue!

Door opens at 10pm.

Showtime every Saturday at 11pm starting June 22nd 2019

TICKETING INFORMATION:

Please read through all ticketing information before booking. All tickets are non-refundable, no exceptions, so it is important that you have read and understand all ticketing information. Please contact info@lefauxshow.com with any questions. If you're having trouble booking, please contact 206-334-0513.

BOOKING INSTRUCTIONS & HOW WE SEAT:

Seating for this event is community or family style seating, you or a member of your party may be seated next to an individual that you do not know.

Whether you're a party if 2 or 100, all members of a party must use the same "party name" when booking their tickets. You'll find the area to enter this immediately following the payment screen. This lets the host know you are all one party, and we will do our best to seat you together. Failure to book with the same party name may result in your party's inability to sit together as one group.

Seating is pre-assigned.
(Visited 13 times, 1 visits today)