Via press release: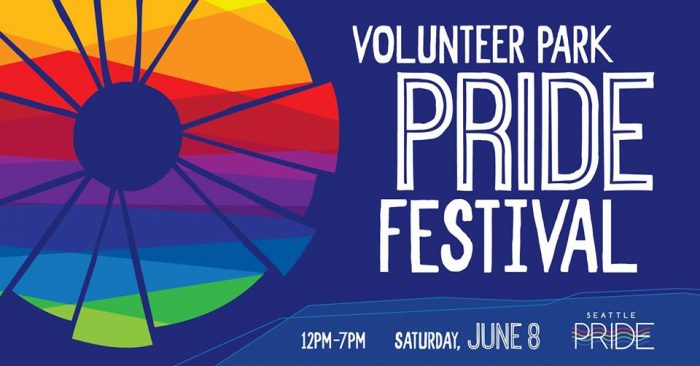 Volunteer Park Pride Festival to Celebrate LGBTQ+ Arts
Thunderpussy to Headline Seattle Pride's Tenth Annual Volunteer Park Pride Festival on June 8th
SEATTLE – May 23, 2019 – Seattle Pride is kicking off this year's Pride celebration with the tenth annual Volunteer Park Pride Festival from noon to 7:00 p.m. on Saturday, June 8 in Seattle. The event is Pride's annual celebration of queer arts, music, performance and culture. The free event will feature a beer garden, food trucks, local crafts fair, sponsor and community nonprofit informational booths, and is highlighted by live concert performances.
"The Volunteer Park Pride Festival keeps getting bigger and better every year," says Seattle Pride Board President Kevin Toovey. "The Festival began in 2009 as a family picnic with hot dogs and inflatable bounce-houses and has grown into a full-blown festival with a beer garden, food trucks and top name musical acts – there's truly something for everyone."
Live Music Performances
The can't-miss music lineup, which celebrates LGBTQ+ arts, features nationally recognized local artists. The Festival will be hosted by popular drag queen Betty Wetter, KEXP's Marco Collins and DJ Kirk, known for his disco, house R&B, and dance beats. The free live concert will showcase a musical lineup of top acts culminating with a performance by Seattle-based headliner, Thunderpussy.
1:00 p.m. Left at London – a trans woman known for her intimate and accessible pop writing sensibility as well as her introspective lyricism focused on subject matter specific to her life.
2:05 p.m. SassyBlack – an unexplored galaxy made of fist-pump, funk, and beat-fertility known for her blend of experimental hip-hop, unpredictable syncopation and neon-womanism.
3:10 p.m. Whitney Mongé – raised with rhythm and blues in her blood, her powerful smoky voice and guitar playing draws in listeners, coining her own genre, alternative soul.
4:25 p.m. J GRGRY – a musician that elicits joyous inclusiveness and challenges the status quo, his mighty melodies bring people together.
5:45 p.m. Thunderpussy – the popular quartet—Molly Sides [vocals], Whitney Petty [guitar], Leah Julius [bass], and Ruby Dunphy [drums]— breaks through all rock 'n' roll stereotypes. The band's highly popular self-titled debut album Thunderpussy [Stardog Records/Republic Records] produced by Sylvia Massy, features the hit single Speed Queen.
"Events like this based in love and community, centered around art and music are so important to connecting people, as a city like Seattle continues to thrive and expand," said J GRGRY who grew up in Seattle. "I'm so proud and excited to share my music and my message of love and acceptance in this environment."
Food & Drink Favorites
Back this year by popular demand is the Volunteer Park Pride Festival Beer Garden featuring beer from Elysian Brewery, as well as several of Seattle's favorite food trucks including Athena's Gyros, Delfino's Chicago Style Pizza, Ezell's Famous Chicken Express, Full Tilt Ice Cream and more.
Local Arts & Crafts and Exhibitor Showcase
A Festival favorite each year is the local arts & crafts fair carefully curated with some of the Pacific Northwest's premier handcraft artisans – as well as fun interactive exhibit booths – including AK Name Rings/Funbus Traders, Coast & Clearing, Esha's Treasures, Juice It Up, Namasgay Inc., Planet Music 33, Silverworks and more.
In addition, informational and interactive booths are being planned by many of Seattle Pride's valued sponsors and community partners – from Delta Dental of Washington's Fairy Wing Decorating Station hosted by the Tooth Fairy to All is Divine Tarot Card Readings, Seven Star Women's Kung Fu's onsite Self-defense Demonstrations and Lessons, MOViN 92.5's Photobooth, AEG's Prize Wheel for Bumbershoot and The Showbox prizes, and much more.
The complete list of Festival exhibitors include, AEG, The AMP (AIDS Memorial Pathway), Big Brothers/Big Sisters of Puget Sound, Boeing, Boys & Girls Club, Camp Ten Trees, Cascade Flag Football Association, CHEER Seattle, Community Health Plan of Washington, Country Doctor Community Health Centers, Delta Dental of Washington, The Diversity Center of Washington, Fred Meyer, GSBA, Gothic Pride, HomeStreet Bank, JPMorgan Chase, Legal Voice, Lifelong Recreation/Rainbow Recreation, MOViN 92.5, Mud Bay, Multicare, One Million Kids for Equality, PFLAG Seattle, Poster Giant, RTI International, Seattle Art Museum, Seattle Department of Neighborhoods, Seattle Sounders FC, Seattle Vaccine Trials Unit, Seven Star Women's Kung Fu, Smirnoff, Symetra, T-Mobile, Uber, Walmart, The Washington Bus Education Fund, Washington State Department of Health, and Wish Bone Pet Foods.
Tags: Seattle Out and Proud, Seattle Pride Events 2019, Thunderpussy, Volunteer Park Pride 2019, Volunteer Park Pride Festival, Volunteer Park Seattle