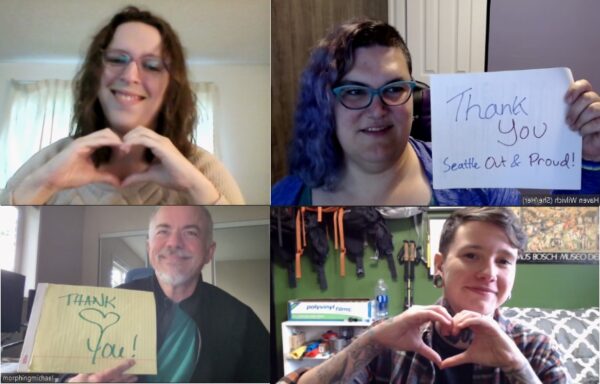 Seattle Pride awarded $7000 in community grant money this week to two different trans/non-binary groups.
Seattle Trans Joy which produces two free events, the Seattle Trans Picnic (which happens Saturday, July 16th) and Seattle Trans Camp received the larger share of the money with a whopping $5000 grant.
The Seattle Trans and Non-binary Chorale Ensemble received $2000.
More on the community grants:
Seattle Pride®  works to create unity, honor diversity, and achieve equal human rights throughout our region and world year-round. With Pride Month over, it hopes its latest round of community grants – totaling $7,000, will be one step closer to achieving its mission in support of the LGBTQIA+ community. 
Twice each year Seattle Pride awards grants to charitable organizations which support the local LGBTQIA+ community, with $242,003 donated since 2018. This summer's community grant recipients include:
Seattle Trans Joy($5,000) – Community experiences for gender diverse people are incredibly important. The grant will fund two free events – the Seattle Trans Picnic and Seattle Trans Camp 2. These are events for the local trans and nonbinary community to build trans dignity, connection, and experience joy.
Seattle Trans and Nonbinary Choral Ensemble (STANCE) ($2,000) – This program provides a vocal space free of gendered expectations, by and for transgender and nonbinary singers, to explore and express themselves through music. The grant will enable them to pay their artistic director and prepare to launch Seattle's first choir by and for trans an nonbinary singers.
"I'm so honored Seattle Pride, and our sister organization, the Seattle Out & Proud Foundation, are able to support LGBTQIA+ nonprofit organizations like these that are creating safe, creative spaces for our community throughout the year," added Marx. "We're all in this together – and this work wouldn't be possible without our extended family of Seattle Pride supporters, funders, and community partners."

For a complete list of Seattle Pride grants by year, visit SeattlePride.org.
About Seattle Pride®
Seattle Pride® is the 501(c)(4) not-for-profit organization which produces the Seattle Pride Parade, Seattle Pride in the Park and other pride-related events and promotions, as well as provides grants and sponsorship support to community-based LGBTQIA+ serving organizations statewide, and year-round advocacy in support of diversity, inclusivity and equal human rights for all.
About Seattle Out & Proud Foundation
Seattle Pride's Seattle Out & Proud Foundation is a 501(c)(3) non-profit foundation which exists to educate the public about the LGBTQIA+ community and the rights of its members; to eliminate discrimination against; and to further the civil rights of members of the LGBTQIA+ community by promoting the arts and supporting leadership development.
(Visited 19 times, 1 visits today)