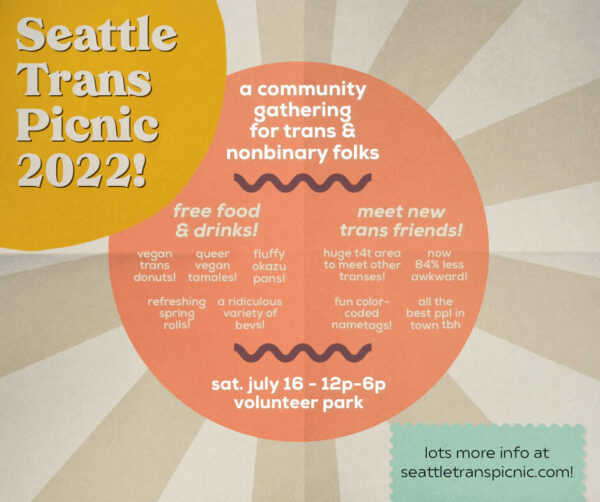 The first Seattle Trans Picnic was such a success last year, that organizers put together a new event for 2022 which is bigger in scope and in a new location: Capitol Hill's Volunteer Park. It's all happening Saturday, July 16th from Noon to 6pm in the meadow in the southeast corner of the park, closest to 15th Avenue (and the Seattle Asian Art Museum).
It should be noted that the Seattle Goth community is ALSO having a picnic event in the park on the same day/time but over in the northwestern part of the park…which is a bit confusing but also a terrific opportunity if you're goth AND trans! The map below should help make it clear where to go.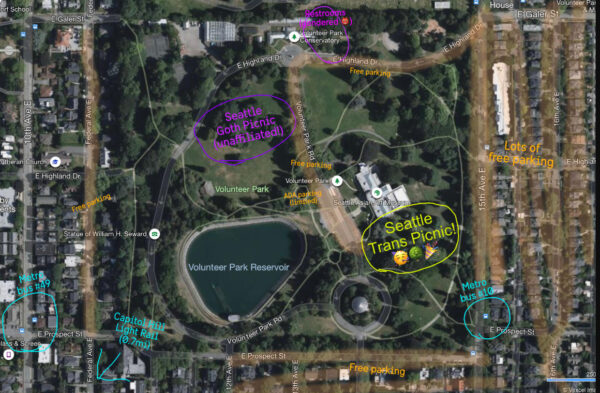 It's also a picnic where you don't have to bring any food/drink….FREE food and drinks are being provided! Per their website, the following will be provided:
We'll have a LOT of food and drinks, but it's impossible to accurately estimate how many folks will show up, so come early if you want to be sure to get the food you'd like.This picnic is a celebration of our trans & nonbinary community, and we deserve nice picnic snacks!!!!We'll have:
– Vegan gluten-free queer tamales from Frelard Tamales
– Vegan fluffy okazu pans from Umami Kushi
– Vegan trans donuts from Dough Joy
– Vegan fresh spring rolls from Araya's
– Fresh fruit
– A bazillion types of canned drinks, including regular water, sparkly water, soda pop, tea, and lots of surprises
And, it should be stressed that this is an event by and for the Transgender community. Which means non-trans people should only attend if they're a guest of a trans person going to the event. They've also provided a handy FYI guide on this subject as well:
Who is invited?
All trans & nonbinary people! We use these as big umbrella terms for the sake of convenience, but we greatly welcome ALL gender diverse folks who are not cis. So, two-spirit, intersex, agender, all of the diverse indigenous and diasporic non-binary genders, and others – please come! We often use the word "trans" just for brevity.Please no cis people who aren't invited by another trans person. Trans folks are welcome to invite emotional support cis as needed so you feel as comfortable and welcome as you can be at the event.We use the word "Seattle" but people came from Portland and even further last year.Lots of folks will come alone so please don't feel awkward if you don't have trans friends to come with! The purpose of this event is to build trans community and grow trans joy — and that means you coming and meeting new folks or just enjoying this rare transnormative space! You won't be alone!
And, here's even more information about the event:
We'll have LOTS of free food and drinks, including:

– Tamales from Frelard Tamales (vegan & gluten-free)
– Okazu pans from Umami Kushi (vegan)
– Fresh spring rolls from Araya's (vegan)
– Trans donuts from Dough Joy (vegan)
– Lots of drinks of all kinds!
The biggest feedback we heard last year is that it was difficult and awkward to meet new trans folks — which is definitely what we want to encourage! So, this year, we're going to have a fun color-coded nametag system and a HUGE t4t area to meet new trans & nonbinary friends.

– Purple nametags: I want to meet new people! Say hi!
– Orange nametags: I'm not so interested in meeting new folks right now 
– Blue nametags: Emotional support cis (must be invited by trans attendee)
– Red heart added: I'm open to t4t dating
– Neon dot added: Please wear a mask near me!
PLEASE be vaxxed and take an at-home covid test the day before or morning of if you attend. We encourage folks to wear masks when you're not eating and drinking, and to socially distance since we'll have plenty of space. Outdoor spaces in general are MUCH less likely to transmit covid than indoor spaces, but please understand there are vulnerable members of our community. That said, we aren't going to be the mask police and lots of ppl will be eating or drinking and won't be wearing masks then. There is ADA parking in the park, but it is limited so you may need to come early. Our area of the park is accessible on paved pathways, but folks will be gathering on the grass.A map will be coming in the comments — we'll be behind the Seattle Asian Art Museum. There is limited parking in Volunteer Park, and lots of parking in the residential areas to the east and south of the park. We're on metro bus line #10, and close to bus line #49. The light rail is about a mile away.COME alone or with friends, and share with all yall's trans & nonbinary friends & communities! This will be a great time!!!
See seattletranspicnic.com for information
(Visited 46 times, 1 visits today)