June 20, 2023

•
by
Michael Strangeways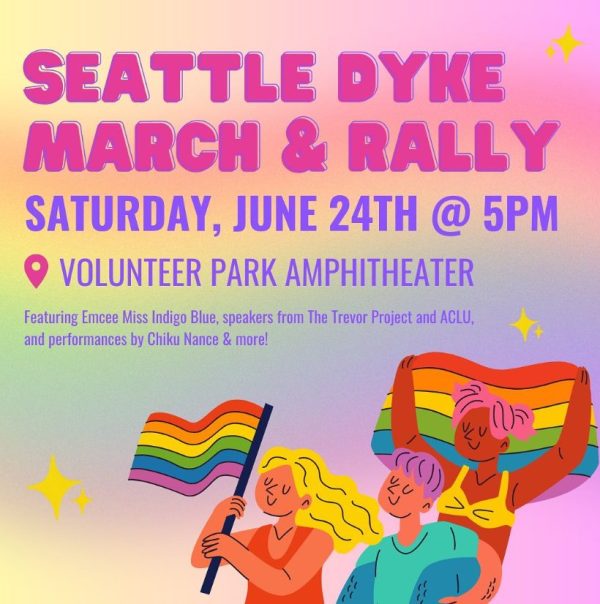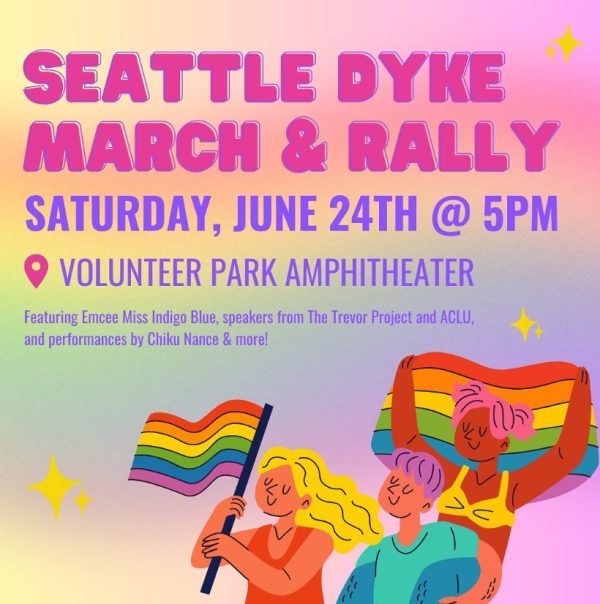 There's been some head scratching over Seattle Dyke March's decision to move their popular annual march and rally to Volunteer Park for 2023. For many years, the march/rally have been centered at Seattle Central College Plaza at Broadway & Pine in the heart of Capitol Hill, the city's traditional LGBTQ district. Thousands of area lesbian women and their allies have gathered on Pride Weekend over the year's for the short but empowering march and subsequent rally.
But, there was a change made for 2023. The event will still be held on Pride Saturday June 24th, from 5pm to 8pm but organizers have moved the proceedings to nearby Volunteer Park, the large park at 15th and Prospect where most of Seattle's Pride events were held for many years until they moved downtown in the mid 2000s.
The move has raised questions as to why they made this move…and, Seattle Dyke March answered that question in a release they made back in April where they state their reasons…it primarily boils down to them wanting to stage a march WITHOUT police involvement citing a long history of issues involving policing in general but specific problems with the Seattle Police Department.
From their press release:
Why are we moving?

There are logistical reasons, like trying to find a venue that will make sound easier through access to electricity, but the main reason we are moving is to have a March and Rally on Capitol Hill during Pride weekend that better aligns with our values. Historically, the Seattle Dyke March has been a permitted event at Seattle Pride. We have spent several years attempting to find a way to safely do a march that does not require a police escort. We have been unable to get traction on changing the law or the interpretation of the law which requires a police management of controlled intersections. We have also been unable to secure the volunteer force sufficient enough to block streets to feel like we could safely do a march through a busier neighborhood. This move allows us to keep the March, while making sure that we keep people safe.

In addition, without being permitted, we won't be able to coordinate with King County Metro about bus routes. The Dyke March is mindful about how important access to reliable public transportation is and our historic route needs coordination with King County Metro.
Why is it important to us to have a march without a police escort?

We are sure that the vast majority of people familiar with the values of Dyke Marches understand why the institution of policing is problematic. The Seattle Police Department has a long, troubled history. Throughout the 1900s, the Seattle Police Department was considered corrupt due to the collusion with criminalized gambling and sex work.

In 2010, Seattle Police killed an innocent Native American woodcarver, John T. Williams. The Department of Justice investigated, and the Seattle Police Department has been under a consent decree since 2011 to attempt to correct its racist/biased policing that is so pervasive it was found to violate our constitutional rights.

In that time, we have witnessed many other incidents of violence and death at the hands of police.

We also witness the ways SPD disrespect the civilians it is supposed to serve and protect. In the middle of the CHOP/CHAZ protests, the SPD engaged in radio chatter about Proud Boys coming to the Capitol Hill to try and scare people into leaving.

Last year, with the rising levels of anti-LGBTQ rhetoric, when trying to discuss how SPD would respond to protestors, SPD made it very clear that they would do nothing to prevent protesters from attempting to infiltrate our permitted event — something that we have seen in the past. The way the police will stand by when someone is yelling and screaming obscenities, hateful rhetoric, and clearly attempting to start conflict. The only time they would get involved is if the protester assaulted someone, and the person who was assaulted was willing to file a complaint. The police made it clear that if anyone in the March attempted to keep the protester out, they could be subject to arrest if they touched the protester and the protester complained.

The reality is that having SPD at our event is inconsistent with our values. We should have never done a permitted route if it meant SPD had to escort us. We should have stopped having the escort after the killing of John T. Williams. We should have stopped after the killing of Charleena Lyles. We should not have done our first post-pandemic march with a permit. But we cannot keep marching with a permit even though we failed to do better in the past.
You can read the entire release at https://seattledykemarch.com/2023/04/24/seattle-dyke-march-rally-2023-announcement/
The 2023 rally will take place at the new Volunteer Park Amphitheater from 5pm to 7pm with the march to follow. It will center around the North Capitol Hill neighborhood.
The line-up for the rally:
EMCEE: Miss Indigo Blue | KEYNOTE: Li Nowlin-Sohl (ACLU National LGBTQ Rights Project)
Ramona Ahto | Gender Justice League | Sara Camille | Leo Mane | Trevor Project | Tracey Wong | GenPride | Led to Sea (Alex Guy) | Chiku Nance
The Seattle Dyke March is entirely funded by donations…if you'd like to support them please consider making a donation at https://seattle-dyke-march.snwbll.com/giving-portal or via our Venmo: @SeattleDykeMarch.
(Visited 60 times, 1 visits today)
As the Editorial Director/Co-Owner, Michael Strangeways writes, edits and does about a million other jobs for Seattle Gay Scene, Puget Sound's most visited LGBTQ news, arts and entertainment website now celebrating its 14th year as a media outlet. A semi-proud Midwesterner by birth, he's lived in Seattle since 2000. He's also a film producer who would like you to check out the Jinkx Monsoon documentary, "Drag Becomes Him" now available on Amazon.com. In his spare time, he gets slightly obsessive about his love for old movies, challenging theater, "otters", vodka, chocolate, "I,Claudius", Lizzie Borden, real books made out of paper, disaster films, show tunes, Weimar era Germany, flea markets, pop surrealistic art, the sex lives of Hollywood actors both living and dead, kitties, chicken fried steak, haute couture and David Bowie. But, not necessarily in that order.
Related Posts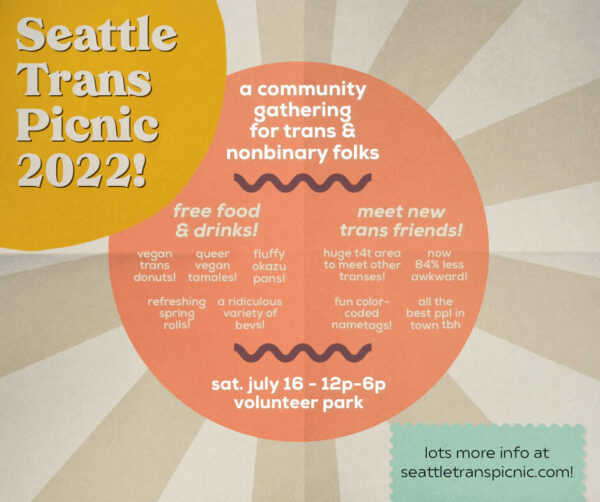 Capitol Hill News • Community • Community Events • Community News • News • Seattle Transgender Scene • Stuff to Do • Trans* Events • Trans* News • Trans* Pride • Weekend Calendar
The first Seattle Trans Picnic was such a success last
...